Ever wonder what library users worldwide are searching for in catalogs just like yours? At NoveList, we've got the data. 
Here are September's top ten titles searched in library catalogs that include NoveList Select: 
Verity by Colleen Hoover
It Ends With Us by Colleen Hoover
I'm Glad My Mom Died by Jennette McCurdy
Fairy Tale by Stephen King
Where the Crawdads Sing by Delia Owens
The Seven Husbands of Evelyn Hugo by Taylor Jenkins Reid
Carrie Soto is Back by Taylor Jenkins Reid
The Ink Black Heart by Robert Gailbraith 
All Good People Here by Ashley Flowers
Lessons in Chemistry by Bonnie Garmus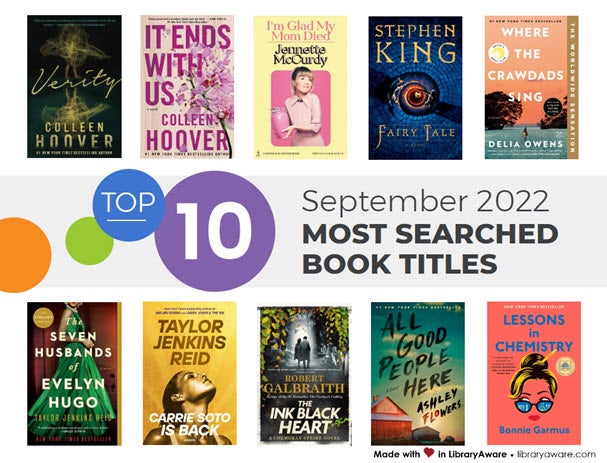 Libraries with NoveList Select can use our Analytics Dashboard to see their NoveList Select usage data from any web-enabled device, anywhere, any time. This dashboard provides a window into how your library's patrons are viewing and interacting with information in the catalog.
New to the NoveList Select Analytics Dashboard? Take a two-minute tour:
Sign up for a training
NoveList Select helps your readers find their next favorite book and helps you learn more about what your community is reading. Join us for an overview of the reader-focused features in your catalog and how to use the Analytics Dashboard to inform your collection development and promotion strategies.
Molly Wyand is a Communications Specialist at NoveList. She is currently reading Scattered All Over The Earth by Yoko Tawada.