Next week is Transgender Awareness Week and, in many places, the entire month of November is Transgender Awareness Month. This is a time to help raise the visibility of transgender people and address issues they face in the community. Looking for ways to help raise awareness? We've got you covered. 
Create a display 
In LibraryAware, search transgender to find flyers and bookmarks that are ready to print. Want to add images to your own creations? Search images for LGBT to find an assortment of rainbow graphics to use in your own promotional pieces.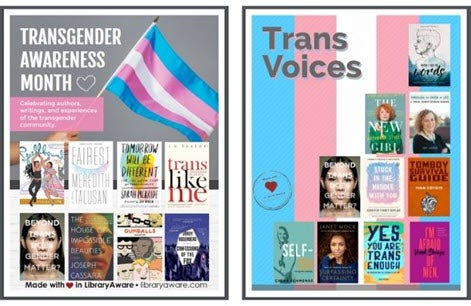 If you need help picking books, NoveList Plus has several ways to help you quickly make a perfect pull list. A quick keyword search for transgender will provide you with hundreds of books to choose from. Narrow your results by age level and fiction or nonfiction to make just the right display. 
Give transgender authors a voice 
Stock your displays with books by transgender authors. Find authors who are either nonbinary or transgender, go to the Advanced Search page, scroll down to the Author's Gender Identity box, and choose either or both terms. Or, you can search using the field codes for author gender identity and enter one of the following in the search box:  
AG nonbinary  
AG transgender 
Earlier this year, we added author gender identity to NoveList. Check out this post for all the ways you can search for authors based on gender identity. 
Learn more 
Want to learn more about LGBTQIA books and resources? Enter LGBTQIA in the keyword search on NoveList Plus. From the results page click Lists & Articles. You'll find recommended reads lists, readers' advisory training, and feature articles. 
For educator resources on these issues check out GLSEN's Libraries as Safe Spaces. To learn more about being a gender-inclusive school, visit Gender Spectrum.   
---
Lori Reed, pronouns she/hers, is the Marketing Specialist at NoveList. She is currently reading The Fixed Stars by Molly Wizenberg.