The biggest and most important library program of the year for libraries in North America is nearly here. We're talking about summer reading. Every year, we put together a guide with links to NoveList resources and fresh content ideas so your library can put on the best summer reading program.   
Helping summer readers
Explore the Possibilities with Summer at the Library:  Many libraries are changing their summer reading programs to address declines in math and reading levels and increases in anxiety and depression following the pandemic. In an effort to serve as supportive partners in this shift, NoveList is using the language Summer at the Library in our LibraryAware summer reading program templates this year. You can read the full announcement here.  
Use NoveList to support summer reading: Our Summer Reading search strategies include the CSLP theme (All Together Now) and iRead theme (Find Your Voice), as well as Summer at the Library: Explore. Looking for more support in helping readers? You can check out all of our search strategies here. 
Other duties as assigned: Working in a library often means having new tasks thrown your way. If you're new to storytime, we've got some tips to make you look like a pro. Does the thought of working with teens have you hiding in the stacks? Never fear; NoveList is here! Need to put together a show-stopping book display? We've got you covered.  
Support your littlest readers: Summer is a great time to refresh and promote your collection of board and picture books to support caregivers and early readers on their road to 1000 books before Kindergarten.  
Help your fussiest readers: To assist those truly reluctant readers, we've got lots of advice here. One tried-and-true tip is to use graphic novels to get kids reading. Bonus: July is Graphic Novels in Libraries Month!   
Expand readers' horizons with a reading challenge: Get readers to step outside their comfort zones and make connections between books and the world around them. Readers of all ages can complete a reading challenge (for your adult summer readers, check out the 2023 NoveList Reading Challenge), and we've got some great ideas to get you started. 
Reaching summer readers 
Summer reading campaign guide: LibraryAware subscribers have access to a step-by-step campaign guide to make you look like a #librarymarketing pro. Simply search Summer Campaign Guide in LibraryAware. 
Promote your reader services: We've got a guide for you entirely dedicated to ideas for promoting your reader services.   
Get social: Social media is a great tool for getting members of your community into the library. This article will help you get started.  
Spread the word: Get the word out about your summer reading programs with the multitude of items in LibraryAware. New to LibraryAware? Schedule a demo to learn more! If you have LibraryAware, find this year's templates by searching Summer at the Library.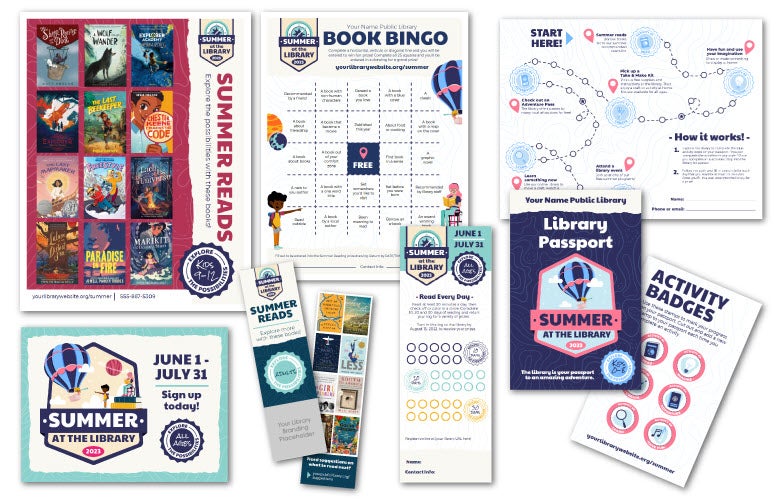 Resources for Staff  
#ICYMI: Watch a replay of Get Ready for Summer at the Library with LibraryAware, which features all the ways LibraryAware helps you plan and promote summer at your library. 
Avoid the "summer slide": This summer (and every summer), keep the slide on the playground.    
Search alerts: Keep up with content that you (and your readers!) need. Search alerts in NoveList can save time with the variety of things you do in a given day, whether it's helping that particular reader, keeping displays stocked, or planning for storytimes.    
Lists & Articles: If you are using the Collaborative Summer Reading Theme, you can find titles in NoveList by searching DE All Together Now. 
Summer School at Learn with NoveList: Level up your readers' advisory knowledge or find new ways to promote your collection! Learn with NoveList offers self-paced courses created and taught by professionals who deeply understand books and readers and how to work effectively with them. Check out the full course catalog here. Use code SUMMER23 at checkout to get 20 percent off any self-paced course through August 31, 2023.  
Browse the NoveList and LibraryAware YouTube channels: Not sure how to best find something in NoveList? Need some quick tips for creating that awesome flyer in LibraryAware? Explore our channels!   
Keep your finger on the pulse: Stay in the know and get content like this delivered right to your inbox. Sign up to receive our newsletters.   
Did we miss anything? Let us know! Happy Summer Reading!  
---
Molly Wyand is a Communications Specialist at NoveList. She is currently reading It's Not TV: The Spectacular Rise, Revolution and Future of HBO by Felix Gillette and John Koblin.