While summer reading programs have been around for decades, winter reading programs are relatively new. They're gaining in popularity among libraries of all sizes in all climates and there's been a noticeable increase over the last few years with people spending more time at home. Whether your library offers a full program of activities or is focusing on reading challenges, winter reading is a great way to keep kids engaged with reading over the school break. The wintry reading recommendations from our NoveList librarians provide the perfect escape for adults, too, and are an effective way to promote your collection.  
LibraryAware is making it easy to promote your library's winter reading program whether your winters are snowy or sunny. Playful penguins will help your library announce its winter reading program this year. The collection features templates in several formats, including signs, social media posts, flyers, and even a coloring page for kids. New this season: a circular shape perfect for badges. Like all LibraryAware templates, they are easy to customize for your library's particular program.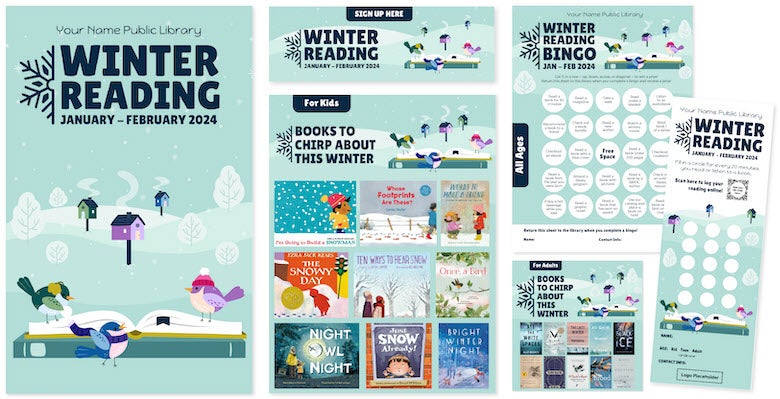 "I wanted to create artwork that would appeal to all ages and inspire everyone to pick up a book," said Leah White, one of NoveList's graphic designers. "It might not be chilly where you live, but we're hopeful the artwork evokes warm memories and the desire to get cozy with something great to read." The color palette is intentionally limited to make sure it blends well with any library's branding and other seasonal promotional materials.
Does your library run a winter reading program? Tell us about it! 
Want more ways to spark interest in your library's collection? Hire a NoveList expert who can inspire your staff with best practices in collection promotion that get measurable results.  
Kathy Lussier is the Manager of Engagement and Services. She is currently listening to Before I Go to Sleep by S.J. Watson.