Our third annual LibraryAware user survey wrapped up late last year, and we've been busy reading and processing your feedback. We received over 850 responses from the US, Canada, Australia, and New Zealand. This survey helps us understand how you use LibraryAware, what you love about it, and what you need it to do. Likewise, it helps identify key areas where you'd like changes as LibraryAware evolves.
A few ways we responded to last year's survey feedback:
Introduced new, high-resolution slide sizes and templates for social media and digital signage
Streamlined your folders page, allowing you to quickly find, edit and publish files
Made it easier to find what's new in LibraryAware with an icon in the navigation bar
Extended hours of live chat service to better cover the needs of our customers
It's no surprise that communication goals and strategies changed for many libraries in 2020. Most survey responses noted an increasing digital presence, shifting from in-person to online, with a strong focus on updating your community about changing programs, services, and library hours. Driving people to attend virtual or in-person events also ranked at the top. That input confirms our ongoing focus on templates and resources to help libraries communicate new service hours, successfully reopen, and promote virtual programming. Our social media content promoting books in engaging ways has proven popular, so watch for more graphics that are ready-to-post.
We were thrilled to see that most respondents gave high marks to our Support Team's responsiveness. We loved reading comments like, "LibraryAware has helped us do more outreach than before, thank you," and "LibraryAware has helped us communicate changes to our patrons with well laid out, eye-catching graphics." We also received some great suggestions for how we can improve LibraryAware and new ways to support libraries in 2021.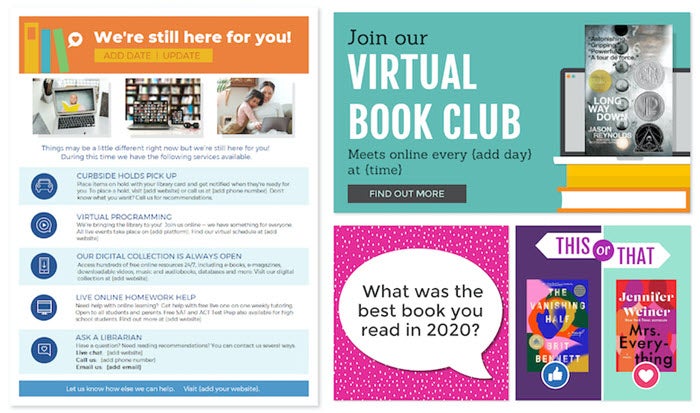 LibraryAware continues to grow and evolve thanks to your helpful feedback. Please reach out with additional feedback or questions about using LibraryAware – we love hearing from you!
---
Kathleen Moore is a Product Owner for NoveList.