Last year we introduced our very first NoveList Reading Challenge where we prompted people to stretch their reading comfort zones by selecting books in 24 different categories we provided. We enjoyed it so much, we decided to do it again! 
Once again, the categories cover a variety of genres, age levels, and formats to give you direction but also provide flexibility. You can commit to the beginning level (12 books) or go for the advanced level (24 books). We think this can be tackled as an individual challenge or a group activity – perhaps this is the way your book club chooses their books in 2022, or you make it a library-wide challenge to encourage your community to participate using monthly incentives and a grand prize! 
Need help searching for books? We've added some NoveList tips below, but you can also look through some of the other resources we have available for you: 
Here is the 2022 NoveList Reading Challenge:
Read a gothic novel. 
Read a true crime book about a heist, a cult, or an unsolved crime.  
Listen to an audiobook that is less than six hours long. 
Read a book set around a holiday other than Christmas. 
Read a mystery set in a country other than your own. 
Read a book by a nonbinary author. (NoveList tip: Search AG nonbinary) 
Read a book that takes place over the course of a week or less. 
Read a book where the main events take place during a wedding, reunion, or funeral. 
 Read a book with the theme "chosen family."
 Read a book that was a LibraryReads or Loan Stars pick in 2021. 
 Read a picture book that is a Storytime Standout. (NoveList tip: Search GN storytime standout) 
 Read a celebrity book club selection. (NoveList tip: Search MM book club) 
 Select at least two appeals in the NoveList appeal mixer and read a title from the resulting book list. 
 Watch a NoveList Crash Course webinar or read over a genre guide in NoveList and pick one of the suggested titles to read. 
Read a book with one of the following appeals: funny, amusing, darkly humorous, or sardonic. 
Read a book in translation. 
Read a graphic novel with black and white illustrations. (NoveList tip: Search IC black-and-white) 
Read a romance novel whose main character has a chronic illness or physical disability.  
Read a biography or memoir by an indigenous author. 
Read a book based on a real person or historical event. 
Read an Afrofuturism or Afrofantasy novel (NoveList tip: Search GN Afrofuturism OR GN Afrofantasy or check out the Recommended Reads lists for these genres) 
Read a speculative novel by a Latine author. 
Read a book published before 2021 that received at least one starred review. 
Read a book that has been adapted into a television show. (NoveList tip: Search GN books to TV)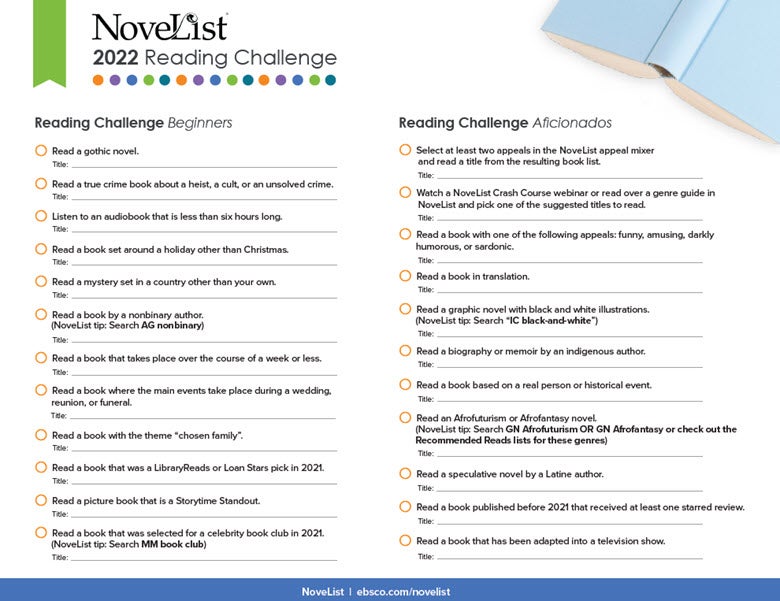 Halle Eisenman is a Content Development Manager at NoveList. She is currently reading Black Water Sister by Zen Cho.