Is there anything more glorious and satisfying as suggesting a book to a patron and seeing their eyes light up in anticipation? That's the moment I lived for when I worked in a public library, and that's why I get a thrill out of training library staff on using NoveList Plus. I love giving them the confidence to use NoveList Plus in their everyday work with readers and knowing they're sure to experience those moments too.  
Here are the seven things I get most excited about showing library staff during NoveList Plus training:
1. Using Recommended Reads lists to inspire your next book display. 
Tired of putting up the same old displays? Looking for inspiration on creative new themes or topics? It's your lucky day! Recommended Reads lists, compiled by experienced librarians and literature specialists, cover a wide variety of topics and genres. There are lists for all reading levels for fiction and non-fiction. Go ahead and ditch that generic "Science Fiction" display for thrilling "Space Operas." Delight true crime fans with "Hustles, Hoaxes, and Heists." Get kids excited about "Not-So-Scary Monsters." Your book displays will be more popular than ever.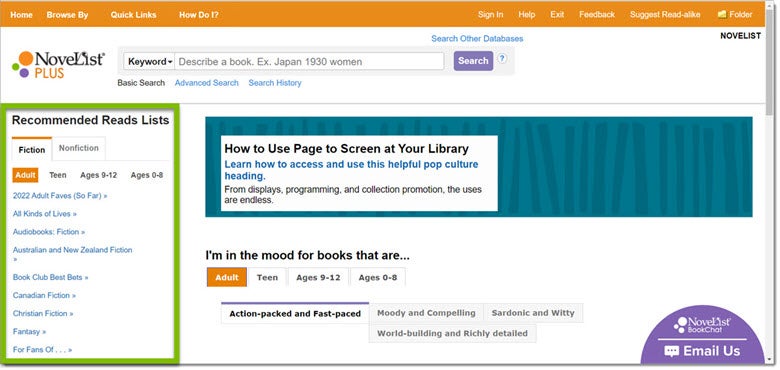 2. Using genre tools to help ease readers' advisory panic. 
Do you feel a little tickle of dread whenever someone asks you to suggest an excellent contemporary romance? Wish you understood why some readers can't get enough horror? We get it. No one is an expert on every single genre, and that's okay! NoveList Plus has tools to help you confidently suggest books in all genres, even those outside your comfort zone. 
 
Browse Genres lets you (you guessed it) browse genres. In the center of the NoveList Plus homepage, select a reading level to start browsing through new and popular books in featured genres. You can also select a genre from the drop-down menu to view books in popular sub-genres, like Romance >> Contemporary Romance.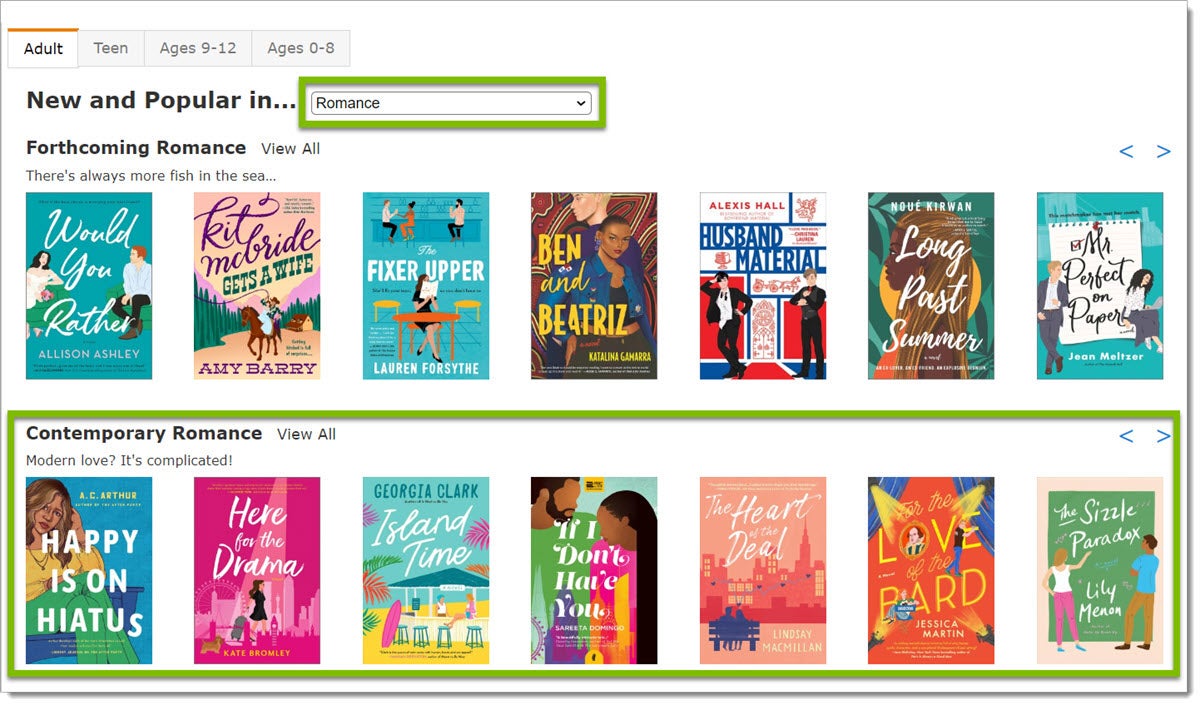 Want to dig a little deeper into specific genres? Our Genre Guides offer a description, top themes, key titles, series, authors, and tips on why readers of that genre find it so compelling. From the top toolbar in NoveList Plus, under Quick Links, select Genre Guides. Now you can discover that readers like horror because they can face their worst fears in a safe environment. Not so mystifying anymore! 
 
3. Using keyword searching when you don't know the title or author. 
I'm sure you've heard it before, "I'm looking for a book, but I can't remember the title… or the author." We've got you covered with keyword searching! Simply enter the details they remember — the main character's name is Min, there's something about fox spirits or magic, and it's set in space. Ta-da! The book they are looking for is Dragon Pearl by Yoon Ha Lee.
4. Using story elements to find books that appeal to your reader. 
Did your patron love Woman of Light by Kali Fajardo-Anstine but isn't showing any interest in read-alike suggestions? Story elements to the rescue! Story elements include appeal terms, themes, and genres used to describe books. They help you get to the heart of why a book captivated your reader. NoveList Plus makes it easy to find books with the story elements that resonate the most with your reader. Woman of Light is a family saga with a character-driven storyline and lyrical writing style. Look for the Search for More section at the bottom of every title, author, and series detail page. Select one, two, or more elements to create a custom search.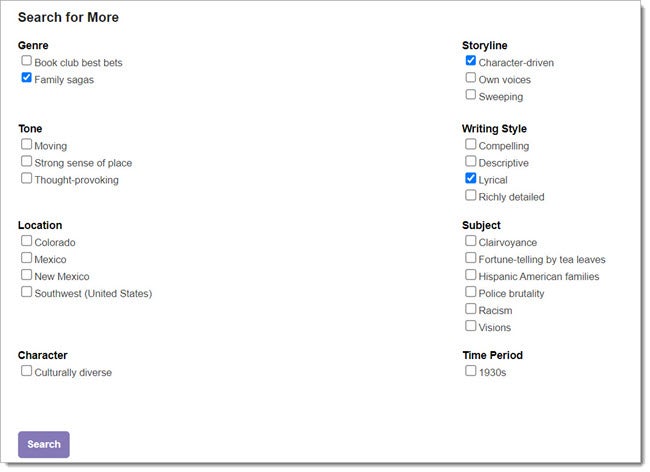 5. Using narrator and audio characteristics to find audiobooks that are sure to please. 
If your reader is into audiobooks, they know the narrator and audio characteristics often make or break the listening experience. Did they love listening to Dion Graham narrate The Lincoln Highway? In NoveList Plus, you can search for audiobooks voiced by a specific narrator right from the basic search bar. Use the search type drop-down to select narrator and enter your search terms.

Or what if the reason they loved listening to The Lincoln Highway wasn't just one narrator's voice but that it had multiple narrators and was an immersive listening experience? You can search for more just like that! On the audiobook detail page, scroll down to the Search for More section and select the audio characteristics your reader enjoyed the most. 
 
6. Using author identities to help diversify your displays and reading lists. 
Creating a cozy mystery reading list and want to be sure to include titles by African American authors? Putting up a biographies display featuring nonbinary authors? Looking for picture books for children written by authors whose nationality is Chinese? You know it's essential to be inclusive in your readers' advisory, but how can you ensure that you include titles by under-represented authors each time you create a book display or reading list? NoveList Plus makes it easy with the author identities section in Advanced Search. Here you can create your search and limit by author's nationality, gender identity, and cultural identity.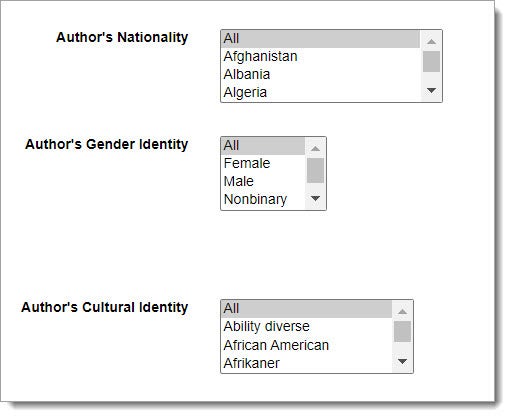 7. Using folders to help collect and organize your book lists. 
Wish your lists of books to suggest, share, or display were more organized? Dump those random post-it notes you've been collecting and start using NoveList folders. To get started, in NoveList, sign in to your personal MyEBSCO account. Don't have a free MyEBSCO account? No worries! At the sign-in page, click the sign-up link.

Once signed in, your MyEBSCO Folder (accessible in all your EBSCO databases, including NoveList Plus) is the perfect place to collect and save lists of books and articles. You can even create custom folders to get as specific as needed and stay blissfully organized. 
Bonus thing to love about NoveList Plus – BookChat! 
Reading recommendations from the experts at NoveList are just a click away with our new service, BookChat. BookChat integrates with NoveList Plus to provide on-demand help when readers have questions about unfamiliar topics. It's perfect for when you or your patrons are in a hurry. Intrigued? Learn more about BookChat.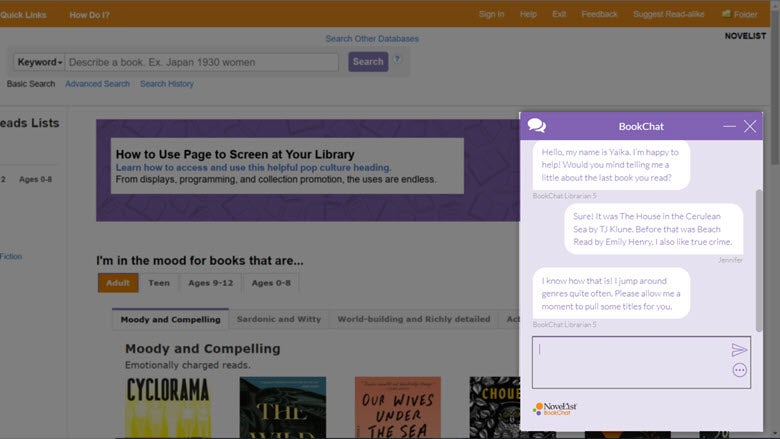 Caleigh Haworth is an Engagement Consultant for NoveList. She is currently reading Just Like Home by Sarah Gailey.