As we shared in a previous post, we're working to update our diversity appeal terminology, including more specific terms. Previously, ability diverse was used to cover a variety of disabilities, but after doing research and reviewing feedback, we wanted to make sure to highlight different types of diversity that could fall under "ability diverse." With awareness of neurodiversity increasing, acknowledging that while many people are neurotypical, others are neurodivergent.  
In our goal to promote diversity and increase ease of searching, we wanted to make sure to make a separate character appeal, outside of ability diverse, that focused on people who are neurodivergent. In NoveList, the character appeal neurodivergent is applied to works with characters that are neurodivergent, which means their brains and cognitive functions differ from neurotypical people (those who are not neurodivergent) in one or more ways. Neurodivergent includes a wide range of diagnoses, such as autism, ADHD, OCD, and sensory disorders.  
How do you find titles with neurodivergent characters?  
Our appeal terms, field codes, and search limiters make it easy! Since we use neurodivergent as a character appeal term, you can use the field codes AP (for appeals) or CC (character appeal) in a search. For example, if you want to find realistic fiction with neurodivergent characters, try the following searches: 
GN realistic fiction AND AP neurodivergent  
GN realistic fiction AND CC neurodivergent 
From there, you can use our limiters on the left-hand side to narrow down what you're looking for by age, publication date, tone, and more! 
Some of the fantastic titles you'll see when searching include: 
Act Your Age, Evie Brown by Talia Hibbert (UI 10948234) 
Lark & Kasim Start a Revolution by Kacen Callender (UI 11079263) 
Just Roll With It by Lee Durfey-Lavoie and Veronica Agarwal (UI 11006449) 
What if you want to find books about specific types of neurodivergent characters? You can add a subject search to narrow down your results. One way to do this is to use the field code for subject, SU, in your search. For example, try the following search string to find books with neurodivergent characters who are autistic: 
CC "neurodivergent" AND SU "Autism"  
You can also use our advanced search page, enter neurodivergent into the first search box, select AP Appeal Factors from the drop-down menu, and limit from there.  
Ready-made book lists 
If you want ready-made lists of books featuring neurodivergent characters, try our recommended reads lists, like Neurodivergent Lives (Adults), Neurodivergent Teen Lives, or Neurodivergent Kids' Lives, by searching:  
SU "Neurodivergent" AND ND "recommended reads"  
For a beautiful way to highlight books in your collection with neurodivergent characters, you can use flyers like this one made in LibraryAware.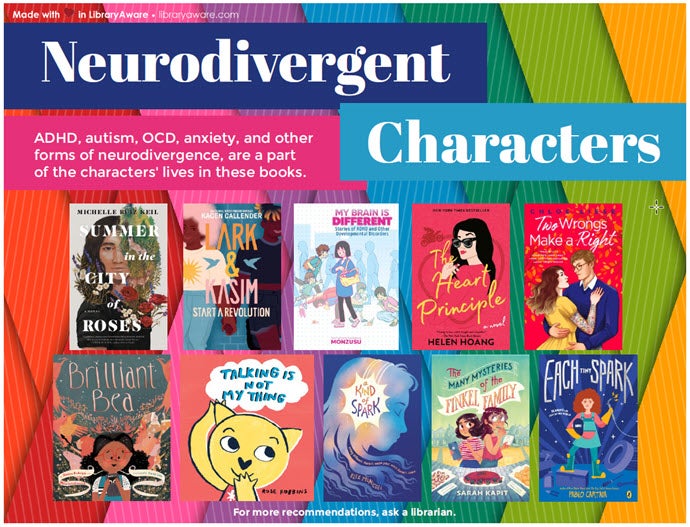 As we constantly work to improve and update our identity-based terminology, we aim to make it easier for readers to find the next book they can't wait to read and highlight the wide variety of perspectives, characters, and stories shared through books.  
Yaika Sabat is the Manager of Readers Services at NoveList. She is currently reading Space Trash Vol. 1 by Jenn Woodall.