Here at NoveList, we are in the process of updating our diversity appeal terminology, supplementing the current broad and somewhat vague terms (i.e., culturally diverse, religiously diverse, ability diverse, and LGBTQIA diverse) with more specific and meaningful access points. In recent conversations, the overwhelming feedback we've gotten about these terms is the importance of specificity. Readers want to find books with characters that represent their identity or a particular perspective that they may want to explore. 
Motivated by what we heard from both our staff and customers, we resolved to do better. We've always had a variety of very specific subject headings in NoveList, so our goal in replacing the overly broad terms has been to streamline our more specific identity-related headings. This work will make it so that users can easily find them and more reliably bring in books featuring historically marginalized characters. 
What does this look like in practice? 
In Alexis Hall's upcoming romantic comedy Paris Daillencourt Is About to Crumble, witty prose pairs an offbeat tale about love developing on the set of a reality television show with a feel-good story and a diverse cast. However, the information which we offer about the diverse characters will now include more specific details, as shown below: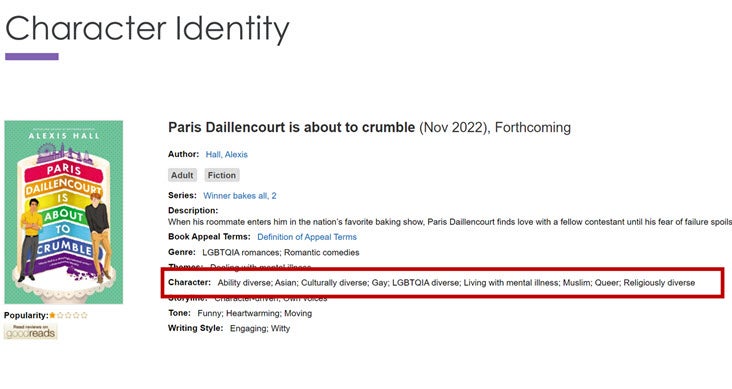 How is this different from what we could always do? 
In the past, if a reader was looking for a book featuring Black characters, subject headings might range from "African American teenage girls" to "Black Canadians," and a reader would need to know this to find relevant stories. Instead of relying on the overarching "culturally diverse" to bring books together, we are now providing unified tags designating the race/ethnicity, gender/sexual orientation, disability, and religion of underrepresented characters.  
These headings will appear prominently in NoveList, so you can use them with other appeal terms in the Appeal Mixer or combined with other story elements in Search for More. Our more highly specific subject headings will still be available. So, in addition to finding books with Asian or physically disabled characters, you can narrow those searches down to books with Korean American women or people with cerebral palsy.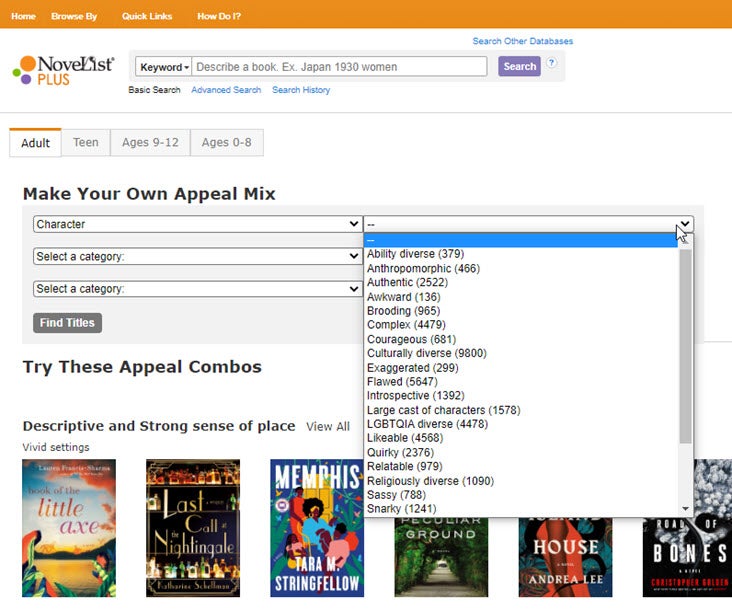 This project is only part of the work we are doing to update and evolve our language standards; the next phase will include broadening our coverage of fiction and expanding these access points to nonfiction.  
Because language is always changing and we are always learning, this conversation will be ongoing; if you have any questions or feedback, please feel free to send them to us at novelistcommunications@ebsco.com.