Colson Whitehead's The Underground Railroad came out in 2016, winning accolades from critics and readers alike. The novel reimagines an Antebellum South in which The Underground Railroad, the network of safe houses and routes enslaved people could use to journey to freedom, is instead a literal railroad forged under the ground. Now, this unconventional and stylistically complex literary novel has been adapted into a limited series on Amazon Prime Video, directed by beloved director Barry Jenkins (Moonlight; If Beale Street Could Talk).   
While the novel leans hard into satire and a technologically advanced society that invents skyscrapers and subterranean steam engines way before such things entered the world, Jenkins' adaptation leans more into the drama, tempered with the lyrical and poignant touches that are the hallmarks of Jenkins' work. The story follows the journey of two slaves who escape from the Randall Plantation in Georgia, making their way from the Deep South to midwestern America by underground rail. Along the way, they encounter different forms of racism, each representing a historical period of American history. Their quest takes them and us into an exploration of the heart of America and the troubled legacy of racism in this country.  While the serious themes and images of violence done to Black bodies may discourage viewers from bingeing the series too quickly, readers who are watching The Underground Railroad may want to revisit Whitehead's novel or find similar stories of compelling and experimental visions of racism in America. Capture the interest in this cinematic series with this printable flyer made in LibraryAware: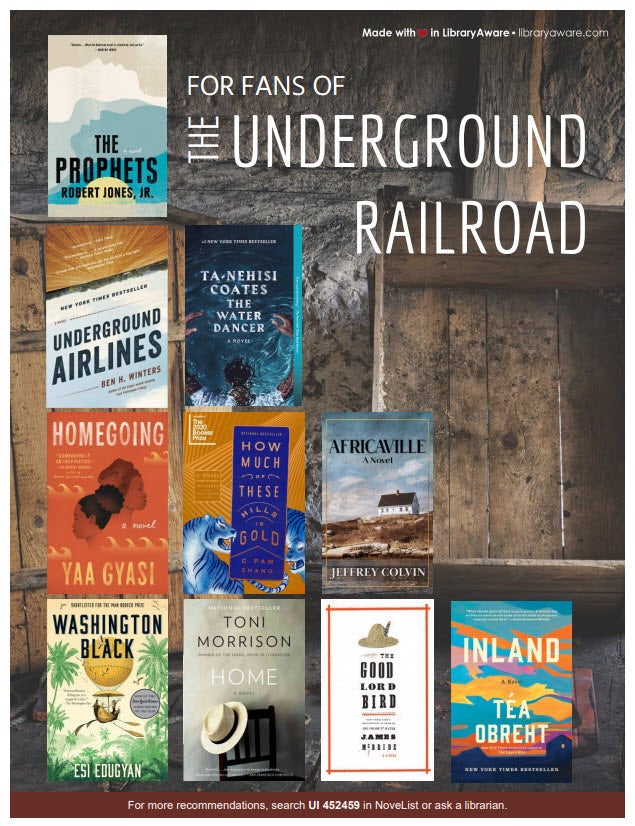 The full list of titles, entitled For Fans of the Underground Railroad, can be found in NoveList with this search: UI 452459 or TT Underground Railroad. 
Want to see Colson Whitehead talking about the book? NoveList now has over 600 videos featuring authors talking about some of the bestselling books of all time. To browse all the videos, search NoveList: TA PBS Books. Sort by audience using the Refine Results sidebar. Of if you want to see if a specific author has a video, type their name in quotes and the search TA PBS Books. For example: "Colson Whitehead" AND TA PBS Books.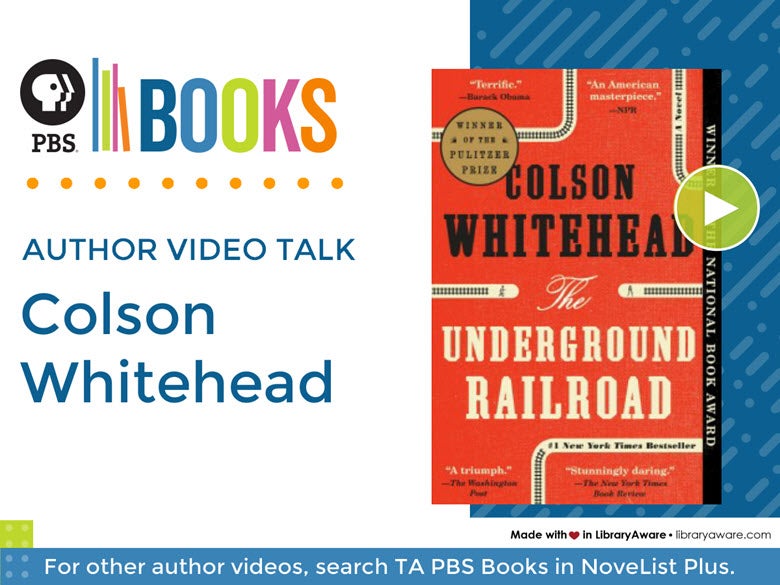 You can use these videos during book clubs or on your library homepage to spotlight special topics.
---
Lindsey Dunn is a Readers' Advisory Librarian at NoveList. She is currently reading The Story King by Matt Mikalatos.