The Roaring Twenties has always been a popular era with readers, and it's not hard to see why. Society, which was still recovering from the twin traumas of World War I and the 1918 influenza pandemic, started to undergo rapid changes. New political ideas and artistic movements took root, new fashions emerged, and new technologies allowed the spread of these developments with a speed at a scale never seen before. Flappers. Jazz. Prohibition. There are so many iconic (and inherently dramatic) ideas from the era for authors to choose from that readers will always take an interest in. But now that we've entered the 2020s, we're beginning to see authors revisit the era with a more holistic eye, complicating our notions of glitz, glamour, and good times. Librarians will want to keep an eye out for this trend, and NoveList is here to help.  
I first started thinking about this topic after stumbling across the Cat Winters book Yesternight, in which a young psychologist travels to a desolate small town in Oregon to IQ test the local schoolchildren. There wasn't a sequin or feather in sight and no hint of the exciting world outside. From this insular atmosphere came a suspenseful and compelling story, and I started using NoveList to find other books that might show a different side of the familiar era. Casting a wide net, I chose the subject headings 1920s and atmospheric from the Search for More options at the bottom of the book record. From those results, I decided to narrow my results to books published in the last 5 years, and from there I could narrow my results using other appeal terms like moving or moody to find what I was looking for.  
Another important place to look for new perspectives on the era is under own voices, for stories by and about marginalized people whose stories are finally beginning to receive the attention they deserve. You'll find stories of the Harlem Renaissance, including some that put a unique twist on the Black experience of the 1920s like The Ballad of Black Tom by Victor LaValle and P. Djeli Clark's Ring Shout, which both use the tropes of horror fiction to underline the real-life horrors of lynching and the KKK. You'll also find interesting adaptations such as Nghi Vo's The Chosen and the Beautiful, which retells The Great Gatsby as the story of a young Vietnamese orphan with supernatural abilities whose access to the highest circles is still hampered by prejudices around race and gender  
Let's not forget that one of the most compelling things about reading about the 1920s is the poignancy. With the benefit of hindsight, we know that hanging over this exciting era of change and relative liberation is the shadow of the Spanish Civil War, the Great Depression, and the horrors of World War II. To find stories that capture that mix of enchantment and foreboding, try looking for books with appeals like reflective or bittersweet. There you'll find titles like My Red Heaven by Lance Olsen, which visits 1927 Berlin, a city as full of creative experimentation as it was rising political tension. Another notable result from that search is Merce Rodoreda's Garden by the Sea, set at a Spanish coastal villa during several summers, each of which brings the same group of vacationers from Barcelona with increasingly troubling tidings from the world outside until finally, the tragedy of the Spanish Civil War is imminent.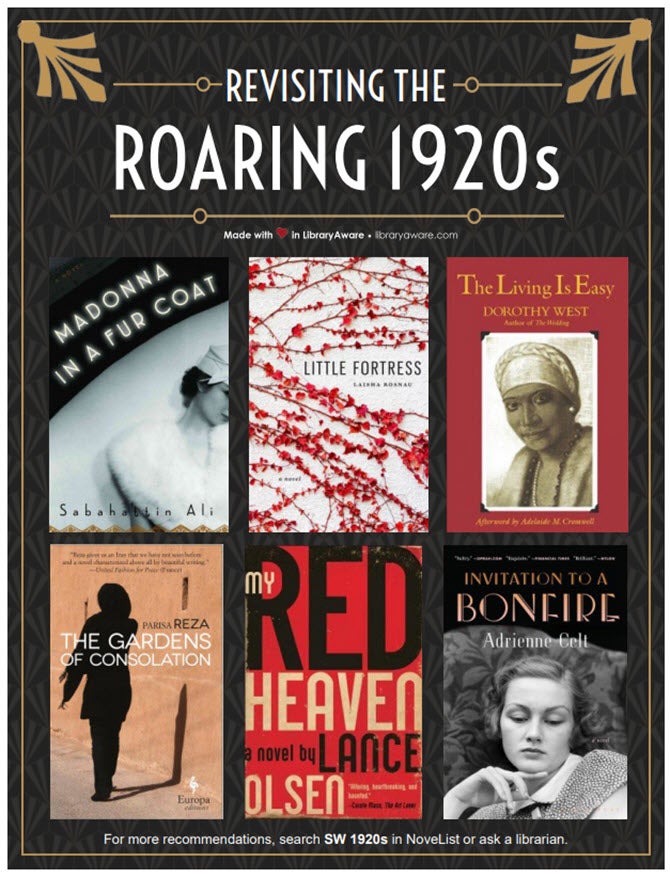 Other topics of the (not so) Roaring '20s that we missed? Let us know! 
---
Ashley Lyons is a Readers' Advisory Librarian at NoveList and is currently reading Checkpoint Charlie by Iain MacGregor.