Summer holidays mean time with friends and family — and traveling to see friends and family. And this summer more than ever, we're pretty excited to see (and hug!) some loved ones. Whether you are traveling by plane, train, or automobile, let NoveList help you find the perfect read for your trip. Not feeling ready to traveling yet? You'll find good tips for finding summer reads and listens here, too.  
Trying to find a great listen for the whole family? With NoveList Plus, you'll be able to find just the right audiobook for your journey. From the Advanced Search page, select your running time. For the long trip to grandma's house, select 6-12 hours. For the shorter trip, select 0-3 hours. Click the Search button. From there you'll have a list of audiobooks that are just the right length.  
Now it's time to refine your search. Using the Refine Results panel on the left side of the screen, choose the appropriate audience level, whether you prefer fiction or nonfiction, then limit by our story elements (genre, theme, audio characteristics, character, storyline, pace, tone, etc.). You'll now have a list of audiobooks just right for your journey. 
Looking for a print book to take along on your trip? NoveList has you covered there, too. Maybe your tween wants a short book to read over the Fourth of July. Head to the advanced search page on NoveList. In the right column, you will find a limiter for the number of pages where you can select a page range of say less than 200 pages.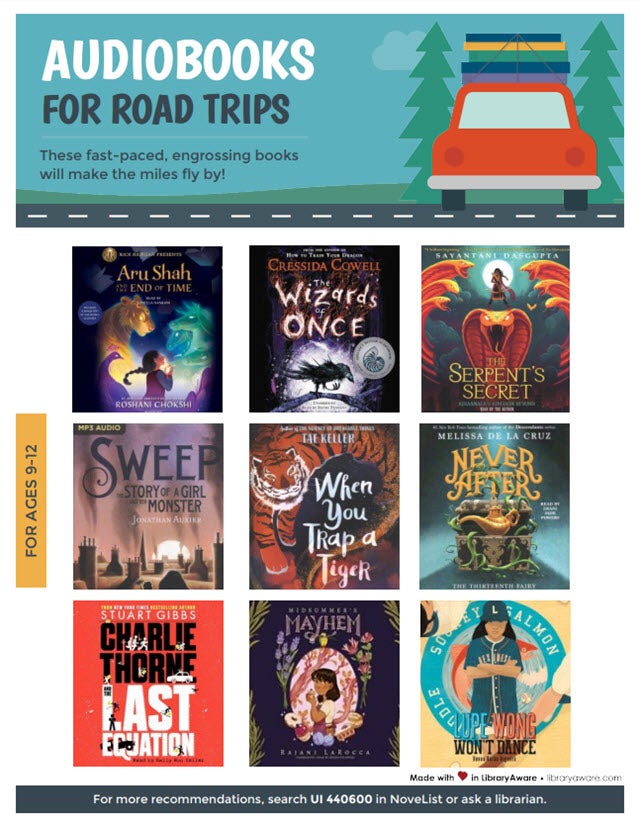 Wishing you happy, healthy, and safe summer travels. 
---
Molly Wyand is the Communications Specialist for NoveList. She is currently reading Weather by Jenny Offill (and has a bag of books packed for her upcoming roadtrips).