As much as NoveList is about book recommendations, we're also big fans of podcasts here, and any of my colleagues can tell you that it's rare for us to get through a meeting without someone bringing them up. Their popularity has increased even more since the pandemic began, up by 42% worldwide. But besides helping us pass the time, podcasts also present great opportunities for librarians looking to increase reader engagement and to keep their readers' advisory skills sharp. 
A great place to start is with podcasts that have been adapted into books, like Welcome to Night Vale, and Limetown. Some podcast hosts go on to write books related to topics discussed on their shows, such as History of Rome and Revolutions host Mike Duncan and his books The Storm Before the Storm and the upcoming Hero of Two Worlds. Another increasingly common phenomenon is authors starting podcasts themselves, such as memoirist Nora McInerny, who began the show Terrible, Thanks for Asking after the publication of her funny and heartbreaking book It's Okay to Laugh (Crying is Cool, Too). And when books like these come out in audio, they're almost always narrated by the authors themselves! 
Speaking of audiobooks, did you know that NoveList has appeal terms just for audiobooks? Audiobooks are a natural next step for podcast listeners, and audio appeal can be just as important as story, character, and writing style. For example, I prefer books read by a single narrator, so I appreciate being able to filter out titles with the full cast appeal term. And for those of us who even have favorite narrators (I <3 Simon Vance), taking a look at what audio appeal terms are attached to their performances can give you an idea of what other narrators you might like.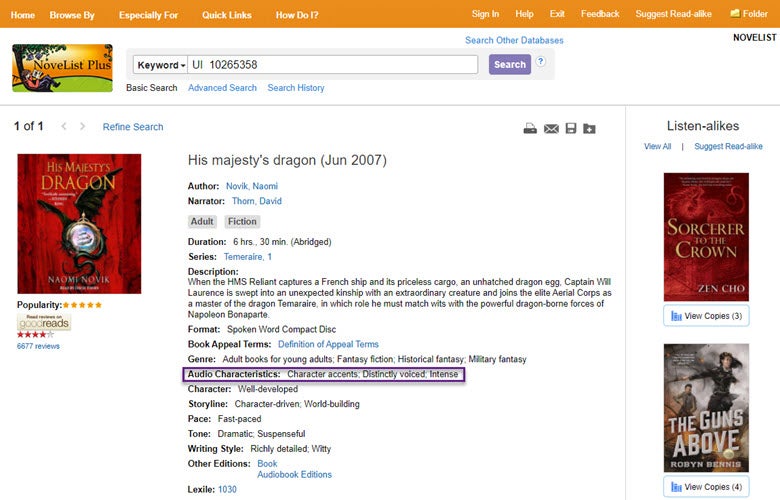 Another option is to use your patrons' interest in podcasts to figure out what books they might enjoy. Get them talking about what aspects of a podcast they like, then hop over NoveList and search for the appeals, themes, and subjects to help narrow things down. For example, a search of science writing and appeals like engaging or irreverent will turn up a list of books perfect for fans of the show Ologies, fans of The Truth will find the results of a search for short stories and the thought-provoking appeal interesting, and a search for GX *suspense AND (TH altered memories OR TH return from war) will bring back a list of fiction perfect for the Homecoming. lover.
Of course, there are plenty of podcasts just about books if you're looking for something to listen to yourself! Book Riot produces a number of podcasts to help keep you up to date on "what's new and worth talking about in the world of books and reading"; NYPL librarians talk about "books they're reading, pop culture and the literary zeitgeist, and the world of libraries" on The Librarian is In; and the classics get a refreshing re-examination on The Canon Ball.  
Ashley Lyons is a Readers' Advisory Librarian at NoveList and is currently listening to Lolita Podcast, Radio Ambulante, Worst Year Ever, and eagerly awaiting season 2 of Passenger List.