'Tis the season for gift-giving, and bibliophiles know that books make the perfect present. Each December, the staff who work with children's books here at NoveList choose just one or two books they believe could make a treasured addition to someone's bookshelf. Here are our picks out of the ones we read (or rediscovered) this year. They range from books for toddlers to teens and appeal to all kinds of readers. Your child's new favorite may be on this list — It's our gift to you.  
For kids who love a wild ride, ages 3-6 
Strollercoaster by Matt Ringler, illustrated by Raul the Third and Elaine Bay
In this lively picture book, a fractious toddler is no match for an inventive parent. When "inside feels too small" for little Sam, her dad secures her safely in the stroller and they take off on a swooping, zooming, zipping, and whooshing ride through their neighborhood. The text is packed with sensory details and onomatopoeia, while the illustrations burst with bold colors, diverse characters, graffiti-influenced verve, and signs in both Spanish and English. Strollercoaster offers a fresh, exuberant antidote to the indoor doldrums experienced by many families.  
Contributed by Rebecca Honeycutt, Content Development Coordinator 
For kids who love poring over pictures, ages 3-8 
Grand Isle by Kate Samworth 
A quiet family beach trip turns fantastical when two sisters end up stranded on a jungle-covered island in this wordless and lavish picture book. The children's wonder turns to unease as they realize that things are out of proportion, and every flower, plant, and animal towers over the kids. Drawn with stunningly vibrant colors, the lush and extravagant illustrations amaze with each page turn.  
Contributed by Lisa Chandek-Stark, Senior Metadata Librarian I 
For a celebration of food and family, ages 4-7 
Soul Food Sunday by Winsome Bingham 
The rituals and recipes that make up the weekly Sunday family meal are memorialized in this color-saturated and feel-good picture book. Each week, Granny hosts a delicious meal, serving mac 'n' cheese, greens, chicken, ribs, and sausage. A young Black boy gets his chance to help keep the tradition alive, even making the all-important pitcher of sweet tea. Textured illustrations, reminiscent of graffiti, bring the delectable scene to life. Recipes and cooking tips give readers the know-how to try and recreate some of the dishes.  
Contributed by Lindsey Dunn, Content Strategy Coordinator 
For curious dog lovers, ages 4-8  
First friend: how dogs evolved from wolves to become our best friends by Kersten Hamilton, illustrated by Jaime Kim 
This sweet picture book explores the evolution of the relationship between humans and dogs over time. With charming illustrations and a repeating narrative, readers are presented with scenarios explaining how this bond grew stronger over thousands of years. The easy-to-understand, lyrical text and informative backmatter are perfect for young, inquiring friends of canines.  
Contributed by Brierley Ash, Metadata Librarian II 
For imaginative developing readers, ages 5-9  
Jo Jo Makoons: The Used-to-Be Best Friend by Dawn Quiqley, illustrated by Tara Audibert
This series starter introduces seven-year-old Jo Jo Makoons Azure, an outgoing, imaginative kid who lives on an Ojibwe reservation and worries about staying friends with her BFFs: Fern (a classmate) and Mimi (a cat). Newly independent readers will appreciate Jo Jo's flights of fancy and friendship concerns revealed through wordplay-filled text and black-and-white art. Own voices author Dawn Quigley includes a list of Ojibwe and Michif words to encourage understanding for readers who are new to those languages.  
Contributed by Rebecca Honeycutt
For armchair travelers, ages 7-10 
Africa, Amazing Africa: Country by Country by Atinuke, illustrated by Mouni Feddag  
Each country in contemporary Africa gets the spotlight in this browsable, vibrantly illustrated work of nonfiction penned by beloved Nigerian author Atinuke and first published in the U.K. Curious families will love poring over every page and learning kid-friendly facts about sports, animals, food, history, and modern life on the vast continent.  
Contributed by Autumn Winters, Recommendations Lead 
For children who worry (so everyone), ages 7-12 
The Worry (Less) Book : Feel Strong, Find Calm, and Tame Your Anxiety! By Rachel Brian  
This nonfiction graphic novel removes the stigma of anxiety while offering helpful strategies to manage anxious feelings when they bubble up. Rachel Brian avoids hollow adages like "everything will be okay" and adopts a frank but assuring message: There's no cure for anxiety but there are plenty of strategies to keep it in check. The big and bold, minimally colored illustrations depict stick figures enacting these all-too-real scenarios.  
Contributed by Suzanne Temple, Senior Metadata Librarian I 
For teens and tweens with a sense of adventure, ages 12-18
The Night Marchers and Other Oceanian Tales 
This book — an anthology of mythology — retells stories from across the Pacific in graphic form, mostly by own voices authors. Legends included in this anthology hail from Hawaii, the Philippines, Fiji, and other places in the region. Teens and tweens who appreciate fairytale and folklore-inspired fiction, as well as graphic novels and fantasy, will enjoy the tales therein. With stories that range in tone from sweet to amusing to suspenseful and chilling, there's something for everyone. 
Contributed by Helen Sharma, Library school student and NoveList Intern
For an epic journey of friendship, ages 10 and up 
Kaleidoscope by Brian Selznick 
The unassailable friendship of two boys through time, space, and mortality is lovingly explored in this nonlinear illustrated collection of short stories. An unnamed narrator contemplates his connection to best friend James through each part of the story. The friends walk through life together with the narrator contemplating how love outlasts any separation, even death. Kaleidoscopic images precede each chapter, giving a hint of things to come. Selznick explores various genres, settings, and tones, making the relationship the totem and constant of this storyverse.  
Contributed by Lindsey Dunn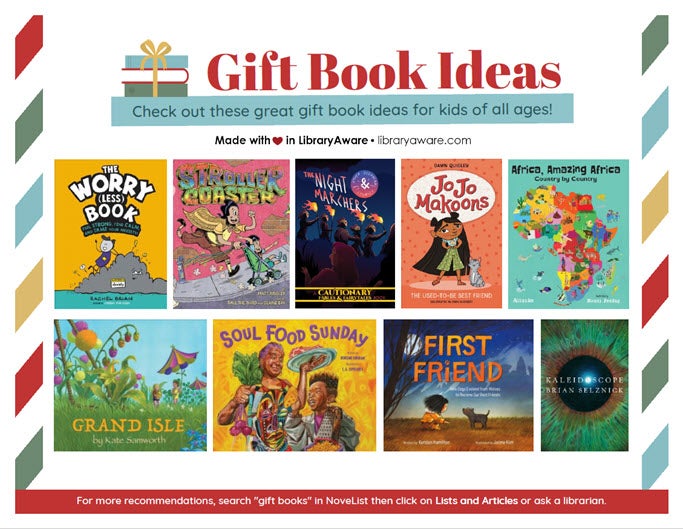 Lindsey Dunn is a Content Strategy Coordinator for NoveList. She is currently reading The Stand by Stephen King.