Presented by the Horror Writers Association (HWA) and the Adult Reading Round Table (ARRT), the 4th annual HWA Librarians' Day has shifted to a virtual, on-demand event. You can register and read about the list of panels here – videos will be live to the public beginning Sunday, November 1. Members of the ARRT will be moderating an asynchronous Q&A throughout the month of November. (As a reminder, November marks the beginning of the countdown to NEXT Halloween!)
Event registration is free, although donations to HWA's Diversity Grant are gratefully accepted. We are excited that NoveList team member Cathleen Keyser is featured in one of the panels, discussing horror themes in NoveList and how they facilitate access and discovery to horror fiction for librarians and readers.
While waiting for the videos drop, you can get a preview of horror themes in NoveList by entering UI 448316 in the search bar, or navigating to all our themes by clicking on "Browse By… Themes" in the dropdown at the top of any page in NoveList.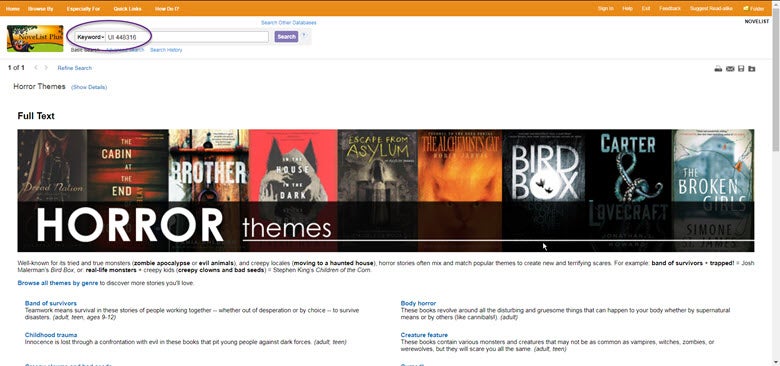 Until then, stay spooky!
---
Victoria Caplinger Fredrick is the Director of Book Discovery. She is currently reading A Sick Gray Laugh by Nicole Cushing.