Here at NoveList, we are continuing to expand our search terms and content for Japanese manga. While we already have a wide variety of themes, genres and subjects related to graphic novels, manga has a unique subculture and many features that have influenced comics for decades. 
This is where our new theme comes in: introducing Magical Girls, a new theme for graphic novels! 
Magical Girl, or "mahou shoujo," is a subgenre of fantasy in Japan with origins dating back to the 1960s. As time has progressed, the subgenre has grown and evolved to encompass various different tropes and forms of media. In a Magical Girl series, an average young girl has a magical alter ego that she uses in order to fight magical beings. Sometimes she is alone in her efforts, other times she has a group of friends who also transform to fight by her side. 
The most famous Magical Girl to Western audiences is Sailor Moon, a manga and anime series from the 1990s, where a young teenage girl named Usagi (or Serena, depending on where you first experienced the series!) transforms into a magical superheroine along with her friends to fight against the forces of evil. This transformation aspect, with extravagant and visually dramatic transformation sequences, would become a staple of modern Magical Girls. 
There are often common aspects of modern Magical Girl manga that allows these series to stand out. These include but are not limited to: magical animal sidekicks; an emphasis on romance and friendship; discovery of identity as it is affected by the magical alter ego; and a celebration of femininity. 
 Many series in the 2000s onward have also taken the Magical Girls genre and turned it on its head in some fashion. Whether this is by creating a darker purpose behind the magic (as with the Madoka Magica series), playing with the characters' genders (as with Is This A Zombie?), or returning to the roots of more traditional witchy magic (as with the popular Little Witch Academia series), Magical Girls still play a prominent role in the fantasy subgenre. 
As the genre has been around for decades, there is also Western media that has taken great influence from aspects of these Magical Girl series, such as Miraculous Ladybug and the new She-Ra and the Princesses of Power series. If the influence of these series is strong enough, they will also be included in the theme. 
To begin your search for the next magical superheroine, search in NoveList under TH Magical girls.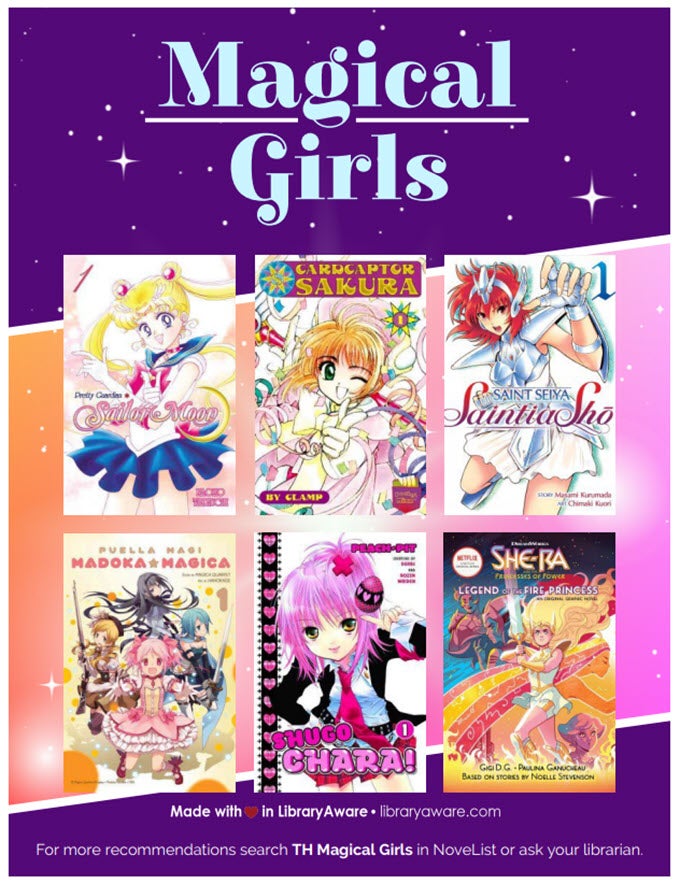 Jamie Langer is a Metadata Librarian at NoveList. She is currently reading Persephone Station by Stina Leicht.