One of the goals of any library is to get materials into patrons' hands, but sometimes (like, during a pandemic) it can be hard to reach your audience, make them aware of what you have, and increase circulation.
One way of reaching people, especially if they're not able to come to the library in person, is social media. Using popular platforms can give you effective and creative ways to promote your library!
The three leading platforms most libraries use are Facebook, Instagram, and Twitter. Each one offers ways to grab your users' attention and get them into the library and checking out items. We've got a few ways you can optimize your social media.
Have a strategy!
Be consistent! Have a schedule for posts, but don't overdo it. For example, you can post daily on Facebook, but don't do more than 3-5 posts (and space them out throughout the day). While you want to become a presence on your followers' feeds, you don't want them to get tired of seeing your library.
Take full advantage of hashtags, trends, and social media challenges.
Use diverse content. Highlight that your library is for everyone! And don't limit it to certain times of years — diversity isn't just for African American History Month or Hispanic Heritage Month. It matters all year.
Get to know your audience by looking at the interaction with your posts. If one type of post does well, use that as a sign to make more in that style.
Thank you for being a Facebook friend
Facebook is one of the longest-running platforms and overall seems to be the tried-and-true choice for libraries. There are several ways to create fun content that draws attention to what you offer.
Facebook Live and pre-recorded videos are one way to let patrons see your smiling faces when they're not in the library. You can pre-record book talks, storytimes, and even instructional videos and post them later to keep your patrons up to date. How many times has a patron told you they don't know how to place a hold? Well, if you record a step-by-step video, they can refer to it at home and master that skill.
Or, for those feeling up to it, you can go live! Yes, going live can be scary, but if you think of it as an interaction you'd have on the desk, it may help you feel more comfortable. After all, if someone comes to the desk and wants a book recommendation, you don't give a scripted speech. Your audience doesn't expect you to be perfect! Prepare for your videos but remember to have fun.
When going live, have someone else on staff monitoring questions so if you can't answer a question within the timeframe, you have someone to help. This person can also link to the books you may mention in the catalog, allowing for viewers' one-click access.  Also, go back and look at comments that are left later. Sometimes more people watch the live event after it's done. Don't be discouraged if you don't have a lot of viewers; finding the time when most people are available is very tricky.
It helps to a little something prepared if you go live and there's not a lot of interaction. For example, if you're on there talking about books, maybe have a few staff picks ready to recommend while questions come in. Or answer common questions you've gotten before.
Along with the fun of videos, you can post on Facebook in the more traditional sense. I recommend graphics to engage your viewers. Also, always include a link. The easier you make it to access the information you're mentioning, the more interaction (and even checkouts) you're likely to get.
Passive readers' advisory is one way to highlight portions of your collection and, by extension, increase your circulation. The image below, made using LibraryAware, is one way to do passive RA. Use a theme and then show what options you have to offer. Keep text on your post short, with just a couple of sentences about the image and a link. One great part of this is that you can make the graphics ahead of time, allowing you to have posts ready to go.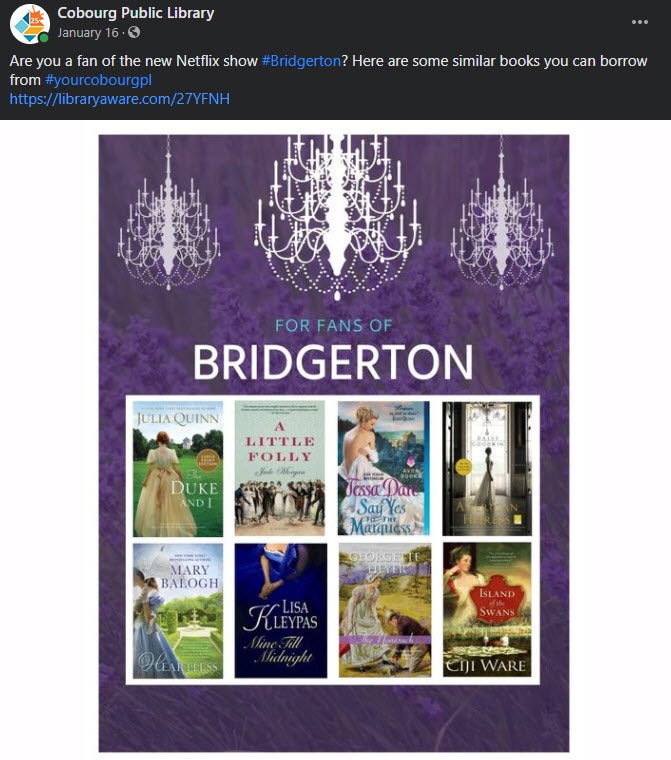 Instagrammable
Instagram is another way to reach your patrons, and it is all about the visuals. You can use graphics (below is a great example from LibraryAware) or pictures you've taken. This is a great way to get a variety of staff involved. Have them highlight what they're reading and take a cute picture. Need inspiration? Search #bookstagram for some of the fantastic work that gets shared.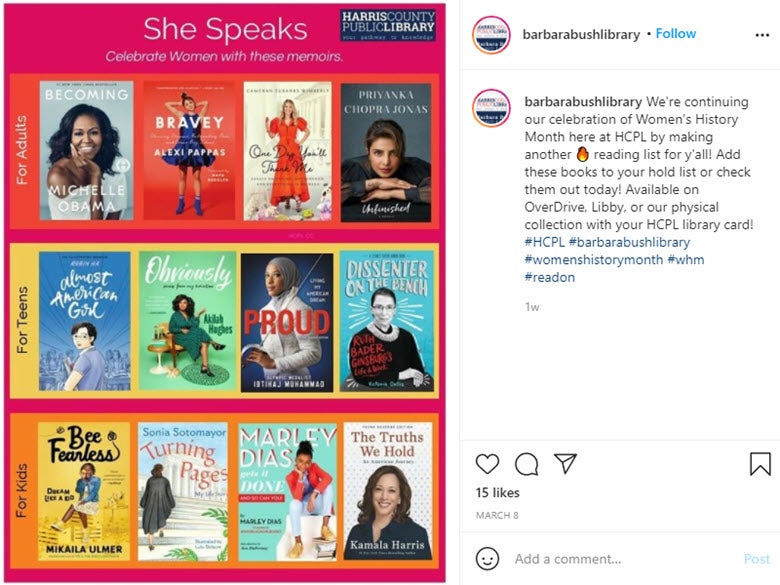 Hashtags are crucial. You want to use at least a couple (but don't go overboard -- ten hashtags is an overwhelming sight). Create a signature hashtag for your library. Dallas Public Library did this, using #DPLWhatsNext. This lets people search by that hashtag and find all of your posts! Using popular hashtags will help draw attention to your post (hint: use #bookstagram or #library).  Tip: put your hashtags in a comment for your post, not in the caption itself.
Instagram also offers stories — images (or videos) you can share that only appear for 24 hours, after which, it is permanently gone. Stories allow you more options, with things like Q&A buttons that let your followers answer the question you post in your stories.  You could even post that you'll be helping readers find their next book, take requests, and then post the books you recommend in a story.
Instagram, like Facebook, has a live option and recently introduced Reels, which let you post 15-second videos. With Reels being so short, they challenge you to find quick and creative ways to showcase your library.
One downside is that Instagram doesn't let you share links in your posts. But, you can make a linktree in your bio to direct followers to various sites.
Tweet Tweet!
Twitter has a thriving book community! Authors seem to love it, and librarian twitter is a very active place. Use your tweets to highlight programs and services you have to offer, and make sure to use your hashtag and other popular hashtags. Twitter does allow for links which, again, helps make accessing your library easier for followers.
Another way to raise awareness of your library is to participate in things like #AskALibrarian. Every Thursday, from 12:00-1:00 PM ET, the libraries and librarians of Twitter make their services available to for book recommendations books. Take part in #AskALibrarian, and let your patrons know that they can find you there. The more you do it, the more substantial presence you will create.
If they have a twitter account, tag authors that you mention! They tend to enjoy seeing that their books are being recommended and will sometimes retweet the post. Having an author retweet a post makes more people aware of the great work you do.
New Kid on the Block
Let's talk about TikTok! If you want to reach a younger audience, TikTok is an excellent option. While this is still not as familiar to some, it is a fun way to reach an audience that doesn't always get the focus for library social media. Check out #librarytiktok and #booktok for ideas. And you can use hashtags in your caption, which helps videos come up in searches.
Share what a day in the life of the library is like, do book talks, or participate in TikTok trends. Using trending sounds in one way to reach a wide range of people. TikTok uses an algorithm that shares videos based on what you have liked. These show up on a user's "For You" page, meaning that someone does not have to follow your page to see your posts. Use a sound that's super popular and see how it increases your views. The key with TikTok is to have fun.
Go Forth and Post
We hope these tips can help you strengthen your social media and existing, and new, patrons aware of what they can find at their local library.   
This article has been adapted from a NoveList Day of Learning Presentation.
Yaika Sabat is a Senior Readers' Advisory Librarian at NoveList. She is currently reading Ring Shout by P Djeli Clark.