Multitasking and librarianship go hand in hand, don't they? How many times have you been preparing for a program when a patron approaches with a question about finding that just-right book, and then while you're absorbed in that search, you find a title that would be *perfect* for a previous question from a different patron? You promise yourself you'll remember it, but then you're off to a flurry of other tasks and before you know it, that title is long gone. Sound familiar? 
NoveList created folders just for this reason. We know you have a lot on your plate, as well as A LOT of requests from your patrons and colleagues. Folders make multitasking possible, allowing you to find helpful materials for programming while providing great readers' advisory or stashing titles to consider purchasing. Here are tips on incorporating folders into your multitasking days. 
Book Clubs
Looking to plan out featured titles for a range of book clubs? Or searching for read-alikes for handing out to patrons at the program itself? Folders can make it happen! Create folders for your various book clubs and harvest both potential books for discussion and potential read-alikes to share. 
Pivot to readers' advisory: share suggestions with your patrons for *their* book clubs! Print out one of our Book Club Best Bets lists, with book-club worthy picks chosen by NoveList librarians. Set up a search alert, so you'll know when NoveList adds a new pick for your book club(s) of choice. Pro tip: get a head start with your search by locating your desired book club on the Advanced Search page under the Media Mentions category; you'll find a selection of popular book clubs included with the TV and radio mentions. 
Folders for the win: save the results from your search alerts to a folder. You can email those to your patrons directly from the folder page: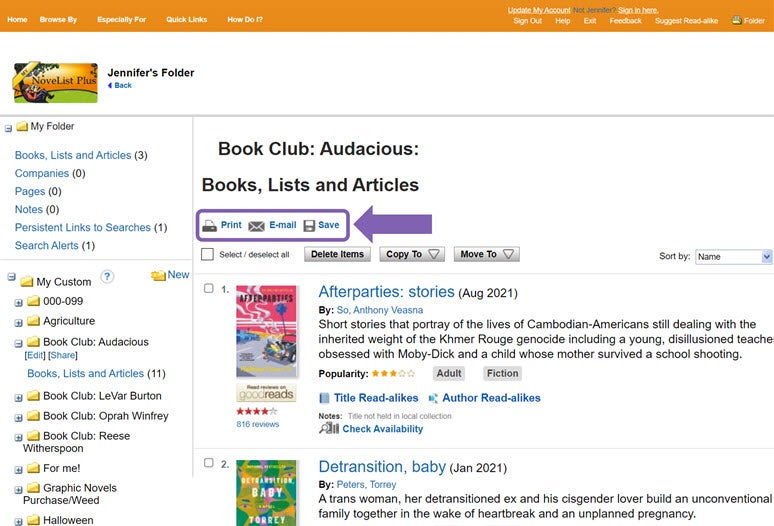 Summer Reading
Each spring, NoveList adds content based on the Collaborative Summer Library Program theme (this year's theme is Oceans of Possibilities). It's as easy as typing summer reading into the search bar then clicking the Lists & Articles tab: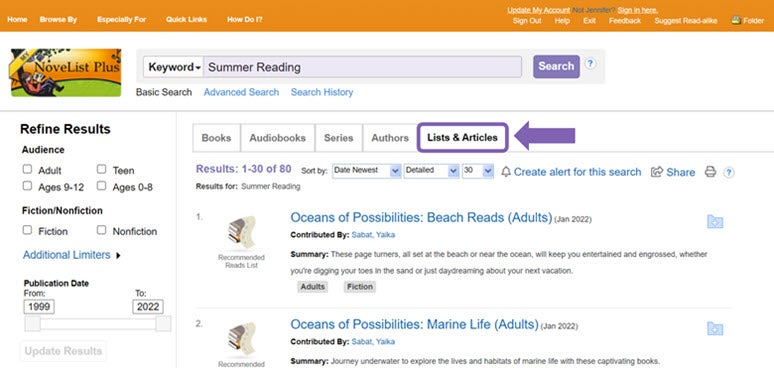 Leverage NoveList themes and genres to build quick displays for easy passive readers' advisory all summer long. Themes are based on popular and common plot constructs in fiction. How about creating a "Terror at Sea" display for adult readers using themes like creature feature, evil animals, or 'trapped!' Pull in teen readers with a display on tales of the high seas using genres such as sea stories or adventure stories.  
Need ideas? Check out our themes and genre browse pages, found on the NoveList home page. 
Folders for the win: make those displays last all summer long by stashing titles found into folders!  
Pivot to programming: turn what could be simply answering a patron question at the desk ("Do you have fantasy books about mermaids going on an adventure?") into a casual program for patrons! Block off time to show them how to search for their favorite themes. Hand out NoveList promotional materials, show this brief 2-minute tutorial, and create a theme-based book display!  
Storytime planning
As someone who frequently assisted with storytimes, my go-to storytime books were often upbeat stories with big and bold illustrations. NoveList metadata (appeal factors, subject and genre headings, and the ability to search reviews) help identify those preferred titles – fast! Pro tip: you can also search GN Storytime standouts for quick inspiration. Try creating searches with your desired characteristics: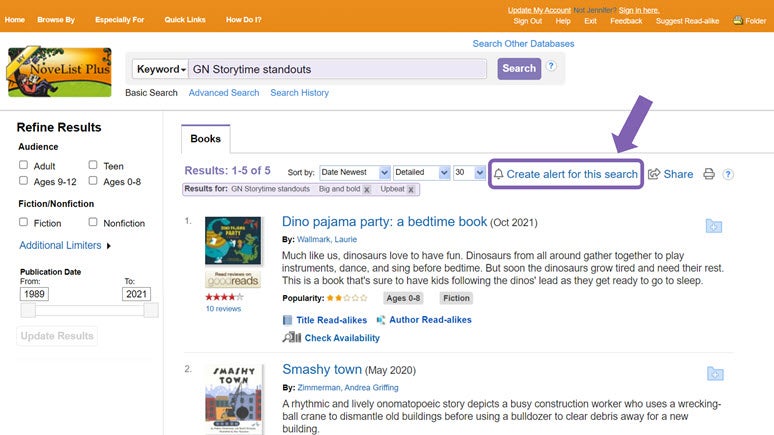 Folders for the win: Stash the titles in folders you've created.  You'll have them at hand as you prep and can also use these books to create displays for the parents of your storytimers. Or, share folders with your colleagues during stretches when ideas run dry. 
You can save articles on storytime best practices to folders, too. 
Have you found an ingenious way of using folders in NoveList? We'd love to hear from you! 
Jen Heuer Scott is a Marketing Specialist at NoveList. She is currently reading The 1619 Project by Nikole Hannah-Jones.