From irreverent and funny displays for International Joke Day, to close encounters with books for World UFO Day, NoveList can help make promoting your collection and programs a breeze, no matter what you and your patrons have planned this month. 
NoveList products work better together, and you'll find many ways throughout the month (and year) to use all our services as you promote your collections and events, provide readers' advisory to patrons, and sharpen your own skills. 
Check out the attached NoveList Idea Calendar to find tips, search suggestions, a free printable, and more to help you save time and connect readers to their next great read. The best part? You can use these ideas any time of the year! For example, July is Graphic Novels in Libraries Month, but there are graphic novels in every genre and for every age so be sure to include them in all your promotions. In fact, most of these tips can, and should, be used year-round! I suggest you keep this calendar nearby long after July has come and gone.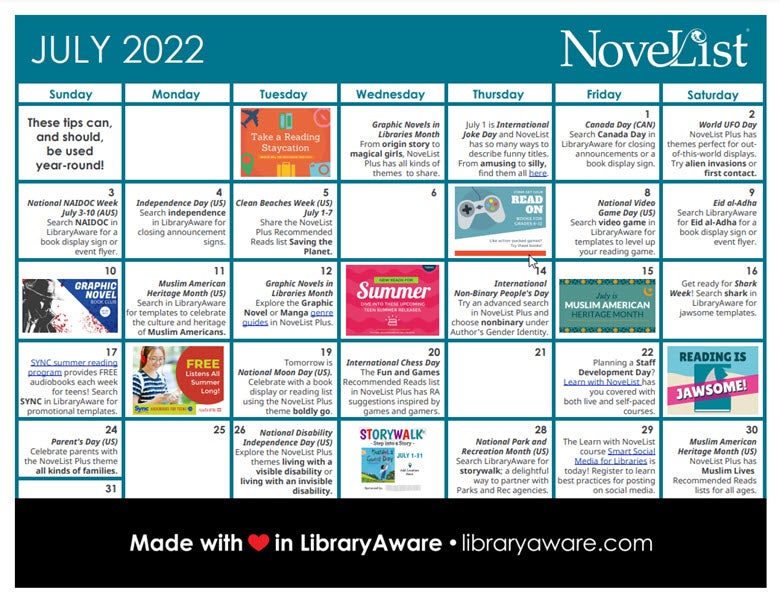 Below are some suggestions for when to use each of our products: 
Our July 2022 Idea Calendar is full of holidays, celebrations, and seasonal suggestions, and this is just the beginning! These tips are by no means an exhaustive list of everything we have on these topics or for the month of July, but we hope they give you some inspiration to get started. 
Have a great month!