Homebound took on a new meaning this past eighteen months, as patrons who were used to visiting their library regularly couldn't because they were immune-compromised, living with someone who was immune-compromised, or their library simply wasn't open. Libraries have stepped up their game and come up with creative ways to keep serving their patrons, both the ones who can come in the doors and the ones who can't. This is essential, especially in stressful times, because a good book is a comfort and a requirement. Something as simple as a good mystery novel can be the slight relief your community needs right now.
As your library reviews the services you offer to patrons who are homebound, NoveList can help you provide your readers with the best books possible.  
Read-alikes  
Many readers have their favorite authors, titles, and series. For those mystery fans out there who have read their way through the No. 1 Ladies' Detective Agency series by Alexander McCall Smith, NoveList has tons of ways for you (and them!) to find read-alikes. These read-alikes are great because they will help you and your readers uncover books on your shelf that you may have forgotten about.  
Author read-alikes 
If your readers love Alexander McCall Smith because of his likable characters and amusing tone, author read-alikes are a great place to start. Search NoveList by typing the author name in the Keyword search box. On the results page, click on the "Authors" tab located under the search box. Click on the desired author to get to the author detail page, and look to the right of the page to see author read-alikes to offer.
Series read-alikes 
Many authors, like Alexander McCall Smith, have a couple of series, and readers may prefer one to the other. If that's the case, series read-alikes are your friend. Following the same process as above, type the series title in the Keyword search box and then click on the "Series" tab on the results page. Once in the series record, navigate to the right of the page to see series-to-series read-alikes for your readers to enjoy.  
Title read-alikes 
Some readers may have enjoyed a series, but one book in that series particularly resonated with them. Or they don't read series at all but love stand-alone books. Again, title-to-title read-alikes are your friend here. Same song, different verse — find those title read-alikes on the right of your screen when you're looking at a title record.  
Make your own  
All the NoveList Story Elements associated with a title, author, or series can be found at the bottom of the record page, and you can use them to make read-alikes that fit your patrons' unique reading tastes. Do your readers love cozy mysteries with an amusing tone? You can create a search for that!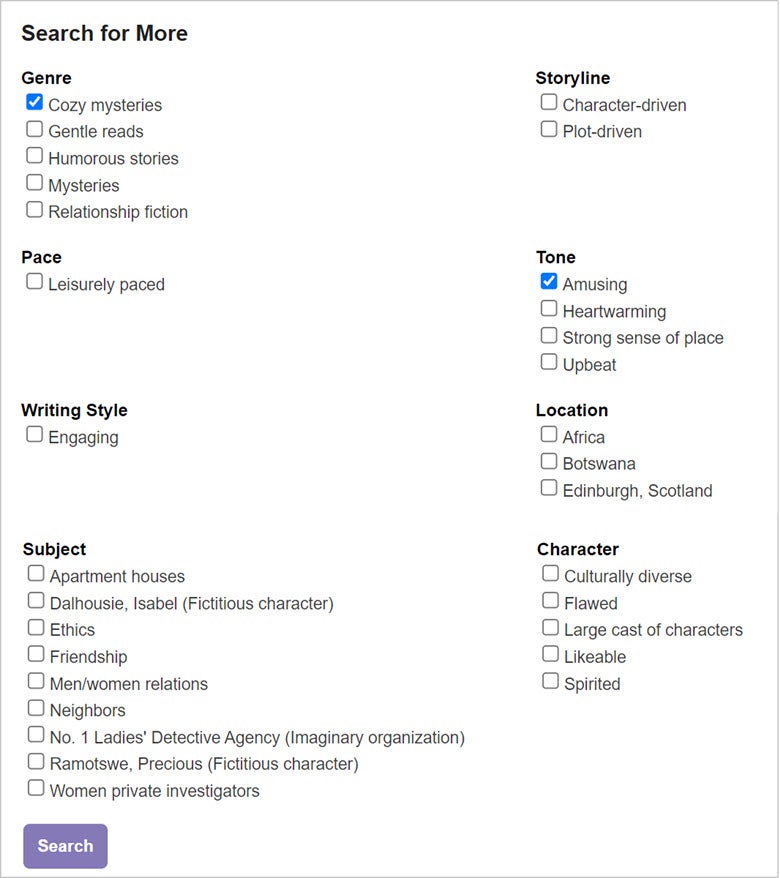 If you start on an author record and click the desired story elements, you'll get a list of authors whose writing matches your criteria. Similarly, if you start on a series record, you'll get a list or series; title records will suggest a list of titles. Show your patrons how to do this or do it for them. Either way, the read-alikes and story elements give you and your readers an easy way to discuss reading tastes and ensure that the selection of books you bring to their house includes some surefire hits.  
Automate it! 
Have you used folders in NoveLis Plus yet? What about search alerts? 
Folders are a way for you to stash all the good stuff you're finding for your patrons in NoveList so that you don't forget. As you're serving homebound patrons and getting a sense of their tastes, you can create folders with their names. Every time you come across a book you think they'd like, stash that book in a folder. Folders can be printed or emailed, so they are easily shared with readers. And folders aren't limited to librarians. Your readers can also create accounts in NoveList and stash the books they are interested in, then email you a list or print it out. 
If you and your readers have come across the perfect book search (maybe you're a field code pro), you can turn that book search into a search alert and get emails when new books are added to NoveList that fit that search. You can set up how often you want to be alerted and edit the search as needed. We have a great blog post about how to use alerts to learn about new books by your favorite author.  
Want to learn more about how NoveList Plus can help you serve your homebound patrons? If you've got NoveList, check out our tutorials on YouTube. If you're new to NoveList, ask for more information. We'd love to help you serve your readers better! 
Using Story Elements with Readers
Looking for more strategies for working with readers? Hire a NoveList expert to lead a course with your class on NoveList's Story Elements.
Jennifer Lohmann is the Director of Sales and Marketing for NoveList. She is currently reading Confidence Men by Margalit Fox and is very worried about Selena Gomez in Only Murders in the Building.