The librarians at NoveList love making connections between books, authors, and series. We also love getting feedback on our recommendations, both good and bad. Letting us know when we've missed the mark helps us get better; on the flip side, it is very satisfying to hear about the times we supplied you with just the right book for a reader. 
But sometimes, the feedback you want to offer isn't to agree or disagree with a read-alike we already have; sometimes, you want to suggest a read-alike of your own. Are there ever times when you have the PERFECT match for a book and just want to share it with somebody? Love recommending hidden gems to the readers who have finished everything from a high-profile writer? 
We've just launched a feature that makes it easier than ever for you to share these suggestions. You can do so from any page in NoveList using the "Suggest Read-alike" link in the upper right-hand corner of the screen. There is also a link to the suggestion form from the Read-alike panel on any book, author, or series page in NoveList. Just let us know what you want to provide the recommendation for and why, and we will take it from there!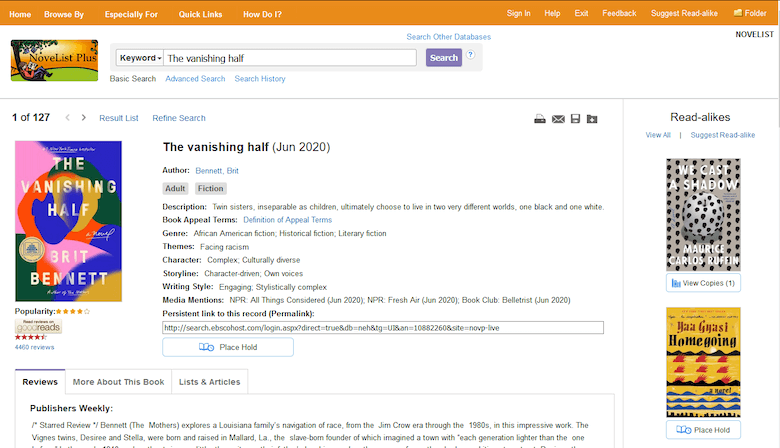 We launched this feature just last week, and have already seen some great suggestions coming in. Thank you to the users who suggested the following: 
Author read-alikes for naturalist and environmentalist writer Edward Abbey 
Suggestions for readers who love the Bernie Gunther mysteries by Philip Kerr 
Making a connection between the funny parodies (with an LGBTQIA twist) of Mabel Maney and Monica Nolan 
The above is just a sampling of the read-alikes we've already received — we are looking forward to even more. Bring them on! 
---
Victoria Caplinger Fredrick is the Director of Book Discovery at NoveList.