We know it can be hard to sift through the thousands of titles published each year to identify those books that are going to prompt lively and engaged discussions in your library's book clubs. Last year I shared a collection of Recommended Reads lists we have in NoveList to help you select the best titles for your book club discussions. Based on the feedback we got about how helpful those lists are, we have now added a new way for you to find discussion-worthy titles. 
Introducing: Book Club Best Bets, the genre! This genre heading is applied to titles that have been identified as excellent for book clubs, either in reviews, by celebrities and media outlets, or by NoveList experts. While most of the titles are currently for adult books, the heading might also show up on teen and children's titles when appropriate. 
Want to check it out? Simply search GN book club best bets to see the list of books with this heading. You can use the limiters on the left side of your screen to narrow down your search OR you can combine the genre heading with some of your other favorite NoveList story elements to find a just-right title for your book club. I've shared some examples below that have helped my book club find some exceptional selections: 
GN book club best bets AND SC own voices 
 
GN book club best bets AND AP thought-provoking 
 
GN book club best bets AND TH immigrant experiences 
 
GN book club best bets AND TC suspenseful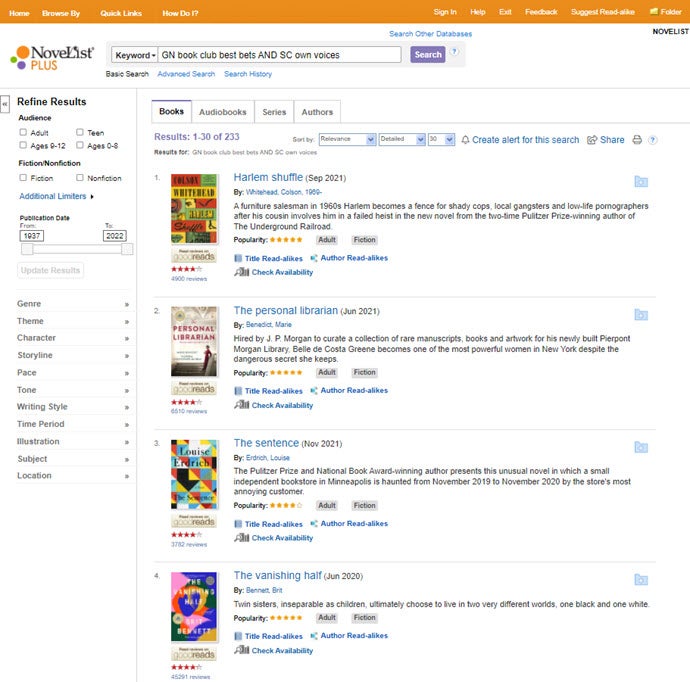 Did we miss any titles that should be marked as Book Club Best Bets? Please let us know! And if you're looking for other resources to boost your book club, make sure to take a look at our Explore Book Club Resources page, which pulls together articles, lists, helpful search suggestions, and more. Happy reading!
Halle Eisenman is a Content Development Manager at NoveList. She is currently readingThe Mermaid, the Witch, and the Sea by Maggie Tokuda-Hall (for her book club), and listening to When You Get the Chance by Emma Lord.