Binge-watching TV shows was definitely a thing before the pandemic, but it took on a whole new meaning in 2020 as people sought an escape from the bleak headlines and a pastime to fill in the giant holes where other obligations once stood. However, this trend continued into 2021, where nearly half of U.S. broadband households subscribed to at least four streaming services, according to research firm Parks Associates. Nielsen studies reported that U.S. adults watched more than four hours of television a day, both streaming and live. This amounts to almost two full months of TV per year!  
I was right there with the rest of the world. Between family, work, and grad school, I hadn't really kept up with TV over the last few years. However, I suddenly found myself craving the comfort of a good binge. I watched it all – past and present, silly or serious, squeaky clean or blood-filled. No show or steaming service was safe. American Horror Story, Downton Abbey, Game of Thrones, Insecure, Schitt's Creek, all incarnations of The Walking Dead, and much, much more. If nothing else, I can say that COVID prepared me to dominate both trivia night and the zombie apocalypse.  
Through our various meetings and group chats at NoveList, I knew that many of my colleagues were bingeing just like me. I conducted a super scientific survey (read: Google form with tons of shows listed) to gather insight into what our staff was watching in 2021. The top ten results, gathered from our NoveList staff, probably won't surprise you:  
Schitt's Creek 
Ted Lasso 
Squid Game 
Bridgerton 
The Haunting of Hill House 
Loki 
The Queen's Gambit 
WandaVision 
The Crown 
What We Do in the Shadows 
Curious, I opened my survey up to friends and family and discovered many of the same shows landed in the top ten again. Did any of these make your list? Have you heard your co-workers or patrons talking about these shows? If not these, what other shows got your community's attention? We'd love to hear! 
Our NoveList librarians are always looking for ways to give you more and better ways to connect your patrons to books they will love. This is even more important in the age of bingeing. What do you do when current or potential patrons come stumbling through your doors, eyes bleary from that 20-hour binge of Stranger Things, wondering what they could possibly read? Time to turn to our super popular For Fans Of Recommended Reads lists, which each feature 20 or so titles connected to tv shows, movies, games, and music that people can't get enough of. Our team has been extremely busy adding new lists over the last 18 months, reflecting that bingeing is here to stay for at least a little while longer.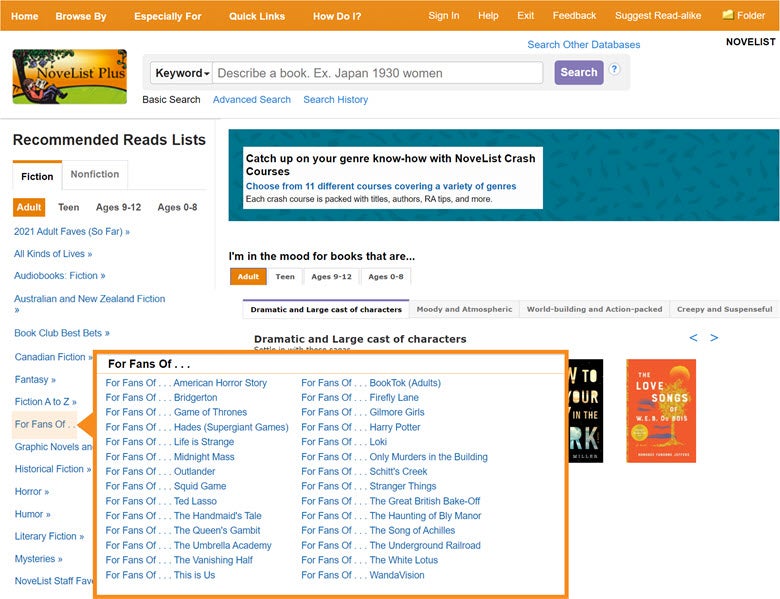 What else can you do to reach out to those library patrons who might not feel comfortable talking to staff, may still only be using curbside pickup, or who prefer to stay at home, cuddled on the couch in their favorite navy blue snuggie? Here are just a few ideas to consider: 
Create a flyer or bookmark for a newly trending show to add to curbside pickup materials, especially when that binge-worthy show is a perfect fit for lovers of a certain genre. LibraryAware users can easily find designs for the latest trending shows by searching For Fans Of in the keyword search box. These attractive designs are customizable so you can make sure the titles featured are reflected in your collection.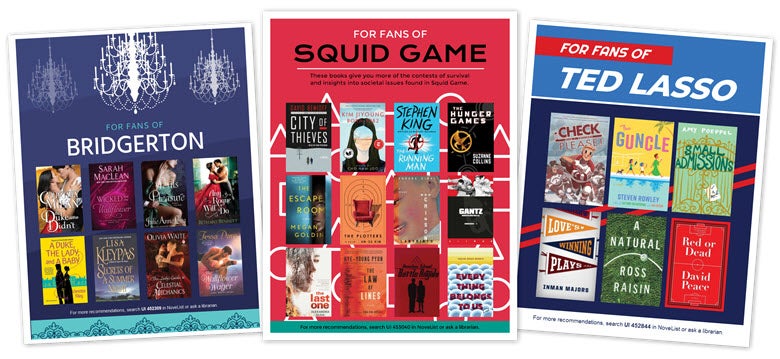 Post an eye-catching list of titles to your social media channels and highlight how easy it is to put a title on hold or check out through your digital platforms. Need inspiration or a template? Again, LibraryAware has you covered!  

You can also use the previous designs to create a book display for a passive, yet effective readers' advisory experience. 
Use one or all of these ideas to connect with your patrons and help them realize that their library is a surefire place to go for some exciting and new titles to binge! Rest assured that we'll have you covered as new binges take the world by storm because we're probably watching them all too…at home…in our navy blue snuggie. 
Jen Heuer Scott is a Marketing Specialist at NoveList. She is currently reading The Icepick Surgeon: Murder, Fraud, Sabotage, Piracy, and other Dastardly Deeds Perpetrated in the Name of Science by Sam Kean (thank you, Crash Course in True Crime!).