It may seem like library collections are such a normal, standard thing that they happen naturally, or magically, with the right books just appearing on the shelves as soon as they are published. The truth is building and maintaining a good collection takes a lot of time, energy, and expertise. If you use Core Collections, you already know what a powerful tool it can be for all parts of collection maintenance. But Core Collections does a lot, so it's a good idea to take a minute every now and then to make sure you're using it to the fullest. Whether you've used Core Collections for years or are exploring it for the first time, this guide will make sure you are tapping into all it has to offer. 
Connect Core Collections to your library's catalog. 
When you connect your library's holdings with local collections you can instantly see which titles in Core Collections your library currently owns, giving you even more power to make informed purchasing and weeding decisions. For example, when searching for new Essential titles, you can quickly see any that your library doesn't own yet and add them to a folder – an easy way to create a list of titles to order. Or you can compare titles that you do own, but Core Collections lists as Weeded, and generate a list to consider removing. 
Knowing which titles you already own, combined with search options in Core Collections such as Dewey range and grade level limiters, will ensure you're making sound decisions while spending your money (and time) wisely. Contact our support team at novelist@ebsco.com to inquire about how to set up your local collection. 
Enable the Core Collections interface. 
Most users (especially you newbies) will already have the Core Collections interface enabled. But if the image below doesn't look familiar, now it is a great time to set it up. This interface allows you to browse your Core Collections databases by categories, such as award winners or by recommendation level. The recent addition carousel is updated regularly and is a great visual preview of new titles. Email our support team at novelist@ebsco.com to enable the interface.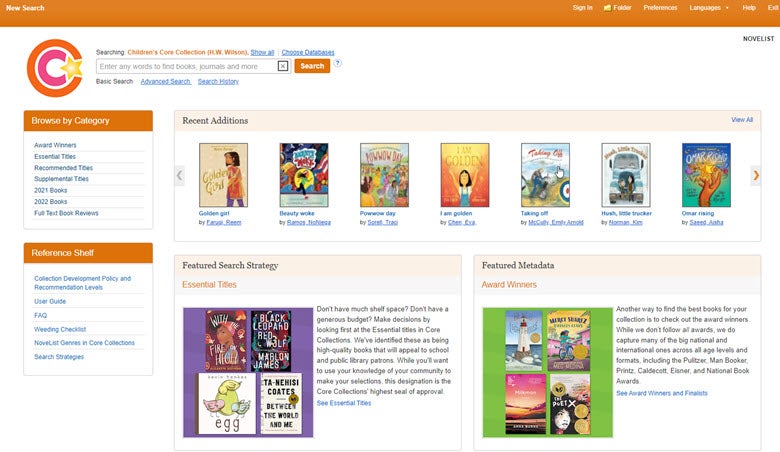 Use the folders feature to stay organized. 
You can create various folders in Core Collections and fill them up with titles, reviews, or articles to keep your collection process organized. Create folders for essential fiction to purchase, easy readers to consider weeding, or (it's work-related, I promise) books you want to read, and then download, email, or export your list. All you need is your name and email address and you can sign in or create an account right from the Core Collections toolbar where it says Sign In. 
Set up alerts for new Essential titles. 
Let's face it, you're busy. And I know for me, it's easy for a day or week (or month) to slip by without doing that one thing I keep forgetting to write down. Alerts from Core Collections will provide a gentle nudge or friendly reminder to log in and check the new titles that have been added. You can set email alerts for any search you conduct in Core Collections and, PING, you'll be notified when titles are added that meet your search criteria. It's an easy way to stay up to date with popular authors, genres, or Essential titles. 
Read the Core Collections collection development policy. 
You care deeply about creating the best collection for your community and so do we. Our Core Collections content specialists and collection development staff are committed to creating and maintaining collections that reflect the diversity of the human experience. Selectors consider multiple opinions on books, actively stay educated on issues of diversity and representation in publishing, and seek out sources catering to genres currently underrepresented in industry sources, specific niche audiences, and professional materials. Understanding our collection ethos will give you even more confidence as you build your collection. 
Familiarize yourself with the recommendation levels.
Core Collections content specialists and collection development staff evaluate hundreds of titles each month and assign each title a recommendation level: Essential, Recommended, Supplemental, or Weeded. The recommendation levels make it easy for you to efficiently weed your collection, quickly research new titles, and effectively maintain and grow your collection. We've tried to make the levels as specific as possible, but make sure you're clear on how we're using them, and how they can help you. 
Use the NoveList genres in Core Collections. 
Core Collections makes use of NoveList vocabulary, which uses reader-friendly language to capture genres, subgenres, and unique, popular "library helpers," like Page to Screen. This can be an incredible way to search for exactly what you and your community are looking for. There's a helpful NoveList Genres in Core Collections guide in Core Collections on the Reference Shelf and you can find even more search tips here.  
Make sure everyone who needs access has access.
Dedicated collection development role or not, my guess is that library staff at all levels are responsible for some piece of the collection maintenance life-cycle. Are frontline staff responsible for weeding? Do children's services staff ever need to make purchasing suggestions? All these staff members and more can find help in Core Collections. Like all NoveList products, Core Collections allows you to have as many users as you want or need, so make sure everyone who could benefit knows where the link is and encourage them to click it! 
Get all staff trained so they can integrate Core Collections into their weeding and collection development work. 
What's that saying about teaching a person to fish? Well, teach a librarian to use Core Collections and they'll never have to wonder what to purchase, weed, or keep again. We offer live online training for Core Collections every other month and you can find more information here or register for a session here. Check out the Use Cases for practical ways to use Core Collections every day, visit our FAQ page, or watch the getting started with Core Collections video to make sure you're covering all your bases. Finally, subscribe to our newsletter to always stay up to date with everything NoveList! 
Purchase all the Core Collections needed to maintain your whole collection. 
Core Collections work better together! Books may be listed at different levels in one Core Collection verus another. For example, Shing Yin Khor's The Legend of Auntie Po is listed as Recommended in the Children's Core Collection, but Essential for the Middle & Junior High and Graphic Novels Core Collections. That may make a difference in purchasing and retention decisions, depending on the community you serve. Having as many Core Collections as needed gives you a full picture of where a book falls and what is most important for your library. If you're interested in adding a collection, contact us today.
Send us your feedback! 
The best collections are built when there are contributions from many perspectives, so we love to hear suggestions from customers. If you have title suggestions, thoughts on recommendations levels, or just want to share how your library is using Core Collections in a new way, we are always seeking to improve and welcome feedback on how Core Collections can better serve your library. Let us know!
Lauren Campbell is a NoveList Consultant. She is currently reading Under the Whispering Door by T.J. Klune.