Are your patrons buzzing over TV adaptations of true crime books like Under the Banner of Heaven or We Own This City? Are you looking to better serve "the owl did it!" Staircase obsessives? Do you have patrons who are interested in reading nonfiction, but aren't sure where to begin? Whether your readers are into adaptations of contemplative memoirs and pulse-pounding true crime tales or are just getting started on their nonfiction-loving journey, NoveList has got you covered. 
TV series inspired by true events are certainly having a moment — look no further than lauded series like Dopesick and Maid (both adapted from bestselling books). To find nonfiction titles that have been adapted for the screen, type GX Page to Screen into the NoveList Plus search bar and limit your results to adult nonfiction. And while you're at it, if your library subscribes to LibraryAware, make sure you're offering your community the newest NextReads newletter, Page to Screen, which highlights all the latest and greatest TV and movie adaptations of both fiction and nonfiction titles. 
What about readers who are new to nonfiction? Everybody's got to start somewhere! For titles that will appeal to readers who usually stick with fiction, try searches in NoveList Plus including GX Nonfiction that reads like fiction.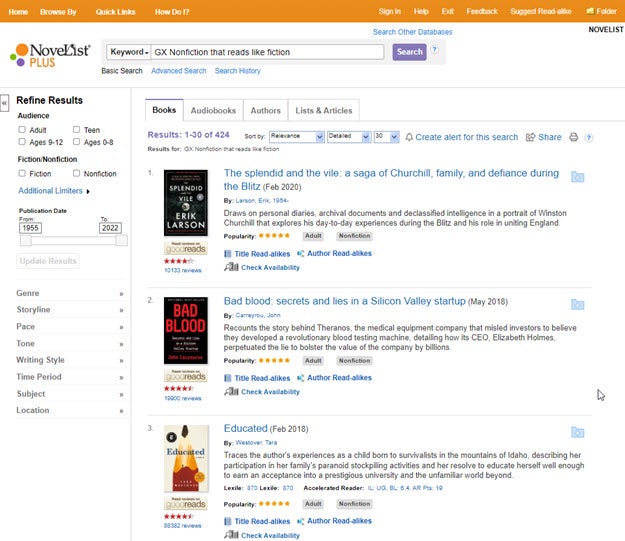 These books tend to be compelling, suspenseful, or fast-paced (think: page-turning!), making them more accessible to readers who might think nonfiction is dry or boring. Need a quick list of tried-and-true favorites? Check out our Genre Guide: Nonfiction That Reads Like Fiction for Adults. (You can read more about our genre guides here.) And if you're looking for more tips and tricks to help you recommend nonfiction to your readers, be sure to watch a replay of our Crash Course in Narrative Nonfiction webinar. 
Happy reading!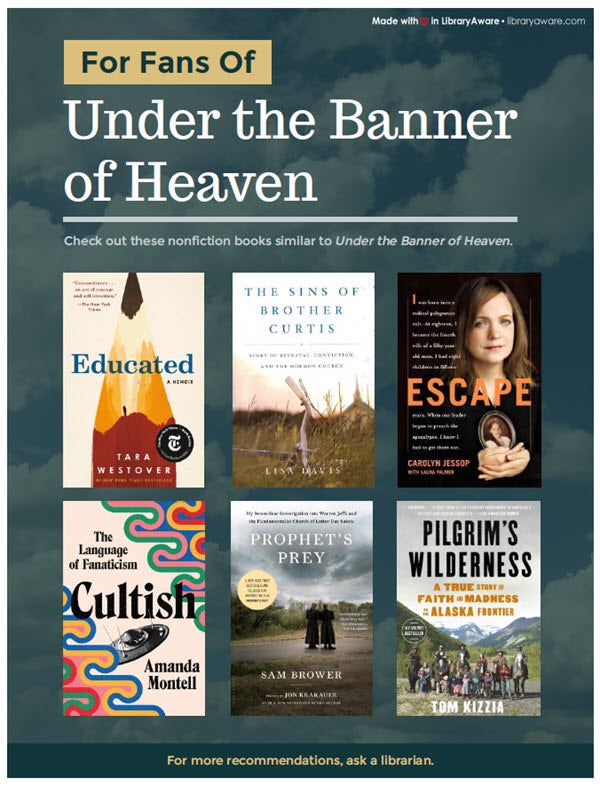 Kaitlin Conner is a Senior Readers' Advisory Librarian at NoveList. She is currently listening to We Had to Remove This Post by Hanna Bervoets.