Like many of you, we're approaching one year since how we work changed dramatically at NoveList HQ in March of 2020, but that hasn't stopped us from continuing to think about how we can help readers find their next great book.  
We know you've been juggling library closures while still being committed to serving your communities and may have missed it when we rolled each of these out, so we wanted to give you a quick run-through of some new and updated story elements to help you continue to serve your readers (or find a book for yourself!). Here are a few highlights I'd like to share with you. 
New Story Elements 
We've added four new themes to our collection: forbidden love (new for Valentine's Day!), wartime crime, unnamed narrator, and celebrating identity. Each of these represents a way to access stories that readers want but might be challenging to find through a simple subject search. To find books with these themes, simply search TH and the name of the theme in the NoveList search bar:  
Once you have your results, you can limit by audience (the forbidden love theme is only applied to teen and adult titles):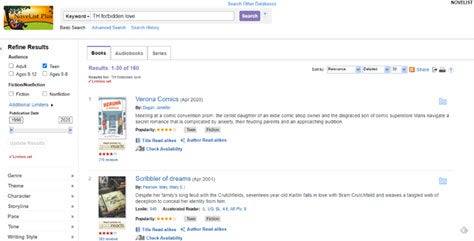 We didn't stop at themes — new genres included nonfiction that reads like fiction, storytime standouts, and antiracist literature.  
In addition to creating new story elements, we also refined several existing ones to more accurately reflect the themes and genres they represented. Lovecraftian horror became cosmic horror, and women's lives and relationships morphed into relationship fiction (want to learn more about relationship fiction? Check out our webinar all about it!)  
Just in time for Valentine's Day 
Romeo and Juliet. Mildred and Richard Loving. Ennis and Jack. Stories of star-crossed couples who defied societal and familial objections by choosing to love each other have been around since the beginning of time. Circumstances conspire to keep these couples apart and can run the gamut from heartbreaking to triumphant. Readers can be taken along on the journey to this rocky path to love and learn whether the lovers will beat the odds or if fate will separate them for good using the new NoveList theme: forbidden love.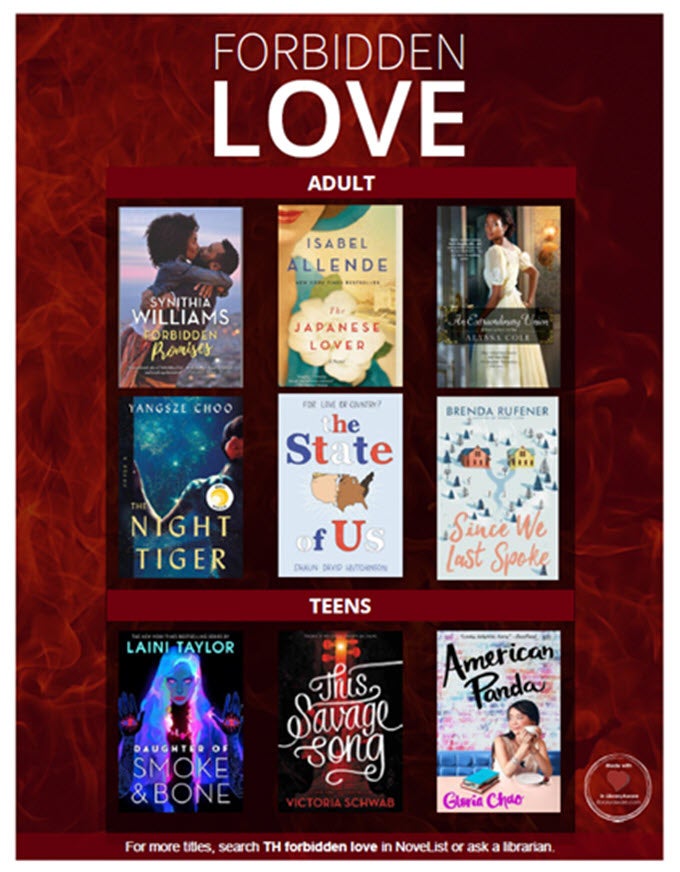 Since forbidden love crosses genre boundaries, you can also add a specific genre to your search to narrow your results, GN fantasy, for example. This can also be done using the filters on the left side of the screen.  
Adding in appeals, by using search terms such as AP bittersweet or AP angst-filled, can help identify the books that fit the tone you're looking for. Once you have your results, all that's life to do is read on to find out if the lovers will beat the odds of if fate will separate them for good. 
For all the lovers out there who want to stick to romance, we're happy to announce that all our romance lists have been freshly updated with our most current picks.  
New Content 
We've also created and added new content to help you find new books. Our collection of All Kinds of Lives Recommended Reads list provides suggestions of picture books that mirror the different types of families we see in the world. 

And following our Crash Course in Graphic Novels, we created a variety of resources to help both newbie and veteran graphic novels readers. Search "graphic novels" and then select "Lists and Articles" to see the offerings. We're not done providing you with more guidance about graphic novels! Look for a post coming soon with details and more information.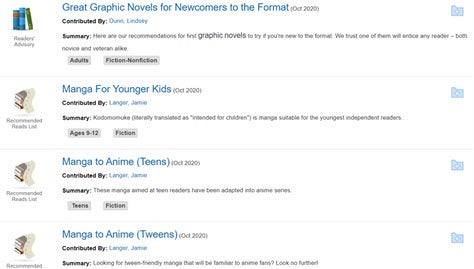 This is just a smattering of the new content we added to NoveList over the last year, but we hope you find it helpful to see some of the highlights of our year. Want to stay informed on all of our updates? Sign up for NoveList News and get monthly updates, readers' advisory tips, and ideas emailed directly to you.
---
Halle Eisenman is a Content Development Manager for NoveList. She is currently reading The Push by Ashley Audrain and listening to Agatha Arch is Afraid of Everything by Kristin Bair.