It's likely been a year of unprecedented challenges for your library – a year of nonstop pivoting to meet your community's needs.  We'd like to take a moment to reflect on the year, its highlights and milestones, and how we spent it with you.  
We've created this snapshot of 2020 to share how you and your patrons used different NoveList services this year, including the most searched titles of the year, blog posts, webinars, and the most popular templates in LibraryAware.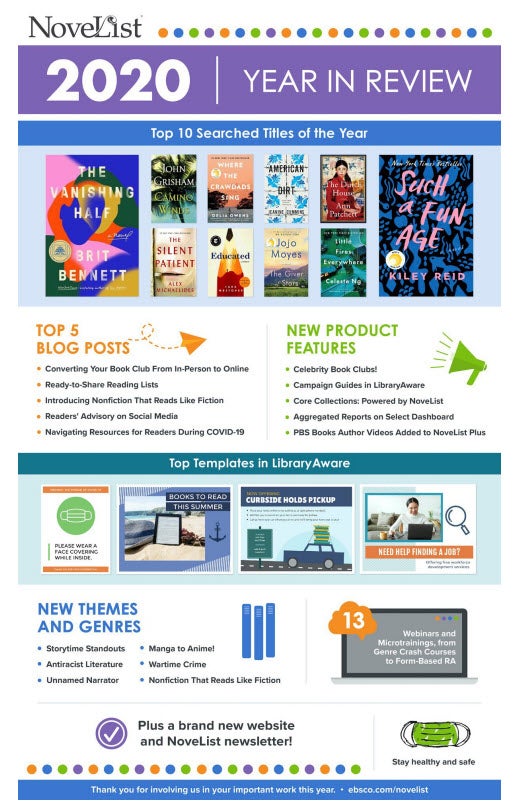 Exciting updates 
Some bright sides to 2020? We added celebrity book clubs to NoveList, making it easier to keep your finger on the pulse of what makes each cub's list. We also added PBS Author Videos to NoveList Plus.  
As we all learned to shift our focus and serve our learners and readers during this difficult year, we made some changes to help with this process. Campaign guides were added to LibraryAware, making it super easy to promote your collection, services, and programs like a pro. The NoveList Select Analytics Dashboard provides insights to help library staff remain connected to readers in their community. This year we expanded this feature with aggregated metrics, providing a deeper understanding of trends that are system-wide and organization-specific.  
We updated existing and added brand new genres and themes this year including storytime standouts, antiracist literature, unnamed narrator, wartime crime, and Manga to anime! 
We also have a brand-new website. Take a tour! NoveList News also got a refresh this year. Sign up for our newsletters here.  
Our family is growing  
Earlier this year, NoveList released an enhanced version of its Core Collections product line. Now for the first time, Core Collections databases provide unique access points and data previously unavailable outside of the NoveList databases.  
As we are always searching for ways to help libraries raise awareness of their collections, we announced this year our continued partnership and acquisition of Zepheira. Read the full announcement here.  
What you were reading 
The most popular blog posts of 2020 were:  
School is in  
You attended THIRTEEN webinars and microtrainings this year, from genre training Crash Courses with LibraryReads, to *pivoting* your library's resources to better serve your patrons at home. Check out our events page and watch a replay. 
Make your own 
Want to make a "2020 in Review" for your library? LibraryAware customers can search "year in review" and create their own using these templates:  

It's been our pleasure to serve you. We're looking forward to working with you in 2021. 
---
Molly Wyand is the Communications Specialist at NoveList. She is currently reading A Children's Bible by Lydia Millet.