The new school year is both exciting and stressful for everyone: librarians, educators, caregivers, and students! We truly want everyone to have a great school year. That's why we've created this back-to-school guide for all things NoveList — a list of resources, ideas, and inspiration that will ease your workload, help you connect with readers, and set you and the students in your life on the road to success. 
Welcome students and promote your collection, programs, and resources
What makes people feel seen and welcome at your library? The celebration of inclusion all year long. Check out how libraries are using LibraryAware to create intentional and inclusive newsletters and collection promotions. 

If your school or library subscribes to LibraryAware, we have ready-to-go templates for promoting back-to-school programs and materials. Search keywords like school, homework, or education.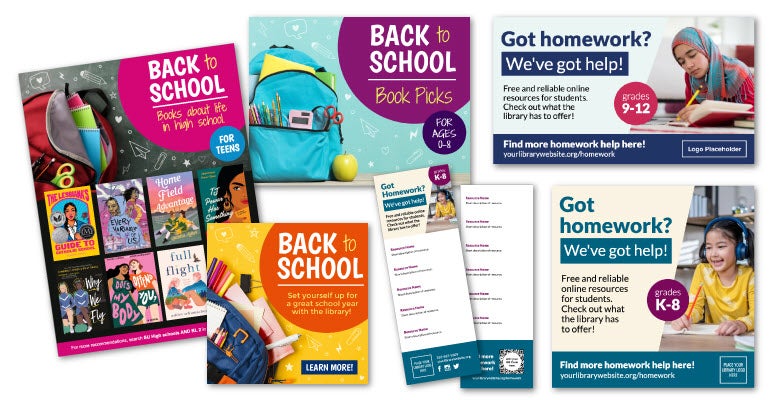 Need help or ideas to create those promotions? Join us for this 30-minute microtraining and learn how to find the perfect template and quickly create emails, social media posts, flyers, and more in LibraryAware — everything you need for Back to School! 
Engage all of your readers  
Ideas for educators 
Help readers see themselves reflected in the stories they read with books featuring diverse characters. The Explore Diversity Resources page, linked on the NoveList homepage, has a host of tools you can use to make the library welcoming for all. 

NoveList has Ideas for Educators conveniently gathered on a single page. Go ahead and bookmark it!

Crack the code for finding just-right books to meet the needs of every reader.

The Working with Youth page under Quick Links in NoveList features content for different age and reading levels and more! 
Back to School (for you too!)
The new year means new opportunities for your school or library staff to reach readers. Build your recommendation skills and confidence by taking a course from Learn with NoveList. Expert instructors share valuable strategies and resources. Create a free profile on the website to get the first look at new courses and exclusive discount codes. 

Want to help young readers, whether they're looking for a book for school or want something great to read in their free time? Join us for a 30-minute microtraining and learn A+ tips and strategies for using NoveList Plus to delight every student reader.
---
Molly Wyand is the Communications Specialist at NoveList. She is currently reading Quietly Hostile by Samantha Irby.