Recently, I was conducting a brief training of the NoveList database and it struck me how the database is constantly evolving and changing to help make finding books even easier. Last year, I loved reflecting on the updates we made throughout 2020 and early 2021, and so we've decided to do another round-up so I can share the latest and greatest in the NoveList databases.
First up, we created a new set of Recommended Reads lists aimed at the book clubs in your communities. Whether the discussion groups are looking for a twisty plot or a rich coming-of-age story, the lists include well-reviewed, discussion-worthy titles that will have your book clubs chatting enthusiastically. And stay tuned for a new Book Club Best Bets genre heading which will be coming soon to help you find even more discussable titles in NoveList.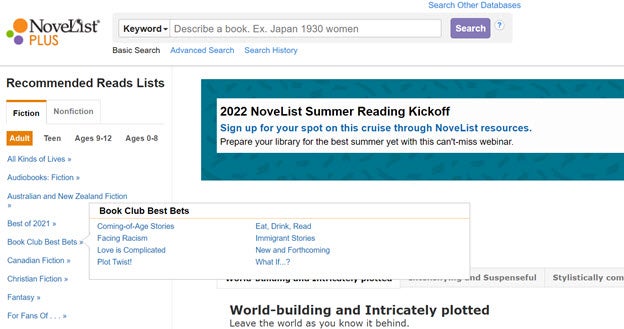 We didn't stop with our book clubbers, though. We have heard that recommending graphic novels and manga can be intimidating if you aren't familiar with them, so we created a new theme to help: Magical girls. As our resident expert, Jamie explained: "Magical Girl, or "mahou shoujo," is a subgenre of fantasy in Japan with origins dating back to the 1960s. As time has progressed, the subgenre has grown and evolved to encompass various different tropes and forms of media. In a Magical Girl series, an average young girl has a magical alter ego that she uses in order to fight magical beings." To find our titles that fall into this category, simply search TH magical girls. And if you need additional help understanding graphic novels and manga, check out our other resources.
We also revamped our genre outlines to give a more thorough overview of the most popular genres. Newly expanded and renamed, our genre guides cover a variety of genres, age groups, and different topics such as why readers like the genre, key authors and titles, foundational titles, authors to watch, and how to help readers of the genre. To find the full list, click on Genre Guides under Quick Links on the top menu bar in NoveList or search DE Genre outlines AND ND Readers' Advisory. If you've ever participated in one of our Crash Course webinars, I think you will get a lot out of our genre guides.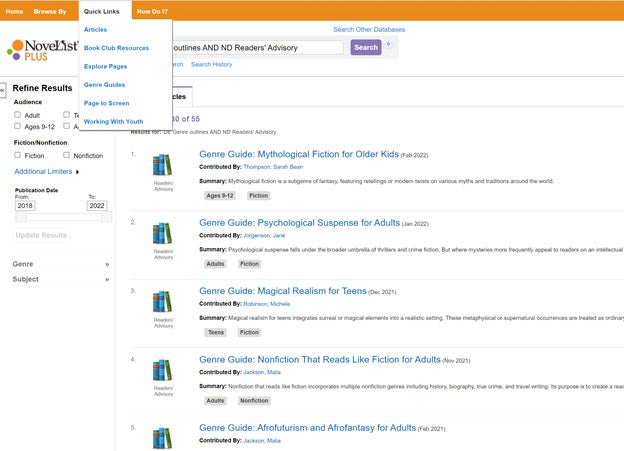 There are many more exciting things to come in the forthcoming months, including new character identity appeals which will more accurately reflect the diversity of characters represented in fiction, and a brand new set of Explore pages which will make finding and accessing the vast array of content in NoveList even easier. (If you'd like a sneak peek – do to Quick Links >  Explore Pages to see them in action).
Halle Eisenman is a Content Development Manager at NoveList. She is currently reading Transcendant Kingdom by Yaa Gyasi and listening to The Accomplice by Lisa Lutz.