In January, we announced that Google was displaying library collections in the United States in the knowledge panel as part of a partnership with Linked Library Service.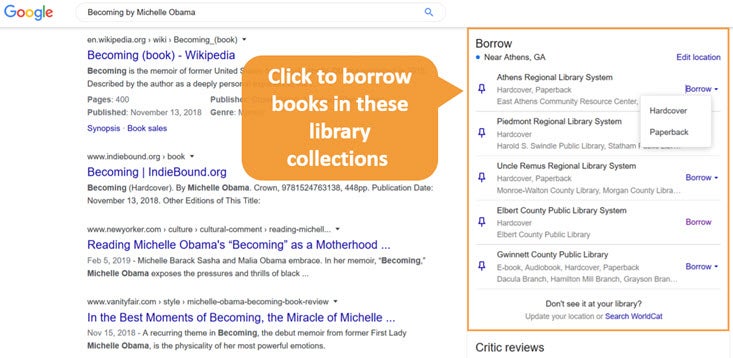 We're excited to announce that we're changing the name of Linked Library Service's companion service, NoveList Select for Linked Data, to Linked Library Enrichment. Why the name change? Linked Library Enrichment is a name that communicates what the service does  — it enriches the data your library is publishing on the web, making the easy-to-share book widgets more robust and reader-friendly. 
What can you do with Linked Library Enrichment? 
The simple answer is that you can better direct traffic to your catalog. Linked Library Service does this with its partnerships with Google and Open Libraries. Linked Library Enrichment does this by adding some of your favorite pieces of NoveList data like appeals and our Recommended Reads lists to the data you're publishing on the web.  
Developing a partnership with a local science museum? See if they can post a book river of "Saving the Planet" on their website. It will direct parents back to some great books on climate change in your catalog. 
Working with a local NPR station? An Anitracist reading list may be good for them to add to their list of resources or point their readers to some fun reads the library offers with Classics Revisited.  
The opportunities are endless and your community partners will be glad to have curated resources to point people to.  
Want to learn more about how to direct more traffic to your library's catalog? Ask for a demo of Linked Library Service and Linked Library Enrichment.  
---
Jennifer Lohmann is the Director of Sales & Marketing. She is currently listening to Children of Ash and Elm by Neil Price.