It's been a year, hasn't it? So much has changed since March 2020. But I don't have to tell you that; you've been living it: working through a myriad of issues, including (often) repeated closings/re-openings; staff changing roles; disruptions to collection development.  
In spite of these challenges, we've heard feedback about how you quickly adjusted to the need to update your communities on changes to services offered and shifts from in-person to virtual programs. We've heard about the innovative ways you continued to provide excellent readers' advisory from many attendees at our NoveList Day of Learning.  
As things open up, the need for ongoing communication and reminders of all that libraries bring to communities will still be there. And your community *wants* your materials!  
The good news: you can make it easy for patrons (and potential patrons!) to access your collection. During this past year, data gathered from libraries who have Linked Library Service show that over one million clicks have taken users from a Google search to a library catalog. Clicks like that are already working to your benefit; you can further extend that reach/collection exposure by tapping into the resources offered through Linked Library Enrichment.  
Libraries with enrichment (the companion to Linked Library Service) can leverage already-created, curated NoveList content to quickly highlight all the materials and programs on tap for their communities. Storytime and Book Clubs, two excellent program 'anchors' that many of you offer regularly, make an effective means of showcasing a wide cross-section of your collection on an ongoing basis. 
Here's how you can use linked library enrichment to promote these beloved programs AND incorporate stealthy collection promotion. 
Storytime
In terms of collection promotion, storytime is the gift that keeps on giving! Consider ways to promote your collection both at signup and also in an ongoing way. 
First, use embeddable widget functionality to embed book carousels in the program signup page. Take advantage of already-created, curated NoveList lists such as Storytime Standouts and Participatory Books to introduce stellar storytime choices. From the linked domain page, click on lists, then search storytime standouts. *Pro tip: push that carousel to social media as an additional promotional channel.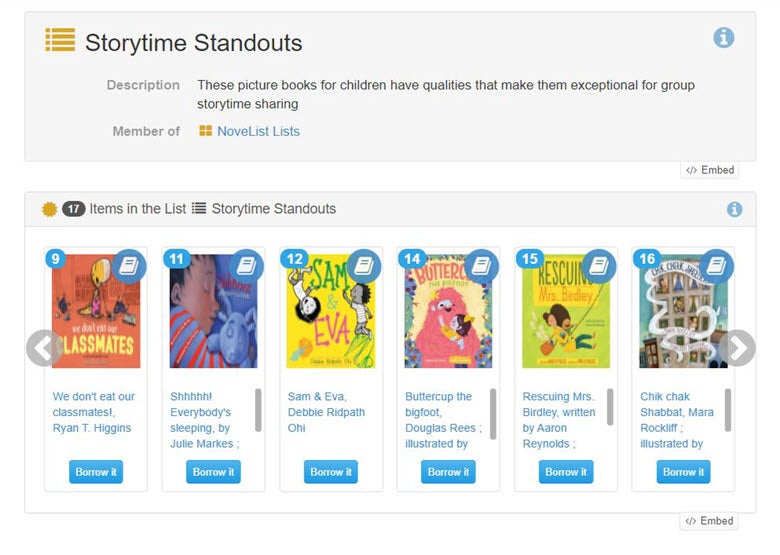 Take advantage of classics Recommended Reads lists, too, which serve the dual purpose of providing storytime selections and also introducing parents to books they'll want to re-read with their children. Two to try: Must-read Classics for Preschoolers and Must-Read Classics for Grades K-2. Linked Library Enrichment customers can search the lists section on the Linked Library domain page to access these lists.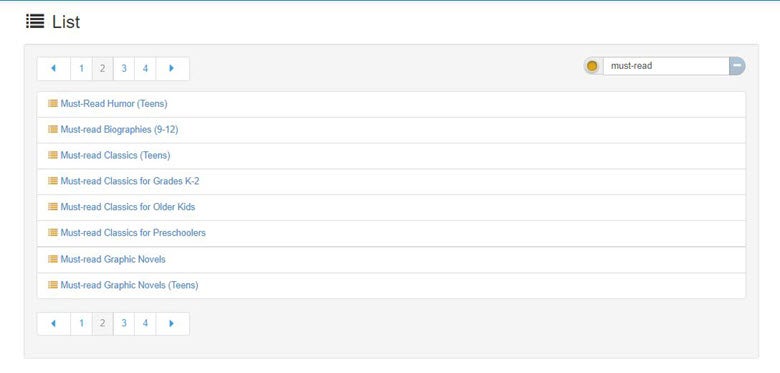 Want to use storytime to support this year's summer reading theme, Tails and Tales? NoveList Recommended Reads lists include both fiction and nonfiction animal-related stories to share!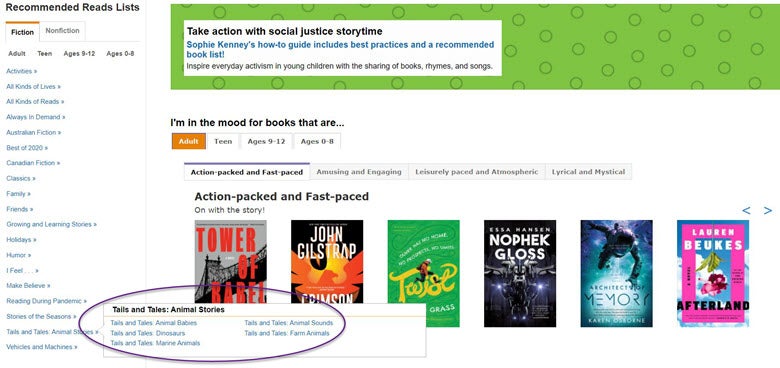 In addition to lists, Linked Library Enrichment provides access to NoveList story elements, including appeal terms searchable within linked data.  Try searching big and bold for carousels featuring books with bright, bold art, easily seen from a distance, effective book choices whether for a virtual or in-person storytime.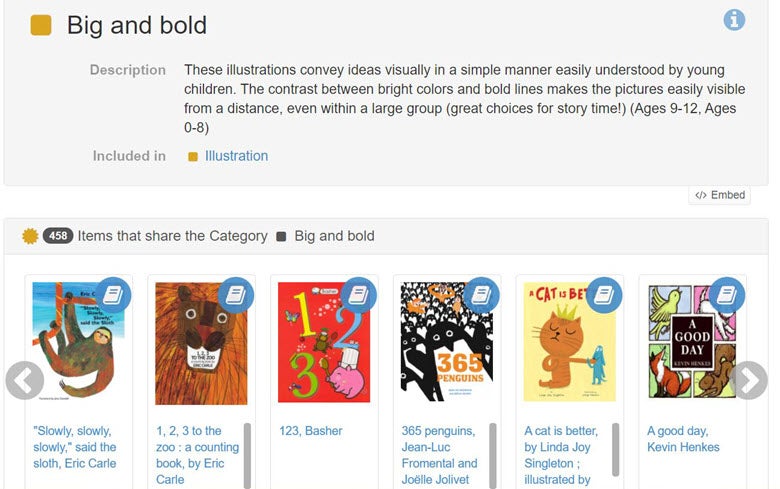 What community partners would be interested in sharing books that would be great for storytime? Maybe your local daycares would like to host carousels like this on their website or a local book-focused nonprofit. You can help them promote early literacy and they can help you promote the library.  
Book Clubs
As with storytimes, use the embeddable widget functionality to make it easy for your patrons looking for book clubs to find information about them. Bonus: patrons can easily find their preferred format of the book which will be discussed, illustrated in this example from Hooksett Library. 
Looking for ways to help patrons interested in identifying titles for their own book clubs? Several  NoveList Recommended Reads lists across a variety of subjects and genres make great sources for excellent discussion choices.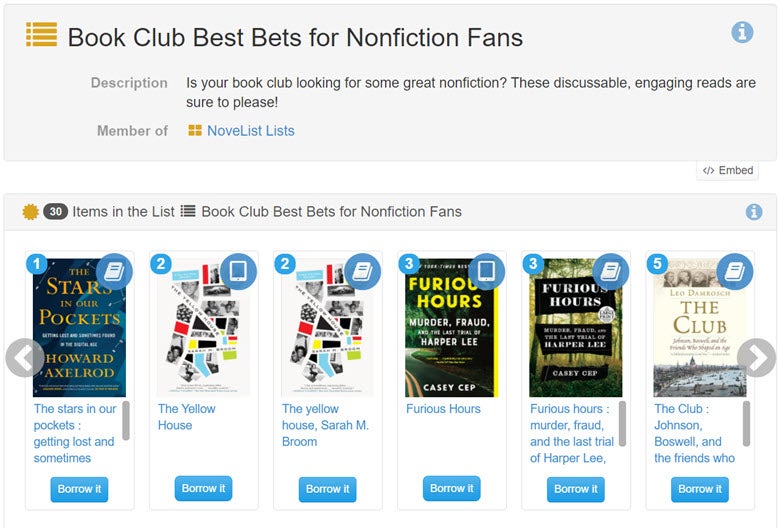 NoveList content paired with the embeddable widget functionality provides a streamlined way to promote a large group of your collection – anytime!