#BacktoSchool2022 is at our doorstep, so we're back with our A+ list of resources, ideas, tips, and tricks to help you have a great school year — whether you're an educator, librarian, parent, or student.   
Get school season ready   
Learn with NoveList: Your staff is your library's most valuable resource, and ongoing professional development keeps their skills sharp and relevant. We can help build the confidence and capacity they need to represent your library more effectively to your readers.    
Sign up for a live training and make the most of your NoveList product subscriptions. 
Add these blogs to your TBR: they're full of tips (and updates!) for anyone who works with kids or their families. 
Engage all your readers  
New to storytime? Or looking for some inspiration?  Check out 8 storytime tips for the uninitiated. 

Storytime standouts is a juvenile genre in NoveList created to provide a simple way for librarians, educators, and patrons to find picture books for an enchanting, crowd-pleasing storytime. 
It's never too early to learn about social justice and the value of living in an equitable society. Introduce children to the concept that everyone deserves the same rights and opportunities with a social justice storytime. 

Nontraditional readers often require an equally nontraditional approach. Reframe your thinking and energize your readers' advisory with tools and strategies from NoveList to help you reach those reluctant readers. 
Use graphic novels to get kids reading! While suggesting graphic novels may seem counterproductive to promoting reading, they may be just the springboard you need. 
Especially for educators 
We designed these materials to help you help your young readers, no matter if they're looking for a book for school or want to find something great to read in their free time. 
Help readers see themselves reflected in the stories they read with diverse titles. The Explore Diversity Resources page, linked on the NoveList homepage, has a host of tools you can use to make the library welcoming for all.
NoveList has Ideas for Educators conveniently gathered together on a single page. You'll want to bookmark this! 
Crack the code for finding  just-right books to meet the needs of every reader. 
The Working with Youth page inside NoveList will help you sort through common reading questions, find books at the right age level, and more. 
The NoveList for schools and students YouTube playlist can help you brush up on finding what you need inside NoveList. 
Promote your programs and services 
If your school or library subscribes to LibraryAware, we have some ready-to-go templates for promoting back-to-school programs and materials. Search keywords like school, homework, or education. 
Give the kids (and yourself) a break from screen time and check out one of our Grab and Go Arts & Crafts Kits or Book Bundles, available in LibraryAware.  
Learn about some ways you can use NoveList and LibraryAware to reach out to and support homeschooling families in your community.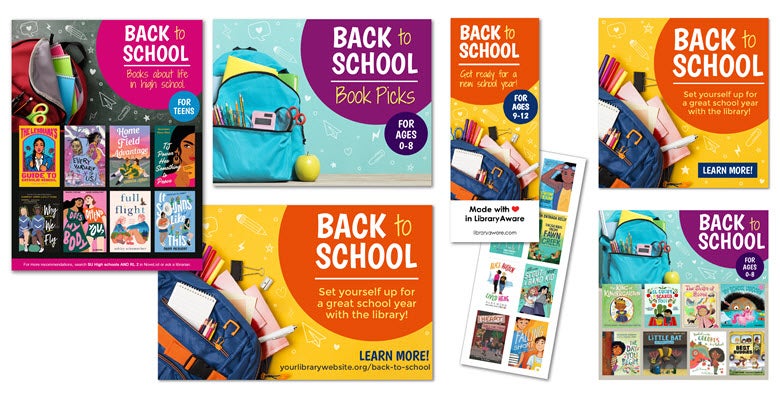 Molly Wyand is the Communications Specialist at NoveList. She is currently reading No One Is Talking About This by Patricia Lockwood.