protocols.io is used for all types of research including biology, chemistry, computational workflows, and clinical trials, as well as documenting operational procedures and safety checklists. Within the tool, researchers can obtain a DOI and associate their research methods, along with papers. protocols.io will also store a link to the published paper.
Many publishers and funders recommend protocols.io, a digital tool that assists with the documentation and sharing of method development because it improves the quality of research output. It's prime features allow researchers to store, organize, share, publish, and preserve methods including data and files within one accessible platform. When institutions include protocols.io in their research data management (RDM) plans, they ensure the retention of valuable information to improve discoverability and reproducibility. Keep reading to learn about the main components of protocols.io
Editor
The editor in protocols.io is a dynamic space for documenting the research process. Multiple people can work on and edit shared protocols at the same time. Beyond any text editor, this platform provides structured step and component functionality.
Sections, steps and sub-steps can be added to give each process a consistent structure that is easy to follow. Components are shortcuts that add structure to the many variables of research. The powerful features of the editor within protocols.io make methods easy to document and reproduce.
Editor: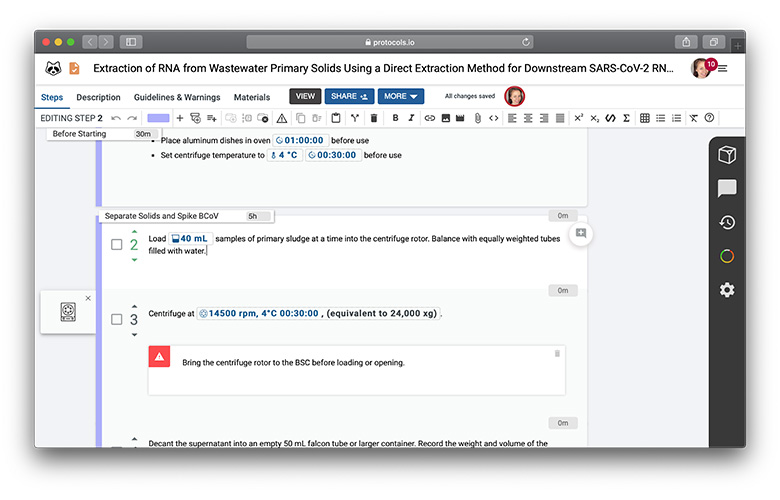 The Amount component in edit mode: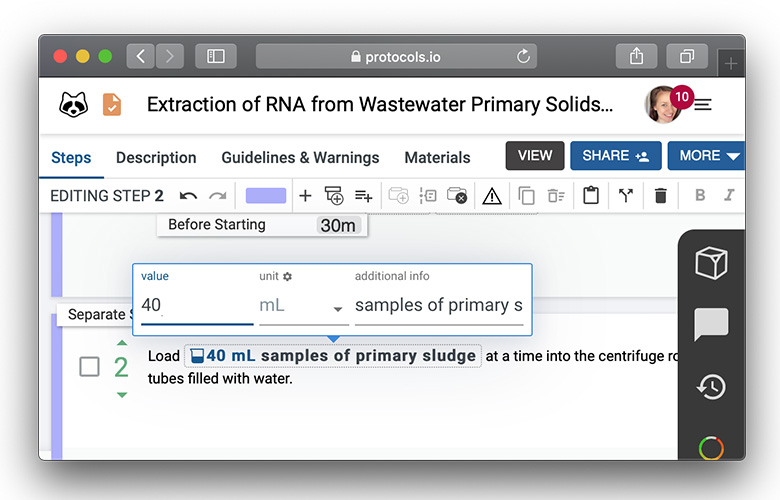 Store, Organize, Share
The File Manager is used to organize all protocols and files related to research. Store and manage files privately, or collaboratively within workspaces. Settings at the workspace level can be established to prevent files from being published, shared, copied, or moved outside of a workspace. Researchers can also create various versions of the method and compare them within protocols.io.
Upload and Export
Users can upload and export methods and files by using drag and drop, or connecting seamlessly with popular cloud storage tools like Dropbox, Google Drive, Box, or OneDrive. One-click PDF export of every public and private protocol is available on an individual protocol level. Bulk exporting for all private protocol PDFs are also available from the protocols.io File Manager. Export options include print, JSON (via API), and PDF.
protocols.io is used for all types of research including biology, chemistry, computational workflows, and clinical trials, as well as documenting operational procedures and safety checklists.
Share and Publish
All imported protocols start out private, but they can also be shared securely until they are published and made public. Researchers can invite collaborators to join a workspace or acquire a shareable link for protocols, which enables them to selectively share their work with others. The "Get DOI" option pre-publishes protocols and allows it to be shared without it appearing in the public repository or search results, which is perfect for including in a draft manuscript so that editors and reviewers can access it but no one else will see it until the paper is published. All published author-contributed content is CC-BY. Even if there is no plan to publish, protocols.io can be used to organize and collaborate securely.
Preserve
All published protocols are archived with CLOCKSS (https://clockss.org/community/participating-publishers/) to ensure long-term knowledge preservation.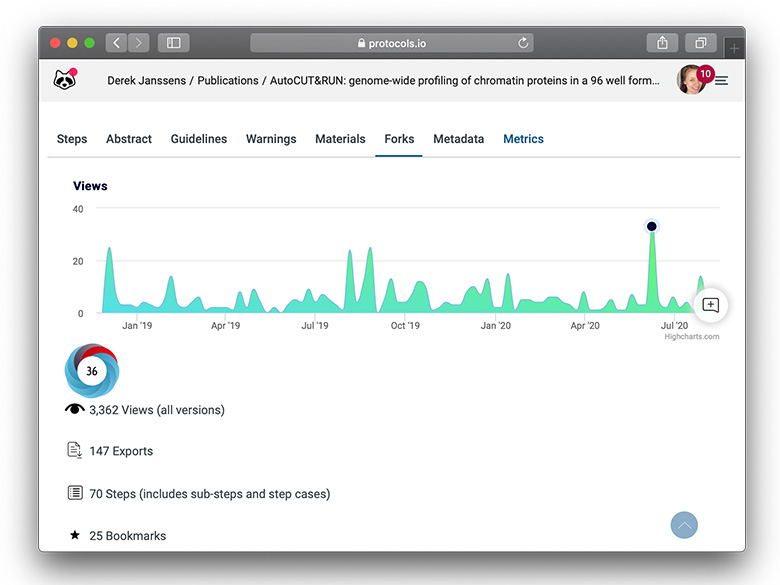 Support your researchers, keep valuable information available, and measure the impact of projects at your institution, while also promoting research integrity by utilizing protocols.io as part of your research data services.
When researchers commit to using protocols.io as part of their RDM plan, the information will be added as they perform the research, rather than waiting until the write-up after the fact. This will improve the record and save time in the long run.