EBSCOhost Research Platform
EBSCOhost is an intuitive online research platform used by thousands of institutions and millions of users worldwide. With quality databases and search features, EBSCOhost helps researchers of all kinds find the information they need fast.
Start your research
Why EBSCOhost for research?
Basic and advanced search options

EBSCOhost serves both new and experienced researchers with a variety of features to refine search results.

Reliable, peer-reviewed content

EBSCOhost offers high-quality articles licensed from reputable publishers recognized by library professionals, chosen to meet the specific needs of researchers.

Citation assistance

Users can view, save, print, email or export citations in many formats directly from the database.

Ability to save searches and results

Users can save searches and articles in a password-protected folder for later reference.
Customization

Modify EBSCOhost interface branding and features, including search limiters and expanders, language preferences, print options, link options and more. Use EBSCO apps to further enhance your EBSCOhost experience.

Mobile access

EBSCOhost recognizes when users are accessing the site from a smartphone or tablet and will display a mobile-friendly version.

Accessibility

Privacy

COPPA compliance means EBSCO does not ask for or require personal information to access its databases.
Looking to log into EBSCOhost?
To access your library's online resources, start by finding your institution. Contact your local library staff for your login information, or check your library's website. 
Image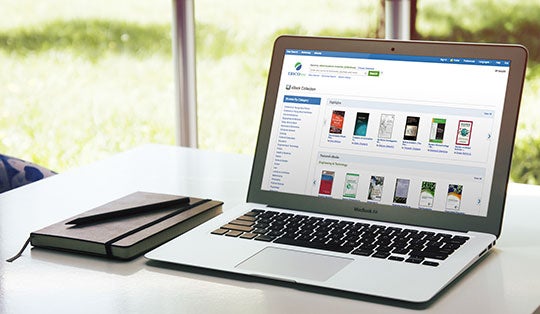 EBSCO eBooks on EBSCOhost
In EBSCOhost, EBSCO eBooks appear alongside your EBSCO databases in search results, so users can find more of what's in your collection.
Ready to get started?
Request a free trial from an EBSCO representative. 
Already an EBSCOhost customer?
Find EBSCOhost tutorials, user guides and more.