FOLIO, the next-generation, open source library services platform has a growing community of participating libraries and vendors. Chalmers University of Technology implemented the platform in 2019, Cornell University and Missouri State University have implemented FOLIO ERM and will go live with the whole system in the summer of 2020. A large cohort plans to follow suit in 2020, including:
Five College Consortium (Amherst College, Hampshire College, Mount Holyoke, Smith College, UMASS Amherst)
Lehigh University
Simmons University
The State and University Library Bremen
Texas A&M University
The University of Alabama
The University of Chicago
ZBW – Leibniz Information Centre for Economics
Wentworth Institute of Technology
As FOLIO is open source, you can implement the platform independently or choose a service provider. Currently, other than Texas A&M University, which plans to self-implement, all the other institutions planning to go live this year will do so with the help of a service provider.
Each of the institutions going live have their own implementation plan and roadmap based on their individual requirements. There are currently two models for FOLIO implementation:
implement the whole system, or
do a phased implementation, with the ERM module first, followed by traditional ILS functionality, and finally set up third-party applications
To hear about some of these plans, join our webinars.
EBSCO Electronic Resource Management (ERM) in FOLIO enables you to manage the entire lifecycle of an electronic resource from evaluation to user discovery. EBSCO ERM is integrated with the EBSCO Knowledge Base (KB), representing all your local holdings. The EBSCO ERM integration with EBSCO Discovery Service® (EDS) ensures that your users always have immediate and seamless access to the library's e-resources subscriptions.
Whether implementing the ERM module or the full system, most libraries are looking to service providers for implementation, hosting, and support. EBSCO FOLIO Services includes implementation services and provides hosting on Amazon Web Services (AWS). Our implementation services include information gathering, establishing a project plan, data migration and setup, training, testing and "go-live" of your production system.
In order to make implementation support more accessible worldwide, EBSCO has partnered with more than a dozen trusted vendors across the globe. These partners bring their expertise in local systems and standards and are supported by EBSCO's infrastructure enabling any library that is interested in FOLIO to be able to receive quality support and services anywhere in the world.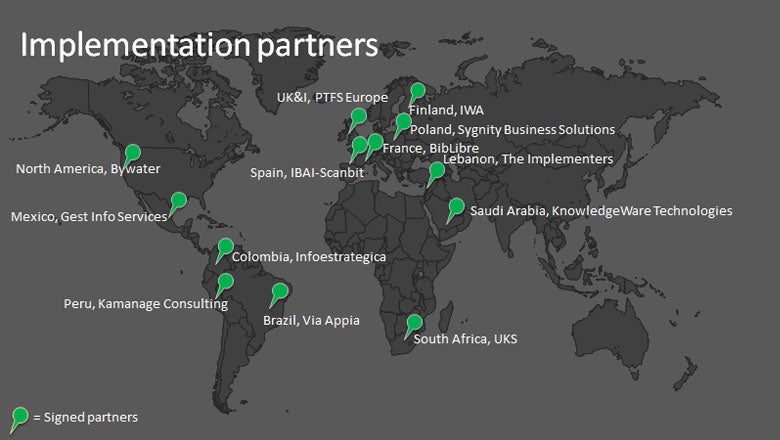 For more information on EBSCO FOLIO Services or to learn about our worldwide partners, please contact us.