EBSCO is excited to unveil a series of enhancements, new capabilities and interface designs that will be delivered over the coming 12 months and beyond to improve users' experiences.
Taking an Evidence-Based Approach
The evolution of EBSCO Discovery Service™ (EDS) and the specific roadmap have been developed with the fundamental approach of listening to customers, conducting user research and learning from data. We want to thank the many individuals involved with providing invaluable insight, including those who take part in our User Group meetings, focus groups, advisory boards, strategic summits and surveys. We greatly appreciate the many libraries that have allowed us to conduct user research and testing on-site with your users, our partners such as W3C and The Carroll Center for Blind for their time and assistance, and most of all, the many librarians who use our services and provide valuable input every day.
A deep understanding of the goals, needs and concerns of libraries, along with detailed insights about user expectations and behavior, has led EBSCO to carve out a direction intended to provide and enhance the many mesh points between libraries and users. In the end, it's about an evidence-based approach to developing capabilities and experiences that solve real problems and consider real users.
Making it Easy on Librarians
While our roadmap is based on providing solutions to the needs and expectations of libraries and end users, the roll-out plans are centered on convenience and efficiency. The goal is to enable improvements and availability of new capabilities through a fluid transition that will require little-to-no work for our customers. We understand concerns around change management and the pains that are often associated with migration, so we have put tremendous effort into ensuring the best experience for library administrators. We are excited to see these new features and enhancements take hold as part of a simple, easy transition. And you will be involved every step of the way.
Components of the Evolution of EDS   
The evolution is underway. We've already implemented some recent developments that add value to the EDS search capability, for example. The following is just a sampling of capabilities that are on the EDS roadmap or inherent in its development:
Accessibility – We are taking an "every-user" approach as we advance toward WCAG 2.1AA compliance – building capabilities to ensure that our resources are accessible to users who require assistive technologies.
Authentication/Single Sign On (SSO) – In addition to the myriad of authentication options currently supported, EDS will be further supported by more social authentication options, features for users to "find my organization" when coming through open web channels, as well as support for Campus Activated Subscriber Access (CASA) and UCASA for more seamless access for Google Scholar users. For SSO, we continue to remove barriers to enable easy access for users through any SAML-compliant identity solutions.
LTI Compliance and LMS Integration – The next level of compliance enables greater access to library resources from within the LMS and other LTI-compliant resources.
Personalization – Users expect to have an experience catered to them. They may want to create an account or choose to be forgotten. A whole new experience complete with a user dashboard allows for saved projects, viewing recent searches and more gives users more value across sessions, letting them pick up where they left off.
Privacy – Just like our library partners, upholding a user's right to privacy is at the top of our list of concerns; there would be no personalization without the privacy-first approach that we are taking with EDS.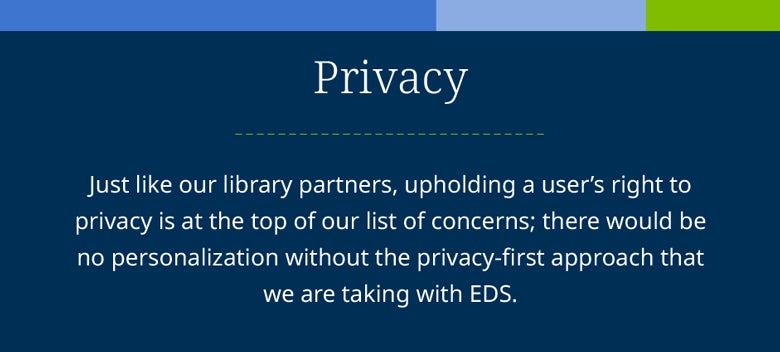 Search and Knowledge Graph – With billions of possible records, getting the right results every time is largely considered the most important aspect of discovery resources. We are proud of the search capability that has been a hallmark of EDS. We are building on our powerful search to consider new data sets, unique indexes, multi-lingual thesauri and new concept mappings to generate greater results catering to user intent for simple searches and the most sophisticated queries.
Multi-Lingual Support – EDS has always allowed for searches in many languages. With the addition of an array of top non-English vocabularies and data elements within the Knowledge Graph, EDS caters to supporting research of the world's literature in more than 280 languages.
Mobile App – More and more usage occurs on mobile devices every day. Whether used by students running between classes or in countries where mobile devices may be the only options for users, getting this experience right is paramount. A new, modern EBSCO mobile experience provides a familiar suite of tools that leverage the inherent capabilities of smart phones, from facial recognition and voice-to-text to saving and sharing.
Video Experience – Our statistics show an increase in video usage as students learn from multiple sources and consume information in various ways. The recently released video component provides greater visibility of videos within result lists, the ability to showcase all videos relevant to a search query, and a powerful streaming video experience with expanded capabilities and greater accessibility for users who leverage assistive technologies.
Concept Map – Students learn in different ways; by seeing and exploring concepts in new and alternate ways, we increase the chances of making new discoveries and enable greater insights across areas that are either familiar to us as researchers or that are outside of our traditional sphere of expertise. The new Concept Map provides a more visual and interactive approach to learning and exploring topics with Artificial Intelligence on top of a sophisticated knowledge graph and the ability to push results back into linear lists.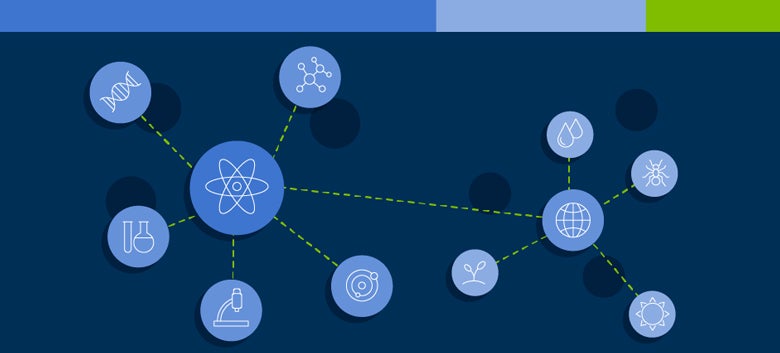 EDS API – More and more libraries are using the EDS API to customize experiences to their needs. This new EDS API will be fully featured, creating more options and flexibility for libraries. Transitioning to the new API will be made easy for customers using the existing EDS API.
E-Book Experience – Many customers use EBSCO eBooks™. As part of the evolution of EDS, upgrades to the result list, eBook viewer capabilities/toolbar, download options/features, along with accessibility improvements, will elevate the usage and value of these books for all users.
EDS User Interface – Learning from users, studying data and understanding behaviors allows us to leverage design thinking in an iterative approach to provide a clean, modern, thoughtful User Interface (UI) design for EDS. New personalized dashboards, modern result lists, enhanced displays, greater citing and sharing options, enhanced detailed record and viewer experiences are high-level examples of some of the many UI improvements.
The plan here is to roll out the new interface to customers based on readiness, which will depend on your configuration and current profiles. In order to make the transition simple, different customers will gain access at different times. Libraries will have simultaneous access to the existing EDS UI and the new EDS UI to be able to become familiar with new features and to provide feedback.  Because the new UI will be populated from existing EDS profile configurations, there is NO migration – just a smooth, natural transition.
Some Final Thoughts
While the above is focused on EBSCO Discovery Service, several of these capabilities and enhancements will also apply to EBSCOhost®, such as the video experience and the mobile app. The evolution of EBSCOhost is following right on the heels of EDS.
There is a lot more to communicate in the coming weeks and months. This message is meant to provide a high-level introduction to our roadmap and plans. Please know that as a customer, you don't need to do anything. Every customer will receive more information and have time to provide feedback as we progress.  
These are exciting times. We look forward to continuing to collaborate with our library partners to create library experiences that exceed user expectations.  
The EBSCO Team