We all love successful products and services. We love hearing about companies behind them. And we like learning about the ingredients that go into their "secret sauce" which helps them achieve amazing results while delivering a great product or providing an unparalleled IT-enabled service. These ingredients consist of the know-how in problem domain, technology, and processes — all made possible by people. In other words, a vast collection of special recipes and automation tools represent the accumulated knowledge of your team.
I have found it helpful to consider the people, process and technology framework when looking at solutions or services.
In an IT-enabled service, technology exists to provide value and is the primary delivery route.  FOLIO (the product itself) and the hosting service provided by EBSCO are no exception.  FOLIO is the open source library services platform that has been designed from the ground up, built for librarians by librarians, and based on a microservices design. In EBSCO's case, FOLIO is deployed in the Amazon Web Services (AWS) infrastructure, which has been customized to meet the needs of customers and provides for high reliability, performance and security.  
FOLIO is the next-generation open source library services platform that has been designed from the ground up, built for librarians by librarians and based on a microservices design.
Our processes help us define what we do to deliver value. FOLIO is a global community of academic libraries that actively participate in building the product. The repeatable processes link different structures and people within the community together to produce FOLIO product increments every quarter. 
Product Council defines the roadmap
Technical Council provides guidance to ensure consistency in the architecture and to establish best practices
Special Interest Groups and Product Managers work together to use subject matter expertise across multiple domains to develop feature requirements that can then be worked on by development teams
Development teams work on the implementation of features and on further enhancing the platform
Building a good product is hard — we have to know what is important to users, what is difficult, and what is painful while maintaining continuous feedback from users in order to ensure we are moving in the right direction.
And so, we have arrived at unveiling the key ingredient — people. It is people who are at the forefront of every decision and every service designed, implemented and continuously delivered.
There is an old Russian saying, "one can't lift a stone, but with a team you can move even a mountain." By the hands of many people, great work can be achieved.
The EBSCO FOLIO Services team consists of multiple groups, each of which is responsible for a different aspect of the service: hosting (development and operations), implementation and support. Since the team has been involved in building FOLIO from the ground up, we know how to maximize the FOLIO architecture for a cloud environment.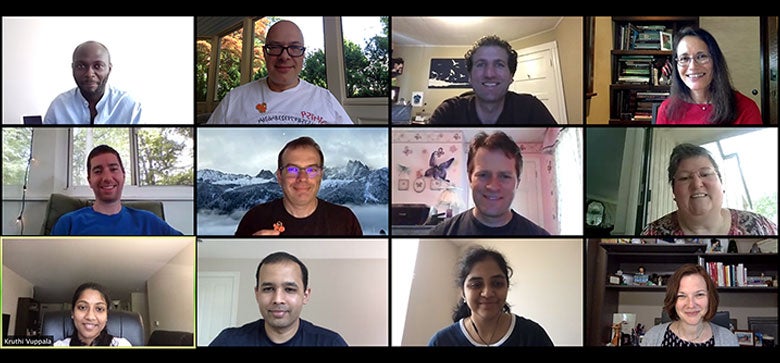 The EBSCO FOLIO Services team is diverse, both culturally and intellectually. We view our diversity as a strength and a huge asset because it provides varied perspectives and ways of thinking. Together, we represent five continents (Asia, Europe, Africa, North America and South America), we speak more than 11 different languages and code in almost twice as many. Intellectual diversity necessitates different thought processes and is a great tool for achieving better outcomes. Our professional backgrounds are different yet complementary, and we have decades of experience in areas such as library science, data analysis, software engineering, customer service, systems integration and integration with other EBSCO products, including the EBSCO knowledgebase, GOBI® Library Solutions and EBSCO Discovery Service™.
The wide variety of people across organizations are a key ingredient to the evolution of innovative EBSCO FOLIO products and services, continuing the vision of a library services platform designed BY librarians FOR librarians.
Want to learn more about EBSCO FOLIO?
Get updates sent to your inbox twice a month.