The John Cotton Dana (JCD) Award recognizes successful library public relations campaigns, whether a summer reading program, a year-long centennial celebration, fundraising for a new college library, an awareness campaign or an innovative partnership in the community. In recognition of their achievement, winners receive a cash award from the H.W. Wilson Foundation. Three recent award winners talk about their award-winning campaigns:

Rochester Institute of Technology Library (RIT), Rochester, NY
"When a construction project required Rochester Institute of Technology's sole library building to close for two years, Wallace Library relocated to Ritter Ice Arena, the former home of RIT's Division I hockey teams. This unusual solution maintained in-person access to the collection and many services throughout construction, but it also created major logistical and communication challenges. Patrons were understandably upset about the closure and confused about all the changes, especially amid the ongoing COVID-19 pandemic.
So, we developed a campaign with a humorous hockey theme that improved our community's awareness and perception of the move in an authentic, memorable way. A naming contest officially dubbed our new home "Wallace on Ice," and library staff donned commemorative hockey jerseys. A scripted video and social media campaign took viewers behind the scenes of the library's "preseason training" for the opening of Wallace on Ice. Collaborating with nationally syndicated cartoonist Leigh Rubin, we created swag featuring a cartoon of RIT's mascot driving a Zamboni bookmobile filled with punny hockey-themed titles. These quickly became collectors' items. A virtual tour and online Q&A session rounded out the campaign, leading up to a grand opening event."

Watertown Free Public Library, Watertown, MA
"In the fall of 2021, Watertown Free Public Library staff started brainstorming a campaign to promote our brand-new zine collection. Like so many libraries, we were struggling to attract patrons in the 25-35 range, though the 2020 census confirmed that that age group is a significant and growing percentage of our city's population. We also noticed that our library general collection and local history collection did not reflect the diversity of our community. We feel a responsibility to preserve the stories of our community now and add new stories to our shelves. So, we decided to host a zine fest.
With the inaugural WFPL Zine Fest, we hoped to introduce young people to the library and empower our patrons to tell their stories through zine making. Embracing the low-cost, anti-establishment, DIY zine aesthetic, we reached tens of thousands of people with online marketing, earned writeups in both indie "rags" and The Boston Globe, and attracted hundreds to WFPL Zine Fest, mostly young people (!) and many first-time visitors. By selling pay-what-you-can tote bags, we even recouped all marketing expenses. Now, "Watertown Zine Fest" is a flagship program for our library, and we are busy gearing up for the third annual event on Saturday, October 14. Copy and resist!"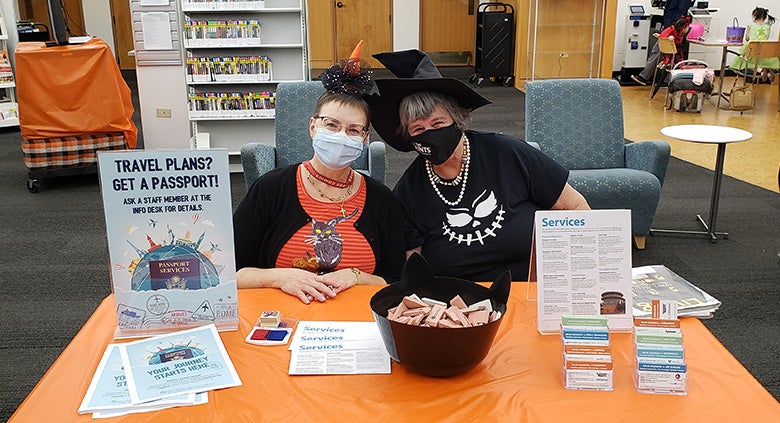 Niles-Maine District Library, Niles, IL
"The Niles-Maine District Library Public Relations & Marketing staff collaborated with a committee of librarians and programmers to organize the Not So Haunted Open House to welcome the community back to the library since the start of COVID-19. We wanted to showcase the library and what it has to offer the community. Attendees trick-or-treated at stations throughout the library where they learned about spaces in the building, services, online resources, and more. The Public Relations & Marketing staff reached out to local businesses with sponsorship opportunities to help offset the event budget of $200. The event was promoted through via print newsletter, enewsletter, website, social media, outdoor digital sign, building signage, and working with our community partners. The event exceeded expectations with 593 attendees or nearly 300 percent increase from the goal."