In my previous post, Promoting School Library Resources and Services with Today's Digital Tools, I shared strategies for librarians to build capacity and influence their communities in ways that impact digital age learning and promote the broad reach of their library program. Now let's shift the lens to outreach as a way to encourage engagement in the lifelong learning process and cultivate innovative library programming.
Successfully meeting the needs and supporting the goals of the school community while maintaining a flexible and fluid program requires collaborative leadership. This includes reaching out to various groups and stepping out beyond the library walls.
The library is a bridge between classrooms and home, so how do we identify pathways that forge meaningful connections between our program and students, teachers, and parents? This is a big challenge and a question that I regularly address. My role is to empower librarians to provide leadership, awareness, and community connection.  This is work that leads to purpose-based libraries, instructional partnerships, and professional growth as we continue on the journey to digital age learning.
While a variety of strategies can help us be responsive to the community, there is no right or wrong way to accomplish this task. The following outreach strategies are examples of how Parkway librarians are responding to the community and keeping a finger on the pulse of their buildings.
Librarians on the Move
Many Parkway librarians cultivate instructional partnerships to advocate for their students and programs through intentional meetups that spark collaboration. This might include the "five minutes of harassment" in the morning before school or the "pop-up library picks" that bring resources and the library to student team areas.
The "five minutes of harassment" is a great way for the librarian to target a grade level or team before or after school (for just five minutes) and ask students one or two thoughtful questions that lead to deeper learning, critical thinking, creativity and innovation. The conversation might revolve around the use of physical or virtual spaces, exploration of content and resources, or authentic learning opportunities available in the library.
Librarians who want to empower students to be self-directed learners, as well as avid readers, may take the "popup library picks" approach where the librarian decorates a cart and brings resources (magazines, mobile makerspace items, e-book login information, etc.) to student classroom areas. This type of outreach not only connects the librarian and the program to student interests, but also improves the equity of access that promotes lifelong learning for all students. Moving beyond the library's four walls expands the reach of the library and illustrates how flexible and fluid the program is in creating relationships that ignite student learning.   
Purposeful outreach opportunities create ongoing collaborative networks and educate the community about modern library practice.
Reading Roundtables
School libraries consistently look for avenues to advocate for student reading and literacy through their programs. After observing many of our school libraries and the way that they conduct student book clubs, I wondered, "What if we took our time and space to promote the love of reading and celebrate collaboration among our parents or staff members with a book club?" One avenue might be through regularly scheduled PTO meetings or at lunch-and-learns with staff members.
What if we invited parents to use the school library to build awareness and advocacy? This could be as simple as a corner where parents could read, conduct research, and access resources through the school day or during after-school meetings. This type of interaction could, in turn, build other types of community connections and an understanding of what a dynamic learning space the library is to the school setting.
Adult Maker Challenges
Another way to reach out to the community is at parent conferences or curriculum nights. Recently, we held a middle school literacy evening where parents could stop by the library and try out some of the available maker activities. If you're thinking of hosting a similar event, consider activities such as mapping with Ozobots, playing Sphero shuffleboard, or programming a Parrot Mambo Fly Drone to land in specific quadrants on a tic-tac-toe board.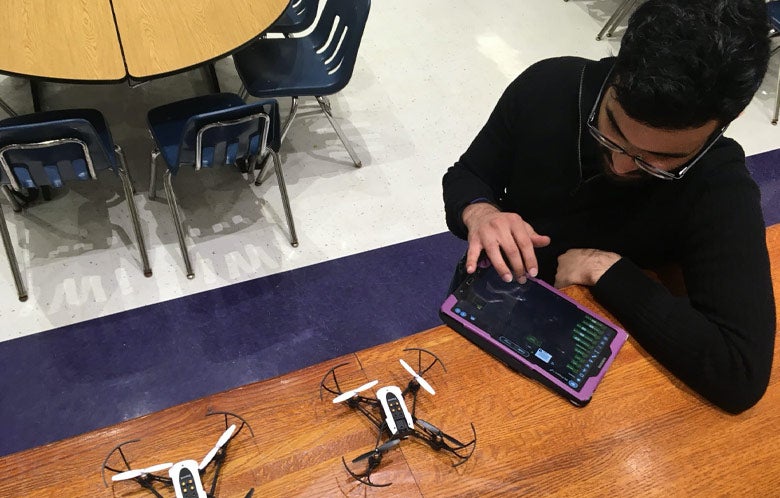 So how do you get them to the library? The smell of popcorn — yes, the smell of popcorn will bring in passersby. After the visit be sure to give parents a one-sheet infographic and menu about your library (read my previous post).
EdTech Demos
Faculty, district committee, or board of education meetings offer librarians another opportunity to connect with community members and encourage them to leverage school library resources and educational technologies. When presenting a teaching and learning resource at a faculty meeting, consider using an innovative tech tool that the audience may not have seen before. Even if they are not interested in the library resource, they may want to learn more about the tech tool.
The IAT (Innovation Action Team) is a district committee of Parkway Schools that meets once a month. This team includes an open invitation to all building leaders including administrators, librarians, and instructional coaches with the hope that information on technology, instruction, and authentic use of technology are explored and brought back to individual buildings. This is the perfect place for librarians to establish collaborative leadership through sharing innovative practices, such as WeVideo and green screen editing, the Breakout Edu immersive learning games platform, or Google Expeditions, a virtual reality teaching tool.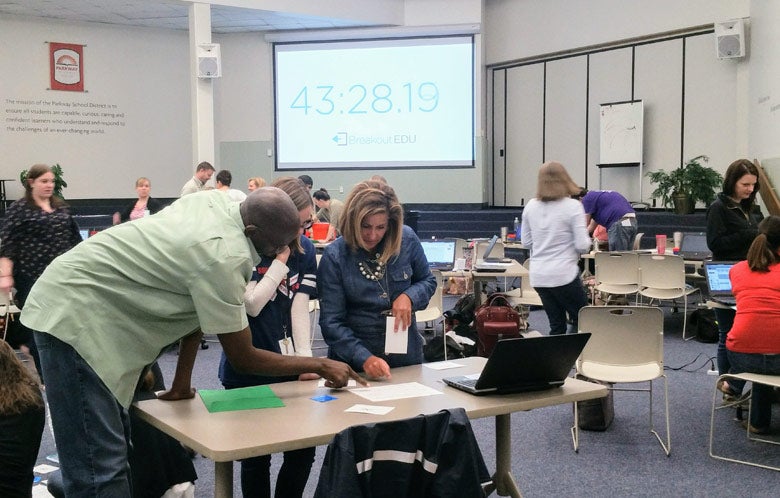 Imagine the possibilities if librarians took students to a board of education meeting and each member was handed a Sphero and asked to program it with the help of an elementary, middle, or high school student. This type of outreach provides the opportunity for dialogue about programming that transcends the library walls and cultivates support for digital learning.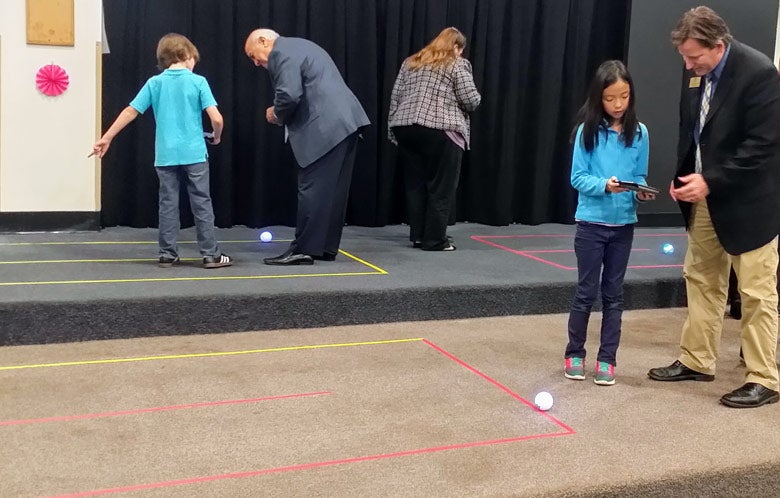 Student outreach at your library takes planning and requires a vision, but they accomplish fantastic results when executed as a part of a strategic plan to lead beyond the library and make our stories visible. Best of all, these purposeful outreach opportunities create ongoing collaborative networks and educate the community about modern library practice. This shared sense of purpose and commitment toward teaching and learning in the digital age can be achieved by libraries that make a concerted effort to establish and foster partnerships throughout the community.
For more best practices, download EBSCO's white paper, "Advocacy and the 21st Century School Librarian: Challenges and Best Practices."