Net neutrality. Marijuana legalization. Immigration reform. Jerusalem.
Each quarter, a new group of freshmen rotates into the social studies section of "Foundations of Independent Research and Communication" and faces the challenge of writing a position paper.
At Maggie L. Walker Governor's School, which has a curricular focus on government and international studies, this is often my first opportunity to encourage students to venture out of the familiar harbor of apps, shows and social media feeds that affirm their point-of-view and intentionally seek contrasting perspectives. It's a research habit I'll reinforce many times before they graduate.
These information literacy skills are among my favorite to teach and — in an era of increasing divisiveness —  essential for students. Librarians can serve as a bulwark against divisiveness by nurturing curiosity and connecting students with resources to better inform their policy conversations.
Whether you're preparing students to research a position paper, teaching questioning techniques, or planning to host a Living Room Conversation, let's explore how to leverage library databases and free online resources to support more civil civic discourse.
Language Shift
"How many of you have a friend, relative, or neighbor whose political views are very different from yours?" I ask. Nearly everyone's hand goes up.
"How many of you discuss politics with them?" Nearly every hand goes back down.
"Does it sometimes feel like they're having a totally different conversation than you? Maybe even relying on different facts?" Many heads nod.
"That's because they probably are," I suggest. Some nod again; others look puzzled.
I then tell students about an aunt whose political views contrast sharply with mine and explain that when I visit her preferred news site, I find not only another spin on the same stories, but also news not reported on my preferred channel and other stories missing entirely. When my aunt and I talk about an issue, we often discover that the truth can be found somewhere in between.
"Today we'll take a closer look at why that happens."
I ask students to jot down vocabulary they already know about their topic, as well as relevant stakeholder groups. They then practice asking questions from different stakeholders' points-of-view and consider how language changes depending on who is talking. They predict how this might impact search strategies. Later, as they search, read and reflect, their awareness of these shifts and related vocabulary strengthens.
Personal News Habits: Beyond Red or Blue
Forget rose-colored glasses. More and more Americans perceive their world in blue or red.
On policy values from government regulation to helping the poor, the ideological gap between Republicans and Democrats has widened (Wider), and these value gaps impact how we perceive each other. For the first time in more than three decades, "majorities in both parties express not just unfavorable but very unfavorable views of the other party," perceptions that increasingly spark "not just frustration, but fear and anger" (Partisanship).
Whether they're listening to MSNBC or Fox, reading hyperbolic headlines on Facebook, or watching the latest video-posing-as-news on Twitter or Snapchat, some people succumb to the heady affirmation or burning contempt they feel not with further research, but with a quick gloat-and-share or fume-and-share click.
Despite the societal rip currents these clicks create, librarians can make a difference.
To avoid getting lost in the churn, students can search databases for articles from a variety of perspectives, and librarians can teach them how. Let's take Advanced Placement Source (a.k.a., AP Source), a cross-curricular database with more than 4,300 full-text magazines and journals, as an example. These strategies can be applied to similar databases as well.
In AP Source, students who usually immerse themselves in red news can venture into blue waters with The Nation or Mother Jones. For those who typically swim in blue news, Reason and The National Review offer red currents.
Consider this contrast in the first two results of a search for marijuana AND legal*:
The Nation

"Let a Thousand Flowers Bloom"
"The Anti-Pot Lobby's Big Bankroll"

The National Review

"The High Way"
"Cannabis, Conservatively"
Skimming each article's subject headings helps build vocabulary and illuminates the slant it takes on the topic, an evaluation and pre-reading tactic students appreciate learning.
We also discuss potential problems with this approach, such as searching for "illegal aliens" in liberal publications or "undocumented immigrants" in conservative ones. The research warm-up centered on vocabulary, stakeholders and questions facilitates students' strategic application of language shifts to their searches.
And point-of-view possibilities in AP Source go well beyond red and blue.
To overlay faith onto public policy, a filter useful for topics like Jerusalem:

First Things (Catholic and evangelical Christian) or Commentary (neoconservative Jewish) provide conservative lenses
Liberal Christian and non-theist perspectives can be found in The Christian Century and Humanist.

For rainbow (LGBTQ) news, students can check The Advocate.
 
If they're interested in articles from the NAACP about issues that impact communities of color, The Crisis, whose founding editor was W.E.B. Dubois, is in AP Source too.
The rising tide of partisan division can be discouraging, but YOU can equip students to resist its pull. Encourage them to build enduring friendships with people across the political aisle and empower them to look at the news through many-colored lenses…
What about the Business Perspective?
AP Source offers an option not available in our other databases: a trade publications filter.
This is particularly useful for health, energy and environment topics, or any policy issue in which a profession, trade or industry has a stake.
For net neutrality, this filter reveals articles from the following perspectives:
Libraries
Publishing
Marketing
Telecommunications
Machine design
And that's just on the first page of results.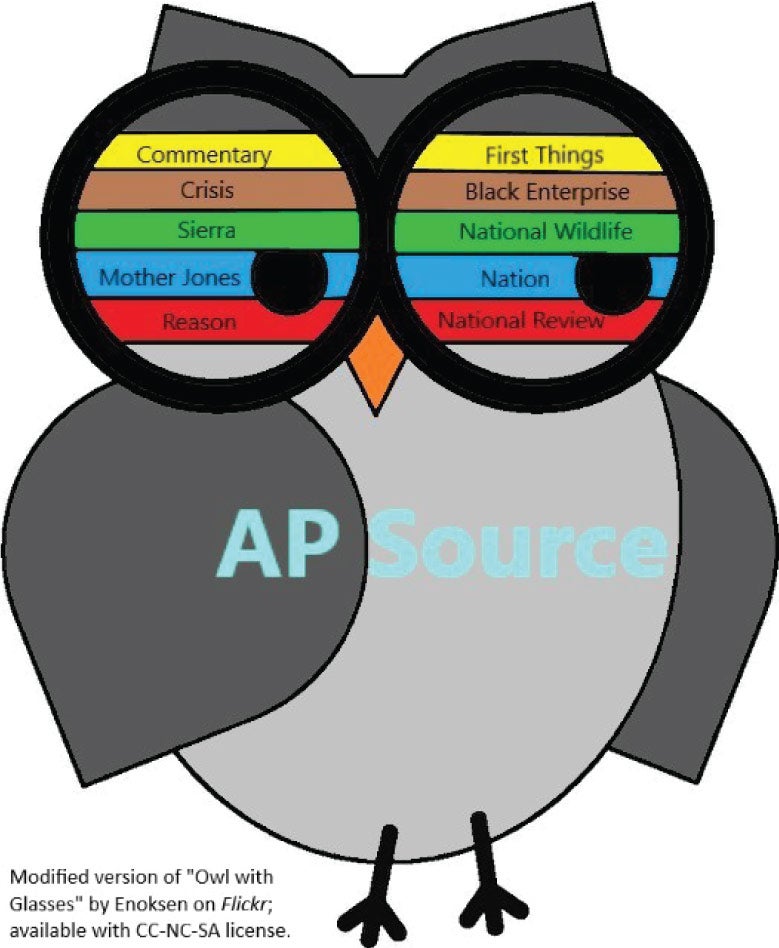 Charting the Waters
"How am I supposed to know which magazine has the point-of-view I'm looking for?" students may ask.
A fair question.
Unfortunately, there isn't a filter for liberal or conservative in AP Source. In lieu of that, consider creating a sample list for your students to help them chart the waters. You could even link directly from each title to its backfile in the database.
Begin with titles you already know, ask colleagues for suggestions, and then do a publication search in your databases looking for words in the descriptions such as liberal, conservative, libertarian, progressive, left, right, religious, evangelical, environment, etc.
You could also consult "Consider the Source" (Harold Washington College), "Detecting Bias" (Lorain County Community College), and similar library guides. The main objective is to facilitate students' access to publications they can read in full-text.
If your budget permits, databases tailored to position papers like EBSCO's Points of View Reference Center™ offer students efficient access to introductory essays and a range of viewpoints about controversial topics.
You may also wish to add these free resources:
For news from a variety of perspectives, a balanced dictionary that introduces the nuances of language around a topic, and introductory essays on controversial topics for featured issues, try AllSides.com.
 
For detailed and balanced background information, try Congressional Research Service Reports which are curated by the Government Documents Department at the University of North Texas and available elsewhere online. Although they can be lengthy, most have a table of contents for easy navigation.
Teaching Resources
Interested in resources to jump start your participation in this resistance?
You are welcome to use or modify the research warm-up that my students complete in preparation for their position paper. If you subscribe to AP Source, feel free to download the publication list I provide to students and the owl infographic that appears in this article.
If you're focusing on election news, check out related lessons from Stony Brook University's Center for News Literacy which include slideshows you can download and modify.
For resources and tips about teaching questioning, read Sarah Westbrook's EBSCOpost article on the topic and browse resources from the Right Question Institute.
Resist
The rising tide of partisan division can be discouraging, but YOU can equip students to resist its pull. Encourage them to build enduring friendships with people across the political aisle and empower them to look at the news through many-colored lenses, an essential step in learning how to navigate — and perhaps build new bridges across — these churning waters.