APA PsycInfo is the world's largest resource dedicated to peer-reviewed literature in behavioral science and mental health. The following are five examples of searches of APA Databases on EBSCO Discovery Service and EBSCOhost. Search results include links to full text articles in other APA databases subscribed to through EBSCO Information Services (EBSCO), such as APA PsycArticles, APA PsycBooks or Psychology & Behavioral Sciences Collection.
1. Diabetes Self-Management: Angela, a physician, is working with a diabetic patient who is struggling with self-management. She runs a search of APA PsycInfo in EBSCO Discovery Service on the term 'diabetes,' limited to the last ten years with the date slider, then utilizes refine results and selects the major heading 'self-management.'
2. Vaccine Hesitancy: Arie, a nurse practitioner, wants to read up on vaccine hesitancy because he provides care for several families with concerns about vaccine safety. Using APA PsycInfo in EBSCOhost, he begins by browsing the APA Thesaurus of Psychological Index Terms. Arie enters the term, 'vaccine,' then selects the term 'Vaccine Attitudes' as recommended.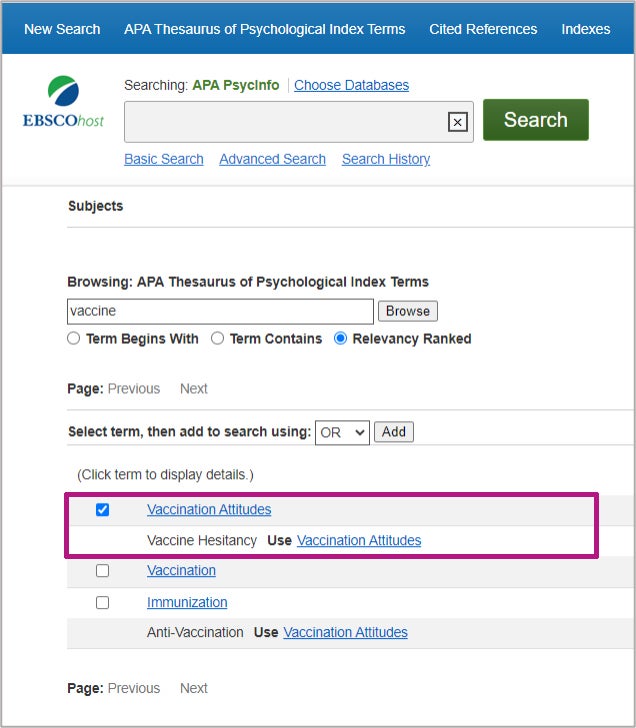 3. Mental Health Crisis in the Community: Beth, a researcher, is looking for current information about the mental health crisis to conduct a literature review. Beth has a MyEBSCO folder and has set up a search alert to receive automatic e-mail notifications whenever new search results become available. Beth is often moves all over the hospital and frequently does her searching on the EBSCO Mobile App.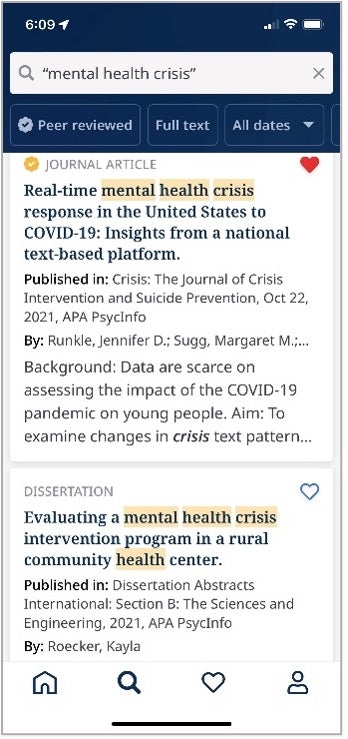 4. Traumatic Brain Injury: Burton, a medical librarian is working on a historical review of literature on traumatic brain injury and is searching APA PsycInfo using the basic search screen, entering the term "traumatic brain injury" in quotes. Burton's results go back to the 1800's and he can sort from the oldest record.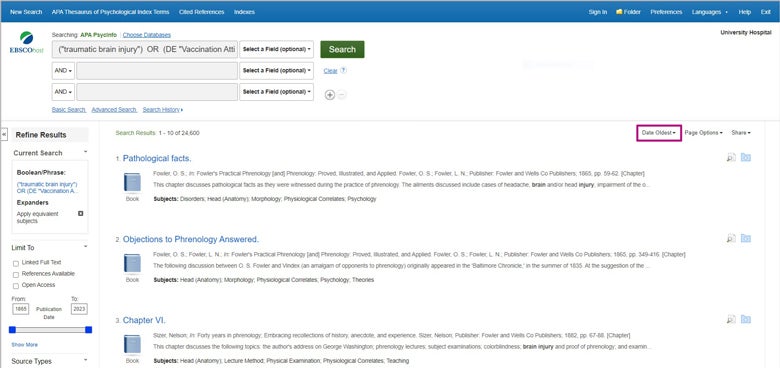 5. Depression and Patient Attitudes: Whitney, a counselor, needs qualitative studies about depression and patient attitudes. They enter 'depression' on the first line and 'patient attitudes' on the second line, then filter to methodology and select qualitative study.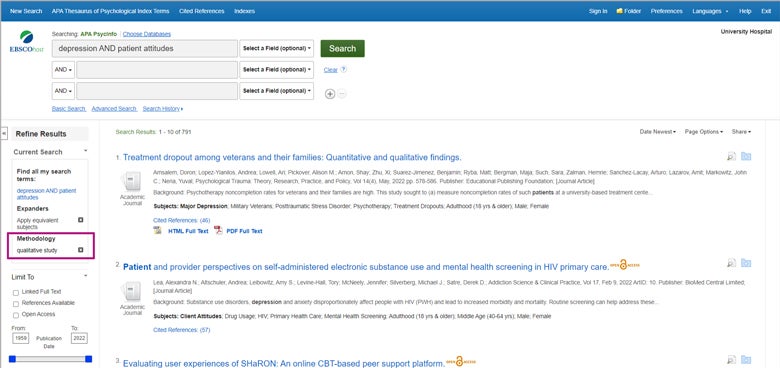 Watch this brief tutorial to learn more about searching APA Databases. If your hospital or institution subscribes to APA PsycInfo, you can try these searches yourself. If you do not have access, and would like to see what's possible, click here to request a free trial for your institution.