My first patient this morning is an 82-year-old woman named Faye. She's had type 2 diabetes for about a year and despite her best efforts, she has been unable to tolerate metformin because of gastrointestinal side effects. She comes to my office today wanting to stop the medication. We discuss that she had previously failed diet control and exercise, which limits her ability to control her diabetes with no medication. She lives alone and is interested in other medications that might prolong her ability to stay independent at home. She isn't interested in regularly checking her sugars (but concedes that she does check when she doesn't feel well) and she doesn't want to take insulin or an injection.
Faye's past medical history includes early macular degeneration, hypertension, and hyperlipidemia. Last year she had an EKG when she went to the ER for pneumonia that showed left ventricular hypertrophy, but she has never had clinical heart failure. Current medications include lisinopril 40 mg/day, fish oil, eye vitamins, and atorvastatin 40 mg/day. Her exam shows blood pressure 128/72, pulse of 68, normal temperature and pulse ox, and a BMI of 32. She has normal heart and lung sounds and no edema. Her recent fasting glucose was 270 mg/dL, HbA1c was 11.2 percent, and calculated glomerular filtration rate (GFR) was 38 mL/minute.
I open DynaMed and Micromedex with Watson on my laptop in the exam room and search type 2 diabetes medications. The topic Glucose Lowering Medications for Type 2 Diabetes comes up in the search results and sounds promising to investigate other options that might be suitable for Faye. The second bullet in the Overview and Recommendations states that if metformin is contraindicated or intolerable, as is the case with Faye, that a drug from another class may be suitable. I click on the link, which brings me down to the American Diabetes Association (ADA) recommendations for choosing glucose-lowering medications for adults with type 2 diabetes and just below that are considerations for older adults. One oral option is a sulfonylurea, but they carry a high risk of hypoglycemia which we'd like to avoid, and careful glucose monitoring is indicated, so that's out. Another option is a thiazolidinedione, but these should be used cautiously in patients at risk for heart failure, so that's not ideal. Dipeptidyl peptidase IV (DPP-4) inhibitors are another possibility, which look the most promising for Faye.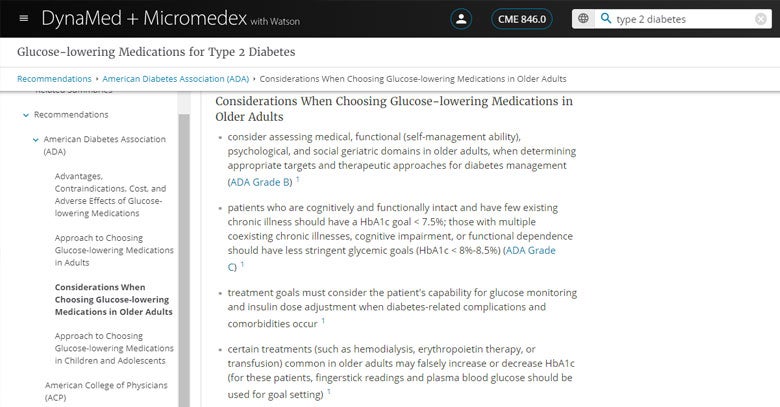 I remember that some glucose-lowering medications should not be used in patients at risk of heart failure, so I punch DPP-4 and CV risk into the search bar and click on the topic Glucose-lowering Medications in Patients at High Cardiovascular Risk. Here I find evidence summaries that show the DPP-4 inhibitors saxagliptin and alogliptin do not decrease risk of cardiovascular events, but they might be associated with increased rate of hospitalization. In addition, saxagliptin is not recommended by the ADA or European Association for the Study of Diabetes (EASD) in patients with high risk of heart failure. So the DPP-4 inhibitor sitagliptin seems like the safest option.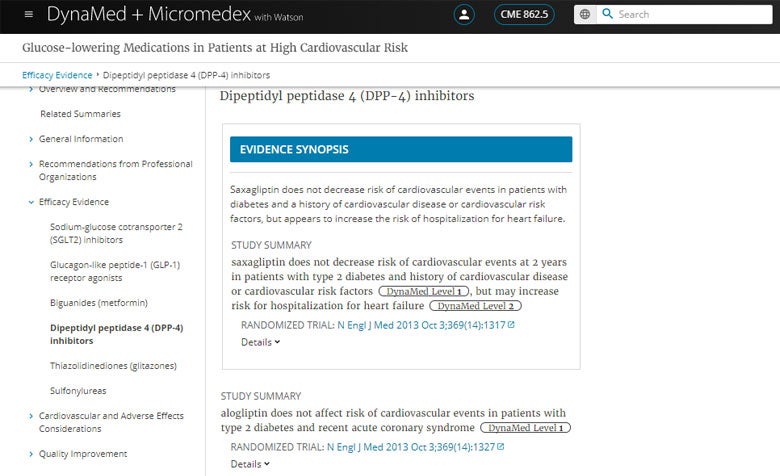 Next, I do a search for sitagliptin to find the IBM Micromedex® drug monograph where I can check dosing adjustments given Faye's age and moderate renal impairment, as well as review any interactions with her other medications. The standard dose for sitagliptin is 100 mg orally daily and I quickly see that a lower dose of 50 mg orally daily is recommended for patients with GFR 30-45 mL/minute and no dosing adjustments are necessary for advanced age. I also double-check safety with the other medications Faye is taking and a quick scroll through the table confirms my suspicion that this will be a safe addition to her current medications.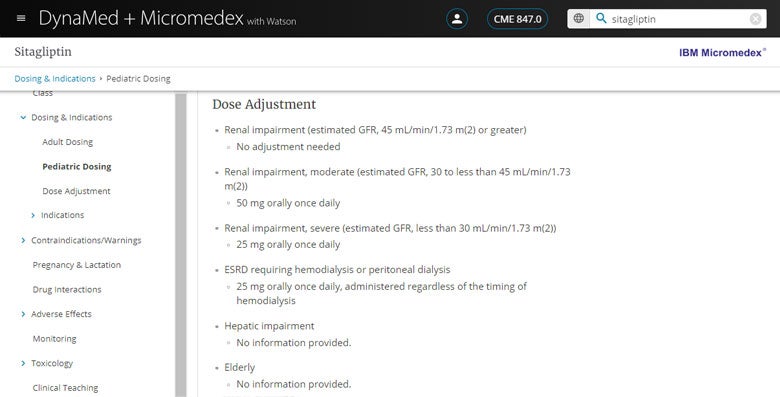 I write up the script and remind Faye that diet and exercise are still an important aspect of controlling her diabetes and staying healthy. With three quick searches in DynaMed and Micromedex with Watson, Faye is off to the pharmacy relieved to try something new and I'm on to my next patient.
In response to the COVID-19 pandemic, we want to do our part to support frontline healthcare providers in their efforts to combat the disease. EBSCO Information Services and IBM Watson Health are offering free access to DynaMed and Micromedex with Watson through Fall of 2020 to help deliver fast, evidence-based answers to disease and medication questions at the point-of-care. Register now and use your new log-in credentials to access the tool on any device by visiting dynamedex.com.