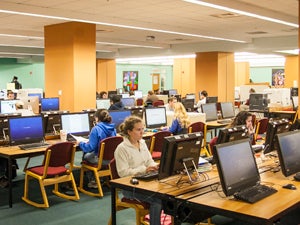 Overview
Located in Statesboro, Georgia Southern University (GSU) is a Carnegie Doctoral-Research institution that offers more than 120 degree programs in eight colleges specializing in Business Administration, Education, Health and Human Sciences, Engineering and Information Technology, Liberal Arts and Social Sciences, Public Health, Science and Mathematics and Graduate Studies. With a fall 2012 enrollment of more than 20,500 students, GSU one of the largest institutions in the University System of Georgia. The Zach S. Henderson Library features roughly 600,000 cataloged books and bound periodicals, 750,000 government documents, 48,000 eBooks, and 300 subscription databases. To maximize the value and use of its copious resources, the Library implemented EBSCO Discovery Service (EDS)—known as "Discover" among GSU users—in 2012. With a single point of entry on the library home page, users are able to quickly and easily search the library's collection and unearth results that are pertinent to their research.
We want our students to be more discriminating about what they're looking for and not just accept 'good enough.' EDS has been instrumental in helping students locate high-quality resources.
Information Services Librarian & Business Specialist
Georgia Southern University
Challenges
According to Catalog and Metadata Librarian Debra Skinner, students and faculty found it difficult to search the library's electronic resources. As a result, she said, many students relied on commercial internet search engines, which do not always provide the most reliable information. And although GSU subscribed to a number of EBSCO databases, it also subscribed to subject-specific databases that featured different interfaces. This only further confused students, many of whom did not understand why they had to go into each database individually to conduct their searches.
"We're spending a lot of money on high-quality resources that we'd like [our patrons] to be able to use," Skinner said. "[Our students] have grown up in a Google world where you go to one search box. A lot of them don't understand the concept that they have to make a distinction and pick a database that's best for their topic. They just want the single search box."
In addition, library leaders sought a discovery service that would also provide accurate usage statistics which would enable them to make more informed purchasing decisions.
"This is critical for us because we must account for how we use the funds that have been provided to the library," said Bob Fernekes, Information Services Librarian and Business Specialist.
Solutions
Implementation
In September of 2011, Library Dean W. Bede Mitchell formed a task force of librarians to research discovery services and to decide on one to implement at Georgia Southern University. The task force included Skinner, Fernekes, a library committee faculty member, the systems librarian, as well as information services librarians and technical services librarians. Representatives from four discovery service vendors—including EBSCO—demonstrated their products for members of the task force, who then drafted charts comparing the features of each product.
Skinner also conducted usability testing of the four products. She asked 10 students to conduct searches on each of the four discovery services and record their findings on a Discovery Tool Student Evaluation form. The form featured questions about the ease of conducting searches, the relevance of search results, the availability of full-text, and the usefulness of limiters.
"We did a pretty thorough analysis," Skinner said, adding that the students helped library leaders to make their decision. "When it came down to content, I don't think you could beat EBSCO."
Across the board, the student testers found EDS very intuitive.
"I was really amazed at how easy they found it to use," Skinner said. "They found it very easy to go in and find articles on a topic. They found the facets. That's what really sold me. I think a student who has a basic assignment can come in to the library and do it on [his] own. That's sort of the goal – that people can do things on their own."
Fernekes agreed. "When the team looked at EDS, we realized that many of the components were in place, powered by EBSCO's unified index, so that the core collection of local indexed metadata—as well as the other databases that were included—provided a solution set for the implementation that the other companies did not offer."
Since the Library already subscribed to a number of EBSCO databases, the interface was familiar to users. "Early on, our team members recognized that students and faculty were familiar with EBSCO's look and feel, so implementing EDS from an instruction perspective gave us a leg up," Fernekes said, adding that GALILEO, the library consortium of which GSU is a member, also subscribes to EDS.
The team selected EDS in January of 2012. At the start of the Fall 2012 semester, after a beta period, the Henderson Library officially launched EDS campus-wide.
Customization & Branding
During the beta period, the implementation team selected a number of customization options to meet the University's needs.
The Library home page features a "Discover" search box—"Discover" is the library's name for EDS—where users can immediately begin their search for books or articles. Check boxes below the search field allow them to limit their results to full text or scholarly journals.
Users can also click a link to go straight to Discover's own homepage, where the search box is branded with a unique logo. The "o" in Discover is represented by a magnifying glass.
The search results page is also branded with the Discover logo, as well as GSU's blue and white school colors and the University's eagle logo.
In addition, the team chose to make the "Available in Georgia Southern Library" limiter the search default.
"We thought the students would get frustrated if they got a lot of results that weren't available right away," Skinner explained.
Librarians are in the process of creating subject-specific LibGuides that will aid students and faculty in their research and instruction. Fernekes said the library intends to embed a Discover search box on each LibGuide page.
"The LibGuides and [EDS] are mutually supporting," Fernekes said. "We're excited because they will allow us to better assess the use of the library's resources and to better gauge how well our instruction program is integrating Discovery."
EDS is accessible t o students and faculty both on campus and off. To authenticate remote users, the library uses EZProxy, which integrated well with EDS. Patrons can conduct searches, get results, and view detailed records without having to first log in. It is only when they try to access full text or download copyright protected materials that the system will prompt them to enter a user name and password.
EDS is also available to students on their mobile devices, and the library has plans to integrate EDS with the University's online learning management system, branded "Folio."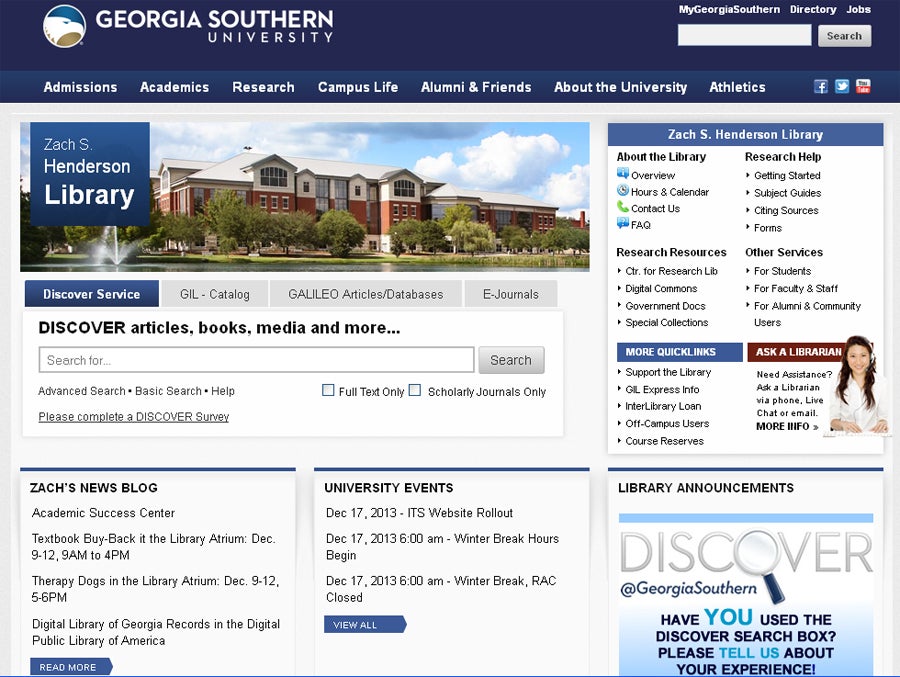 Training & Promotion
After immersing herself in EDS, Skinner conducted some informal training with the library staff and the implementation team. Fernekes said he attended online training sessions through the EBSCO Support Site, which have provided the team with many helpful resources.
"I've found the Support Site to be wonderful," Skinner said. "That's where I've learned enough to train other people."
Students learn about EDS during Freshman Orientation, in English Composition, and in bibliographic instruction sessions, which are tailored to a particular assignment or course. Librarians show students how to do everything from accessing the library's electronic resources to properly citing their sources.
To promote EDS, the library hung two banners on the front and back of the building. Each banner featured the Discover logo along with the tagline, "Discover Books, Articles, Everything in a single search." In addition, college deans agreed to pose for full-size cardboard cutouts. Each cutout—set up in each college building's lobby—featured the college's dean standing behind a large magnifying glass and identifying what it was he could find using Discover.
During the first week of classes, librarians manned information tables in both the front and rear foyers of the library. They handed out buttons, pens, and flyers telling the Georgia Southern community about Discover.
"They were very positive and interested," Skinner said.
In addition the library promoted Discover on the University's online scrolling announcements board, sent out an email notice, and blanketed the campus with posters.
Skinner said the campaign seems to have worked well because a lot of people are talking about Discover. "It really has given the library a lot of good press," she said.
We did a pretty thorough analysis. When it came down to content, I don't think you could beat EBSCO.
Catalog & Metadata Librarian
Georgia Southern University
Benefits & Results
Although it is too soon to see measurable results, both Fernekes and Skinner are optimistic. They expect to see more discernible spikes in library use once LibGuides have been posted, and EDS is available through Folio.
"It's going to be a lot easier for students to use a wider range of databases than ever before," Skinner said. "So many of the resources were sort of hidden because the technology was not really there. Now it has all opened up. Discover just brings it all to the forefront. I think the benefits are just tremendous."
Fernekes agreed, adding that EDS enables students to get their hands on useful resources much earlier in the research process.
"As long as the research process is initiated, then students will have the content that they need," Fernekes said. "In many cases, what little time is spent by some students is spent locating a resource as opposed to actually digesting the content and writing the paper. Over time, I think we'll see that, as students initiate the process a little earlier (on desktop as well as mobile), they'll spend more significant time doing the critical thinking skills that are required in writing a paper or in completing some of the other assignments that required the use of the resources."
Students who initially tested EDS for Skinner reported that the service is "easy to navigate" and "helps me find books on a certain topic [more easily]." They praised the "ability to refine your search and pinpoint what you are looking for" using the left-side facets, and they found the embedded citation feature to be very helpful.
Since EDS is available to students on their mobile devices, Fernekes envisions a day when they will no longer be told to turn their cell phones off upon entering the classroom. Instead, smart devices will become an integral part of the learning process – both inside and outside the classroom.
"The one item that comes to the forefront more so than in the past is the use of the EBSCO folders, which provide students and faculty not only a location for their content but also the opportunity for collaboration," Fernekes said. "You can share your folder and its content with others when you're working on a project. That is a nice benefit of mobile technology that will encourage the use of the Discovery Service."
To learn more about EBSCO Discovery Service, or to request a free trial, click here.