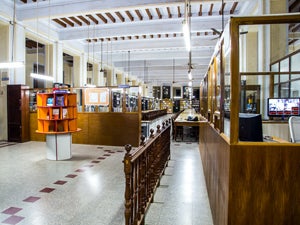 Overview
Located in Chennai, Loyola College is among the top five institutions in India for degree programs in commerce, arts, natural sciences and social sciences. To support the research needs of the institution's 8,000 students and 500 faculty members, the Central Library maintains an extensive library collection that includes nearly 110,000 print books, more than 170 print journals, 9,200 e-journals and 268,000 e-books. To better support the research needs of Loyola College students, the Central Library subscribes to Academic Search Complete and EBSCO eBooks.
Academic Search Complete offers valuable content to support multidisciplinary research activities.
Solutions
Chief Librarian Dr. Dilli KT coordinates Loyola College's "Scholar Corner," a program of Arts, Science and Humanities students enrolled in Master's and Ph.D. programmes. These scholars lead a majority of the department's research activities.
"Academic Search Complete offers valuable content to support multidisciplinary research activities," Dr. Dilli said, noting the database's large collection of full-text journal content from reputable publishers such as Wiley-Blackwell, Taylor & Francis, Springer Science, Cambridge University Press, Oxford University Press and Sage. "Nature and TIME are widely used publications by all research scholars."
In addition, the Central Library subscribes to EBSCO's Academic eBook Collection. Dr. Dilli said that the institution began its subscription two years ago in response to the escalating cost of physical books, faculty requests for more digital content with multi-user access, and an increased need for multidisciplinary resources. Offering e-books "takes the library to the users," he said, "and ensures real-time availability of information anywhere, anytime."
Learn more or request a free trial of Academic Search Complete