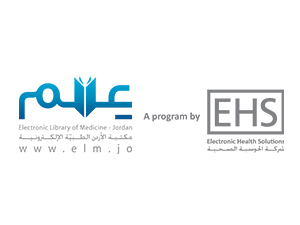 Overview
The Electronic Library of Medicine - Jordan (ELM) provides healthcare workers and medical students in Jordan with free access to the most current, evidence-based medical information available to improve patient care throughout the country. ELM's national committee consists of representatives of the Ministry of Health, Ministry of Information and Communications Technology, Jordanian Royal Medical Services, King Hussein Cancer Center, Private Hospitals Association and Center of Excellence.
ELM provides free access to e-books, e-journals and other medical resources. Among these is DynaMed Plus®, a clinical information resource from EBSCO Health that provides evidence-based information at the point of care. After years of using other platforms, ELM made the switch to DynaMed Plus for its robust content and free mobile app. Since then, use of the library's portal has increased, and the institution is seeing a greater return on its investment.
Since we started our subscription with DynaMed Plus, engagement on the ELM portal has increased. DynaMed Plus is an excellent source of evidence-based medical information that suits our users' needs.
Education & Knowledge Manager
Electronic Health Solutions
Challenges
In 2016, ELM began evaluating clinical information resources. According to Ghaith Salameh, Education & Knowledge Manager for Electronic Health Solutions, any new point-of-care resource purchased by ELM would need to provide an intuitive user experience. "Our users were accustomed to the old system, and they didn't want to get out of their comfort zone," he explained.
In addition, most of the healthcare providers in Jordan's public healthcare sector do not have access to the internet. Since the Hakeem program they work on is a closed network, the availability of a mobile app was also critical. "Clinicians are mobile, and they need instant access to clinical information with no barriers," Salameh said.
Finally, ELM was looking for not only a vendor, but also a partner who would be responsive to the library's needs and support its efforts to improve healthcare.
Solutions
A committee composed of representatives from each of ELM conducted an in-depth analysis of DynaMed Plus in comparison to other platforms. Committee members reviewed independent studies of the resources, created a feature matrix to understand the differences among the tools, and looked at the breadth and depth of content.
After a thorough evaluation, the committee unanimously selected DynaMed Plus. Three key factors that won over the committee were some of the Micromedex® drug content, the free mobile app, and EBSCO's commitment to customer success.
The Micromedex drug content within DynaMed Plus includes medication management information, standard drug information, medication safety, IV compatibility and lab recommendations. If a hospital has a Micromedex site license, users can link to all the content within Micromedex.
Clinicians can access all content in DynaMed Plus via the web through ELM's platform or via the free mobile app, available for iOS and Android devices. After installing the app and downloading DynaMed Plus content, the information can be accessed offline without a wireless signal.
Promotion
To increase awareness and use of DynaMed Plus, Electronic Health Solutions is planning to add a link in Hakeem, the organization's electronic health record system. In addition, the EBSCO Health Implementation Team helped ELM get the word out with training sessions and promotional materials. The library also promoted DynaMed Plus via email and social media campaigns.
Salameh praised EBSCO Health for its professionalism, flexibility and helpfulness. "Not only does DynaMed Plus provide the content and the access options our physicians need, but EBSCO Health is also a great company to work with," he said. "It is highly responsive."
Benefits & Results
Since the launch, ELM staff members have successfully integrated DynaMed Plus into their workflows, making frequent use of the tool's evidence-based summaries and recommendations. The information is presented in a digestible, bulleted format that makes it easy for doctors, nurses, medical students and researchers to find answers quickly.
DynaMed Plus has been particularly helpful when physicians encounter rare medical cases.
One ELM clinician shared, "I find [DynaMed Plus] irreplaceable when I come across a patient with a rare medical condition, as it is a fantastic resource for providing information to my staff about the condition."
Salameh said users' initial concerns about switching to a new platform have since been allayed.
"They were afraid that DynaMed Plus could not meet their expectations as medical professionals, but in the end, they found it much better than the old system," he said, adding that engagement on the ELM portal has increased. "DynaMed Plus is an excellent source of evidence-based medical information that suits our users' needs. We see ourselves using DynaMed Plus for many years."
Kamal agreed. "Part of ELM's vision is to be the central hub in Jordan for accessing credible, evidence-based medical information," he said. "This is accomplished through adding reputable and reliable resources such as EBSCO that reinforce the trust of the ELM platform users and ensure continuity."