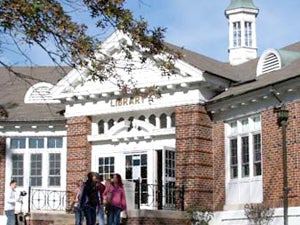 Overview
Founded in 1870, William Woods University is a small, liberal arts institution that offers undergraduate and graduate degrees in business, education, and more. While its main campus is in Fulton, Missouri, William Woods University also offers classes in Columbia and Jefferson City, bringing its total enrollment to roughly 3,800 students. Since many of its students are distance learners, William Woods University sought to make its extensive library collection easily accessible to both on- and off-campus users. In October of 2011, the college library launched EBSCO Discovery Service (EDS), and branded it "Woods OneSearch." With a customized search box on the library home page, William Woods University now offers a strong research platform that uncovers library resources with the speed and simplicity of a commercial Internet search engine.
[EDS] was, by far, the easiest implementation ever. We were really sort of astonished at how easy it was.
Challenges
Over the years, William Woods University has purchased a number of research databases to cover its wide-ranging liberal arts curriculum and to cater to the needs of distance learners. According to Library Director Erlene Dudley, the Dulany Memorial Library offers 37,000 full-text journals, 100,000 eBooks, and 89,000 print, video, and audio materials. However, she explained, students were not unearthing all of the resources available to them because the library website presented too many points of entry. To access databases from various vendors, the user would have to navigate to a different search screen.
"It became pretty clear to us that students did not persist," Dudley explained. "We have all these wonderful resources, and they weren't getting used as we thought they should be. If something is hard to use, or [students] don't know about it, it doesn't get used."
Dudley's desire to bring more of the library's resources to the surface, to get the most out of the University's investment, and to meet user expectations, ultimately fueled her decision to pursue a discovery product—one that would function much like the commercial Internet search engines students are accustomed to using.
"We knew that we needed that top layer," she said. "We wanted one-stop shopping. We wanted one search."
Solutions
Implementation
In the summer of 2011, Dudley and her library staff consulted MOBIUS, a statewide consortium of academic libraries in Missouri of which William Woods University is a member. A number of its member libraries had already researched federated search products.
"William Woods University is a small, independent institution of higher learning, so we had a lot of freedom in the library about what we wanted to do," Dudley explained. "Based on our experience and talking with other MOBIUS members, we pretty much knew what we were looking for."
Dudley and her colleagues narrowed their search to two vendors and invited representatives to demonstrate their respective products.
"We were really impressed by the EBSCO Discovery Service," Dudley said, adding that the library was already subscribing to several EBSCO databases. "We have what we consider a very good vendor-library relationship. That was a very positive factor."
The ability to trial the product, its affordability, and EBSCO's record of excellent customer service led Dudley and her team to go with EDS. They signed the contract, set up an implementation date, and arranged for MOBIUS to send its online catalog records to EBSCO. EBSCO then combined the catalog records with the library's databases, created indexes, and produced a product ready to launch by October of 2011. William Woods University's Dulany Memorial Library became the first academic library in Missouri to implement EDS.
"This was, by far, the easiest implementation ever," said Dudley, who has worked in libraries for thirty years, and quite extensively with technology. "We were really sort of astonished at how easy it was."
Dudley praised EBSCO's technical support and customer service teams for being highly responsive during and after the EDS implementation.
"The support that EBSCO provided—the online training videos, the customer service,
the technical support—was great," she said, adding that the EBSCO Support Site also offers helpful resources. "We knew what we were looking for, and it was very easy to find information about how to do what we needed to do."
Customization & Branding
As the library was implementing EDS, William Woods University was in the process of redesigning its website. Dudley said she and her staff kept the redesign in mind when deciding on the "Woods OneSearch" branding. The search box is displayed prominently on the Dulany Memorial Library's home page.
In addition, Dudley said, her team embedded the "Woods OneSearch" search box within LibGuides, librarian-created research guides that point users to relevant information.
Access
William Woods University has long used EZ Proxy to authenticate remote users, who must enter a user name and password to access the library's databases, which worked easily with EDS.
Promotion & Training
Since EDS launched mid-semester, Dudley and her library colleagues promoted the new product in a variety of ways. First, they distributed Woods OneSearch bookmarks across campus. Then, they announced the arrival of Woods OneSearch on the library's Facebook page and in a mass email sent to faculty and students. Finally, a student reporter wrote an article about it in the campus newspaper.
Shortly after implementation, Dudley demonstrated EDS during a faculty meeting. In addition, she and her library colleagues went into classes to familiarize students with Woods OneSearch. Dudley recalled attending a kinesiology class in which students were researching physical actions, such as kicking a soccer ball or pitching a baseball. She showed them how Woods OneSearch could extract a variety of relevant resources from articles about momentum to images of muscle groups.
"It was an example of where we could go to a classroom, show them Woods OneSearch, and give them a tailor-made search strategy," Dudley said, adding that she plans to do another demonstration at the next campus community lunch. The library also offers a computer lab supervised by work-study students and library staff members who can familiarize students with the discovery product. "It's sort of an ongoing process for us."
Benefits & Results
Since introducing EDS, the library has seen a dramatic increase in usage, experiencing more than 257,000 searches in February of 2012 alone. "We're very pleased," Dudley remarked.
Jill Mahoney, Reference and Information Literacy Librarian at William Woods University, said EDS has made it easier for students to locate high-quality resources for their assignments. "Students are so used to 'Googling' for information, so the search box on our library website becomes a really great avenue for them to enter database searching," she said.
Mahoney pointed out that not all students are knowledgeable enough about library resources to navigate the extensive list of databases. Finding the databases that contained articles matching their research topic proved to be an overwhelming task for many.
"The EDS search box takes the guess work out of this process," Mahoney said. "Now they are searching everything at once and getting the most relevant results."
Dudley said she has received encouraging feedback from a number of students who have been using EDS. The "Add to Folder" feature is among the most popular because students can store their desired search results "in the cloud." In addition, many students have been required to consult peer-reviewed journals in their research, and they like how they are able to filter their search results accordingly. Finally, students writing research papers can use EDS to build a bibliography in both MLA and APA formats. "They like that feature a lot," Dudley said.
Although it is too early to tell, Dudley is most interested to see whether individual databases that were rarely accessed before EDS experience a surge of activity. She plans to use these statistics to guide purchasing decisions and subscription renewals.
"We're expecting to see some change, but we'll have to wait a little bit longer to see if that actually holds true," Dudley said. "The overall response has been very positive across the board."
To learn more about EBSCO Discovery Service, or to request a free trial, click here.