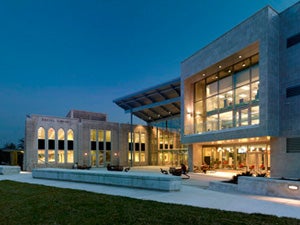 Overview
Located in Philadelphia, Pennsylvania, Saint Joseph's University (SJU) is a private Jesuit institution that enrolls 6,600 FTE students and employs 320 faculty members. In an effort to increase use of its collection—which contains 300,000 print books, 7,800 e-books, and more than 130 databases—SJU's Francis A. Drexel Library replaced its previous discovery platform with EBSCO Discovery Service (EDS), a research solution that streamlines access to a library's resources through a single search box.  With a superior relevance ranking feature that quickly unearths pertinent search results, and a powerful administrative tool that allows librarians to customize the ideal user experience, EDS is helping the university's students to feel more successful in their research.
The relevance ranking feature [in EDS] is nicely refined. It has been an improvement for us.
Associate Director for Resources Management
Saint Joseph's University
Challenges
Prior to implementing EDS, the library subscribed to Summon, ProQuest's discovery platform. According to Kristine Mudrick, SJU's Associate Director for Resources Management, the library selected Summon three years ago when discovery software was still new to the market.
"At that time, discovery products were really just developing," Mudrick said. "Three years later, the field had changed, and developments had been made, so we felt an obligation to re-review the products that were out there."
Mudrick and her colleagues began re-evaluating discovery services in late 2013.  They wanted a product that offered a superior relevance ranking feature and a robust administrative tool that would allow them to easily administer and customize their discovery service—all at an affordable price.
"The relevance ranking algorithm was very important to us," Mudrick said, adding that the library's previous discovery service sometimes returned "odd" search results that left students feeling frustrated or confused. "We often found that students were getting overwhelmed with the number of results generated by our previous discovery service."
Solutions
After a two-month trial period, library leaders made the decision to switch to EDS. Mudrick cited the tool's relevance ranking feature as a major factor in their decision.
"The relevance ranking feature is nicely refined," she said. "It has been an improvement for us. […] When our librarians are working with students one on one, they are getting better results. The results are more on target, and it's easy to get to the full text."
Reference Librarian Catherine Collins agreed. "I have confidence in the results," she said.
EBSCOadmin, the tool that enables library administrators to customize the user experience with university logos and colors, was also a critical factor in the library's decision to purchase EDS.
The library website home page displays a tabbed search box with EDS, known as "Discover" to the SJU community, as the default search. Keyword, Title, and Author radio buttons enable users to conduct more targeted searches. The search box and the search results page maintain the institution's red color branding to create a seamless user experience.
"We didn't want the site to feel so alien to students," Mudrick said. "We wanted it to make it feel like it was still part of the Saint Joseph's library."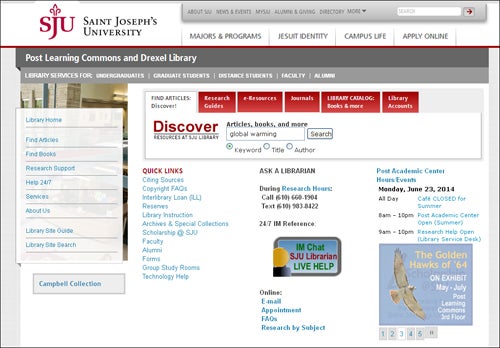 In addition, EBSCOadmin enables library staff to easily update catalog records, which are included in EDS, as often as they want. "It's so much easier to upload our catalog records through EBSCO than it was through our previous vendor," Mudrick said. "Part of that is because we don't have to load the whole database [each time]; we just need to load our updates and deletes."
Finally, Mudrick said, she and her colleagues appreciate the convenience of being able to make updates in EBSCOadmin themselves.
"We like that we have the ability to do it on our own; we don't have to wait for the vendor to make changes for us," Mudrick said. "Although, for the things we can't do ourselves, we've always found the EBSCO support folks to be really great in helping us."
The Library launched EDS in February of 2014, but did not promote the new tool to users. The implementation team simply updated the code and tweaked the search box logo.
"We had a very quiet launch," Mudrick explained. "We substituted the product overnight and let the chips fall where they may. There was a chance that it could have backfired on us, but we felt confident enough in the product that we could do it very quietly behind the scenes, and that proved to be correct."
Photos courtesy of Saint Joseph's University
To learn more about EBSCO Discovery Service, or to request a free trial, click here.