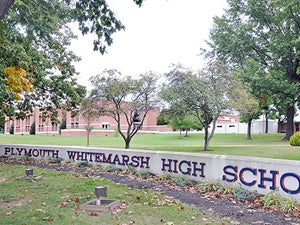 Overview
Located in Plymouth Meeting, Pennsylvania, Plymouth Whitemarsh High School serves more than 1,450 students in the Colonial School District. The Library Media Center offers a wealth of print and electronic resources, including 10,000 print books, 150,000 e-books and nearly two dozen databases.
In October 2014, in an effort to improve access to the library's resources and better prepare its students for college research, Plymouth Whitemarsh High School implemented EBSCO Discovery Service™ (EDS), a powerful research tool that allows users to search across a library's collection with the speed and simplicity of a commercial Internet search engine. Since launching EDS, the school has seen a 57-percent increase in the number of full-text downloads, year over year. In addition, students are locating reliable resources more quickly and confidently, and teachers are more comfortable when leading class research projects.
A lot of universities and colleges are going to the discovery model, so we want to prepare our students for whatever they choose to do after [high school]. By adopting discovery now, we are hopefully setting them up for success in higher education as well.
Instructional Media Specialist
Plymouth Whitemarsh High School
Challenges
When Instructional Media Specialist Sara Frey first came to Plymouth Whitemarsh High School in 2013, the library website was difficult to navigate. It featured a bulleted list of all the school's subscription databases, and they were not organized in a logical manner. Without a single search platform, students struggled to make sense of their database choices. Frustrated, many would turn to the Internet.
"I would help teachers identify specific databases that might point students in the right direction, but overall it was more time-consuming and inefficient," Frey explained. "We wanted to meet students in the middle by providing them with high-quality resources in a manner that was easy-to-use and inviting."
When Frey discovered EBSCO Discovery Service, she knew she would be able to ease student frustration and improve access to reliable content.
"I was really confident that EDS was going to do what I needed it to do for my students at a price point that I could justify, and I knew it could be easily managed by me," Frey said.
When she approached the school administration about bringing EDS to Plymouth Whitemarsh High School, they were supportive.
"They understood that one of the struggles we have in teaching great research practices with our students is the overwhelming amount of information they're faced with in Google or in the databases that we provide," Frey said. "In addition, a lot of universities and colleges are going to the discovery model, so we want to prepare our students for whatever they choose to do after [high school]. By adopting discovery now, we are hopefully setting them up for success in higher education as well."
Solutions
According to Frey, students like the content and features available to them in EDS, most notably the Research Starters. Appearing at the top of the search results list for the most popular topics searched, Research Starters are citable, authoritative summary articles that provide students with helpful background information.
"I jokingly tell students that the Research Starter is their Wikipedia page," Frey said, pointing to how Wikipedia pages often appear at the top of Google search results. "This allows me to show them what a database offers that Google doesn't. The Research Starter is really easy to navigate, it gives me the basic background information and, like a Wikipedia page, it will give me those blue hyperlinks of related subjects or pages that I can follow up on. Unlike a Wikipedia page, the Research Starter is a vetted and authoritative text. I don't have to worry about trying to figure out the authorship or the accuracy of it."
Other features of EDS, particularly the publication date limiter and the citation tool, have also helped to streamline the research process. Frey encourages students to use the publication date limiter to narrow their searches. Recently, she worked with a class researching pop culture events throughout the decades.
"If I'm researching the space race, I might find I want to go back to articles from the 1960s," Frey said. "But if I'm researching ISIS, I don't need articles from 1403. I'm going to push that publication date limiter way over to capture the past few years, maybe since 2011. That way I'm narrowing my results down to those that are both relevant and current."
During the pop culture "decades" project, students were required to find and evaluate an Internet website; they were asked to identify the purpose of the website, the article's publication date, and the author's credentials. According to Frey, students became frustrated when it took several attempts to find a quality, authoritative website.
The next day she introduced students to EDS, and they spent the class period finding articles and basic information about their decades. The EBSCO citation tool, which can export citations to EasyBib and other bibliographic software programs, simplified the process of creating a works cited page.
"That is probably the golden ticket in their eyes," Frey said of the citation tool. "They know the citation is going to be there, and they don't have to go looking for it."
Benefits & Results
The ability to quickly find reliable resources has led to an increase in library usage, Frey said. Before implementing EDS, the library saw 1,794 full-text downloads between October 2013 and June 2014. Following the October 2014 launch through June 2015, the number of full-text downloads rose to 2,818, representing a 57-percent increase.
"The response has been overwhelmingly positive," Frey said, citing results from a spring 2015 student survey. "Students are really comfortable with EDS."
"Research for class is easier now," said one student. "I know exactly where to start."
"I like the way you can easily sort through results to find what you need," said another.
In addition, Frey said, teachers are feeling less overwhelmed. "EDS is streamlining the research component," she explained. "Teachers are a lot more confident leading research in their classes, even when I'm not around."
Finally, since the high school uses the BYOD (Bring Your Own Device) model, EDS is helping the library to better meet students where they are.
"EDS allows students a lot of freedom in accessing [library] resources no matter where they are and what type of device they're using," Frey said. "Research is no longer limited to the confines of the Library Media Center."