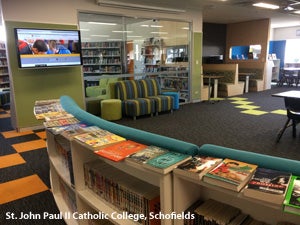 Overview
Catholic Education Diocese of Parramatta serves more than 43,000 students in dozens of schools throughout Western Sydney, New South Wales, Australia. The organization's mission is to provide quality teaching and learning in primary and secondary school classrooms in a faith-centred environment. An integral part of this is to provide high-quality digital tools and resources to support improved student learning outcomes.  
An EBSCO customer since 2007, Catholic Education Diocese of Parramatta currently subscribes to several research databases including Australia/New Zealand Reference Centre, Literary Reference Center, History Reference Center, Science Reference Center, MasterFILE Premier, Computer Source and Religion & Philosophy Collection. Students and teachers can search these resources using Explora, EBSCO's dedicated interface for schools that offers primary and secondary versions specifically for Australia and New Zealand.
During the past few years, the Diocese's Learning Exchange Library Team has been actively promoting EBSCO content to educators via Google Slides. Since then, use of EBSCO resources has increased, and the organization is seeing a greater return on its e-resources investment.
[Explora] incorporates all of the 21st century digital literacy skills that we want. People think that the quality of the content is fantastic. They're really happy with it.
Digital Learning and Library Services Officer
Catholic Education Diocese of Parramatta
High-Quality Content and Innovative Features
Digital Learning and Library Services Officer Lisa Nash supports the professional learning of educators in the more than 80 schools served by the Catholic Education Diocese of Parramatta. Her main objective is to develop and provide equitable access to digital learning resources for all schools in the system.
Populated by Australia-New Zealand Reference Centre and other proprietary EBSCO databases, Explora provides students and educators with a collection of trusted, professional resources not available on the internet.
"You're not going to find those quality, authoritative resources in Google," Nash said.
In addition to more regional content, the Australia-New Zealand Explora interface contains detailed overviews on topics of interest to Australian users. These overviews provide students with helpful background information to get them started with their research.
Explora also includes a variety of content types — text, video, photos, graphs, charts and other images — that help students to develop multimodal literacy.
"It incorporates all of the 21st century digital literacy skills that we want," Nash said. "People think that the quality of the content is fantastic. They're really happy with it."
Explora's Google Classroom integration has also been valuable to both teachers and students. Since Catholic Education Diocese of Parramatta is a Google Apps for Education organization, many schools within the system are equipped with a range of devices including Chromebooks.
"The Google Classroom feature is so easy to use," Nash said. Teachers find an article in Explora, click on the Google Classroom icon in the Tools Menu, select their class, and add the article to the class reading list. "Teachers can then scaffold questions and learning activities around that article."
Finally, Explora includes reading level indicators to help students and teachers identify texts that match students' reading abilities, as well as Text-to-Speech and language translation to support auditory learners, struggling readers and those developing English proficiency.
"We need learning to be accessible for all students no matter what their abilities are," Nash said. "These features provide accessibility for our students [so] this resource is for every student, every day."
Promotion Strategy
In recent years, Nash recognized a need to improve awareness of the library's databases to support learning, so she and her two colleagues began using the power of Google Apps to curate and share content with educators.
"We recognize that our teachers are time poor," Nash explained. "Our EBSCO databases are such valuable resources, but it's difficult for our teachers to find the time to explore them."
Each week throughout the school year, the Learning Exchange Library Team curates a list of digital resources related to a curriculum topic and creates a Google Slide called "eResources in the Classroom." The slide, featuring links to relevant EBSCO content, is emailed to all librarians and educators within the school system and includes questions designed to stimulate student curiosity toward learning.
The Library Team also sends out a monthly newsletter to head office teacher educators to support their work in schools. These newsletters include links to selected online journals and other professional development resources. In addition, the Library Team has arranged face-to-face training sessions with educators, including a 2016 workshop led by EBSCO Training Specialist Kylie Peckham. Nash said future promotional plans include producing videos and hosting webinars.
Measurable Results
Nash and her team's efforts to promote EBSCO resources have been successful. Between 2012 and 2016, the number of full-text downloads rose from 14,687 to 25,166, representing a 71-percent increase.
In a recent survey conducted by the Library Team, teachers reported that EBSCO databases have helped their students to complete homework and "to source good, quality information they can trust." EBSCO content is supporting student research and classroom instruction for a variety of course subjects including geography, history, society and culture, literature, drama, religion, science and more. Nash said that students also use EBSCO resources when completing Independent Research Projects (IRPs) and Personal Information Projects (PIPs).
One Year 11 student at St. Andrew's College recently used Explora to locate videos and other content to support an Independent Research Project for Community and Family Studies (CAFS). "The Explora database came up with so many secondary sources that I would never have been able to find on Google," the student stated.
Educators indicated in the survey that they have been working hard to promote the educational value of EBSCO resources to students and encouraged Nash and her team to continue their own marketing efforts.
"They are worthy, well-used databases for our school," said one teacher, while another described them as "resources we do not want to lose."