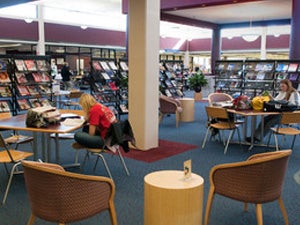 Overview
Located in the Chicago suburb of Sugar Grove, Illinois, Waubonsee Community College serves more than 14,000 students, many of whom are online distance learners. To serve the needs of both students and the college's more than 100 faculty members, the Todd Library offers a collection of 50,000 print items, more than 100 databases, and nearly 70,000 e-journals.
In September 2015, the library migrated from EBSCO's previous generation link resolver and A-to-Z service to Full Text Finder, EBSCO's new holdings and link management tool. Full Text Finder includes a knowledge base, holdings management tools, a state-of-the-art publication search service, and a fully functional link resolver — all of which integrate with EBSCO Discovery Service™, a powerful library platform that allows users to search across a majority of a library's resources through a single search box.
I add and remove titles with aplomb now.
Resource Sharing Specialist
Waubonsee Community College
Managing Custom Collections
According to Resource Sharing Specialist Kendall Vance, the process adding new titles in EBSCO's previous A-to-Z administrator site was a bit "clunky." The response time was slow and, although well documented, the loading and matching process involved a lot of steps.
"It was difficult," Vance said. "I would kind of procrastinate a bit when we had to add new titles. It happened infrequently enough that I had to review the entire process every time. It was difficult to go through for one title, so I would wait until I had a few titles and do them in one batch."
Now, through EBSCOadmin, the process is much more efficient. Vance simply goes to the Holdings Management tab, types in the title name, gives it an ISSN, and adds it to the collection.
"Adding a title to a custom collection is the biggest improvement," Vance said. "When we have a new title, I'm finding I can just go in and add it as I go about my day."
In addition, he said, searching for titles or packages in Full Text Finder's Global Knowledge Base has vastly improved.
"In the old collection manager, it took some effort to determine if you had a given title and in what collection or collections it might have been," he explained. "Now, the ability to use filters makes it really easy to search on a title, or search on a database or collection package, and see which ones you have actually selected."
In the coming months, Vance plans to add coverage dates for the library's print holdings. Doing so will help users identify whether a specific issue is available in the library's collection.
"It's going to be fairly trivial for me to add those dates," he said. "I don't have to do it all in one fell swoop; I can do a little here, a little there."
The End-User Experience
Using EBSCO's Search Box Builder, Vance created a tabbed search box to embed on the library's home page. One of the tabs takes students directly to Publication Finder where they can search journals by title.
Vance said his staff has reported that this feature is particularly useful when a student comes to a reference librarian with a citation and needs to find out whether the library has access to the full text.
"This is one of those products where you know it's working effectively when you don't notice it," Vance said. "In that regard, it's been quite effective. It seems to be a fairly fluid drop-in replacement for A-to-Z. Everyone seems to be pretty happy."